Meg Ryan's Most Iconic Romcom Fashion Moments
06/23/2021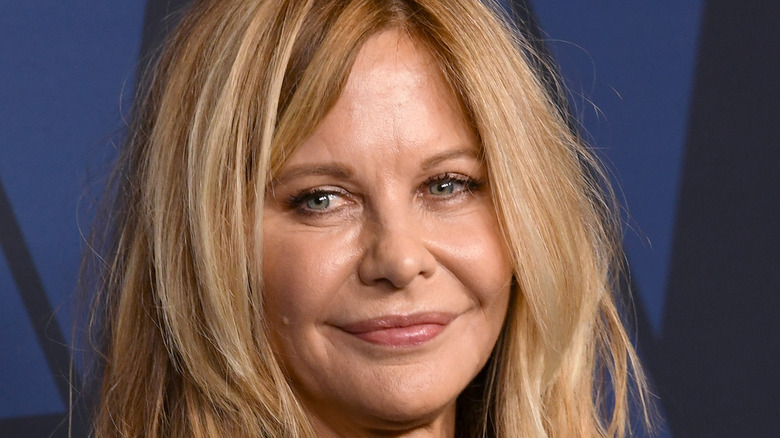 "Don't you love New York in the fall?" Joe Fox famously asks in the 1998, co-written and directed by Nora Ephron film, "You've Got Mail."
Fox, as NY152, is emailing with ShopGirl who is, as unbeknownst to him, his professional rival, Kathleen Kelly. "It makes me wanna buy school supplies. I would send you a bouquet of newly sharpened pencils if I knew your name and address," Fox revealed (via USA Today). Fox is, of course, played by Tom Hanks and Kelly by Meg Ryan, reuniting with Ephron following their hit 1993 film "Sleepless in Seattle."
Possibly no other filmmaker was as adept at depicting New York in the fall as Ephron, and two of the three most popular romantic comedies she helmed ("When Harry Met Sally…" and "You've Got Mail") show New York City in the fall at its absolute peak. And, of course, the fashion in the films perfectly complement the gorgeous fall exteriors, giving us some of Meg Ryan's most iconic rom com looks.
Sally was all about the layered look in this film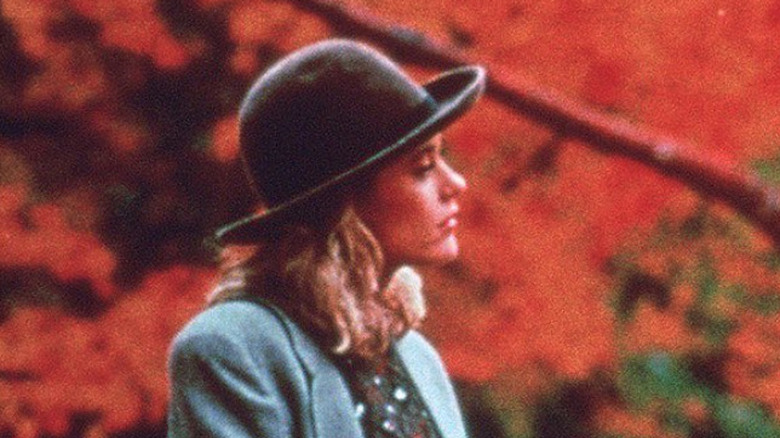 As Harry and Sally walk through Central Park and Sally tells Harry (Billy Crystal) about the same sex fantasy she's had since she was 12, Sally is wearing the perfect fall outfit. She's donning slacks and a floral blouse, topped off with a blazer. She's even got leather gloves and a bowler hat on to top it off – the perfect mix between dressy and comfortable – and a look that could easily go from day to night.
For those of you looking to snag a similar bowler hat (and have the budget to spend), there's one available from Maison Michel for £580.00 (via Refinery29).
In other scenes throughout the film, we see Sally embracing the layering style – perfect for fall – and often wearing chunky sweaters, known as fisherman or Aran sweaters (via Wall Street Journal). You can grab a similar one from TopShop for less than $21.
Meg was not a fan of this fashion moment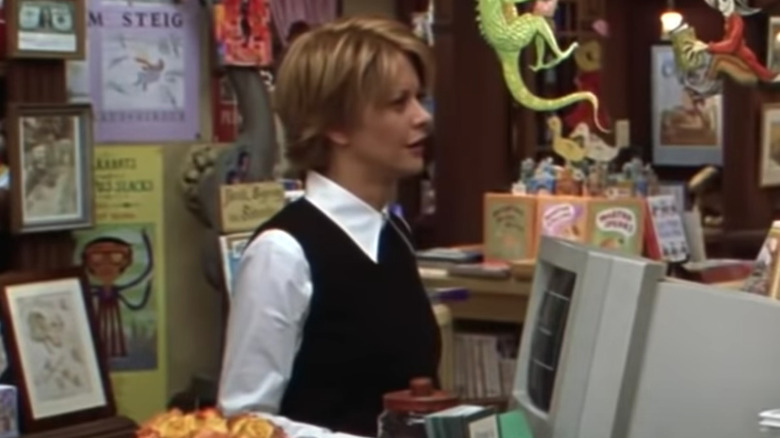 While "You've Got Mail" cycles through various seasons in New York City's Upper West Side, the season it arguably does the most justice to is the fall. Once again, we see Meg Ryan basically inventing the sweater, but Kathleen's style differs slightly from Sally's. It's a little less textured and accessorized – which also makes sense given that the characters are in two different points in their lives, with different careers.
In the above photo, Kathleen is wearing a black sweater tank over a white button up, accented with a gray pencil skirt. When breaking down the look for InStyle, the film's costume designer Albert Wolsky notes, "You have to go back to those times. I was trying to dress her not necessarily conservatively, but she was running a bookstore, and I tried to make her a bit more studious." Polsky further explained, "There's nothing about her that was fashion-y. Versus Parker Posey in the movie, who plays a fashionista."
As for that sleeveless dress Kathleen layered with throughout the film? Apparently Ryan was not a fan.
"I never understood [why she didn't like jumpers]," Wolsky recalled. "For her — although I think it was perfect and looked wonderful — it was maybe too schoolmarm. I think she felt too straight-laced, if you will. Even though none of the clothes are not straight-laced."
Meg was given "timeless" looks for her most iconic roles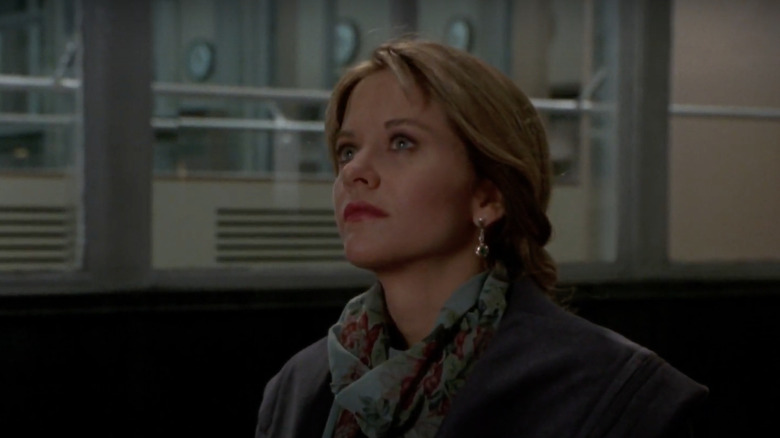 Last, but certainly not least is Meg Ryan's outfit in the final moments of "Sleepless in Seattle." While only the final scenes of the 1993 film take place in New York City – the rest of the film plot id spilt between Baltimore and Seattle – the clothing, of course, remains breathtaking.
Ryan's character Annie Reed rushes to meet Sam Baldwin at the top of the Empire State Building – just like in "An Affair to Remember" – before it's too late. And, of course, she does it with a sense of style, wearing a simple gray raincoat with a floral scarf over it, her hair tied back in an elegant braid.
This, of course, was intentional.
"[Director Nora Ephron] wanted Meg to be a timeless, classic figure. The idea was, she's a girl who's pure of heart. We didn't want her to show up in a black miniskirt and low-cut tight sweater," "Sleepless in Seattle" costume designer Judy Ruskin told the LA Times following the film's release. Instead of opting for complex outfits, the team instead chose to go for simple clothing with more over-the-top hairdos, or as the LA Times put it, a "succession of gravity-defying ponytails and twists similar to those worn by brides."
And it's not just the hairdos that are complex, but the characters as well – which, of course, is why these films stand the test of time in the first place.
Source: Read Full Article