So, Are Convertible Heels Actually Worth Buying? We Put Two Brand's Pairs to the Test
11/17/2022
Let's cut to the chase: Sky high heels look amazing, but they can be SO painful. Although a growing number of brands have made strides in creating chic, comfortable heels, the harsh truth is that many pretty pairs don't offer real support when it's most needed. Thus, on the streets of NYC, I've been forced to either a) brave the pain or b) lug around my heels while temporarily sporting commuter shoes (no, not wearing heels isn't an option for me, but thanks for asking). But that was until I discovered convertible heels.
Convertible heels—aka heels the convert to flats, and back again—aren't entirely a new concept. Mime et Moi was one of the first brands to pioneer the model in 2016, before closing shop at the beginning of this year due to stressors of the pandemic. But now, convertible heel brands Pashion Footwear and Vice Versa are creating new buzz around the market. Pashion founder Haley Pavone pitched her shoes on Shark Tank last year and earned a spot on Forbes' 30 under 30 list. And both Pashion and Vice Versa are currently all over TikTok. Collectively, their videos have amassed over a hundred million views on the platform.
Naturally, with my love of heels and need to walk all around town, I'm a great candidate for these shoes, so, yeah, I decided to test them both to see if they match up to all the hype they get online. Here's what I found out:
First, how Pashion Footwear's convertible heels work:
Established in 2019, Pashion Footwear carries a wide selection of convertible boots, sandals, and pumps for every occasion. They're available in a range of materials, from knitted fabric to velvet, satin, suede, and leather, and every silhouette includes an interchangeable heel—either in stiletto or block form—a plastic midsole for arch support, and a .25-inch shoe cap for adding balance to the style when it's converted into a flat.
Per the brand's instructions, converting involves pressing the button underneath the heel while rotating it 90 degrees counterclockwise—this removes the heel and midsole. Finally, you'll place the cap on and twist it 90 degrees clockwise to secure the new heel. To convert the shoes from flats to heels, twist and remove the flat cap, align the heel and midsole, hook the midsole back onto the shoe, then rotate the heel 90 degrees clockwise until it clicks into place.
Heel heights come in three and four inches, and you can also buy additional heel styles and colors separately if you want to switch things up.
According to the brand, all pairs are assessed on real people for factors like durability, fit, and comfort by Heeluxe, a California-based product testing lab that also works with leading brands like Ugg and Lululemon. For additional support, every pair includes a memory foam insole.
Sizes are available in 5 to 11, including half sizes. Prices start at $150 and top out at $225.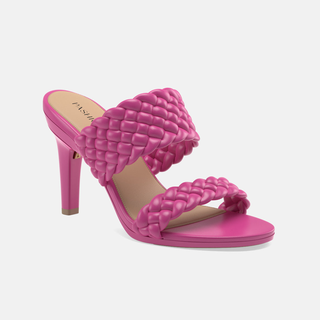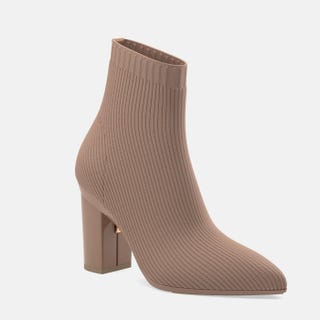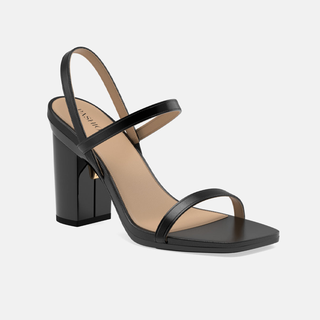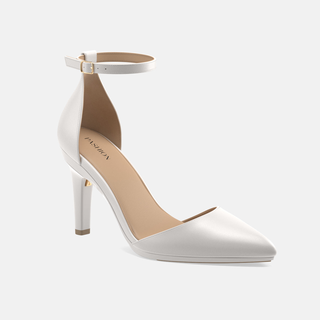 And here's more about Vice Versa's shoe:
Vice Versa is newer to the convertible heels scene, having officially debuted online in 2021. Developed through years of 3D modeling and printing and mechanical quality testing with Boeing engineers, the brand's shoes require just two steps to convert: The stiletto heel pokes through a hole in the back of the shoe, and when you want to go low, the heel can simply be slipped out of the hole and folded inside the shoe with a click of a button. All that's left to do is secure to the rubber base over the heel, and you're good to go.
Handmade in Spain using materials sourced from around the world, the pairs are crafted with soft Nappa leather. The 3.7-inch heel on each style is made with a sturdy, lightweight, and corrosion-resistant aluminum to help prevent wear and tear.
The brand currently carries four stiletto styles. These include an everyday slingback pump, two glitzy slingback styles and a peep-toe mule with scrunchy straps. Silhouettes come in sizes 6 to 11, and prices range from $220 to $290.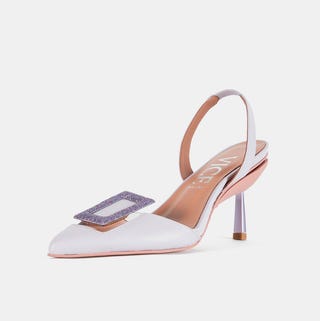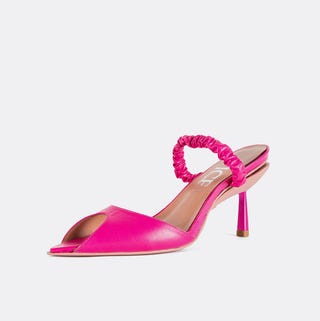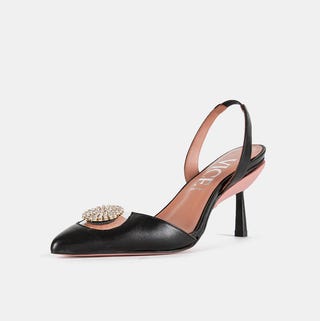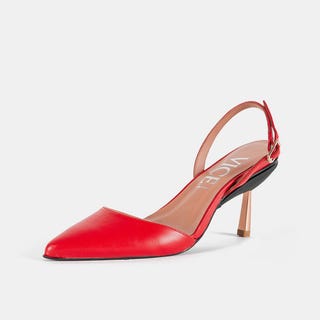 Testing Pashion Footwear's The Slide: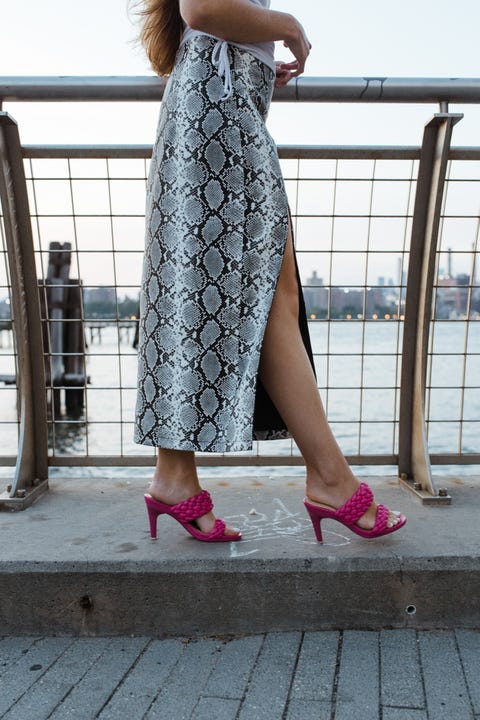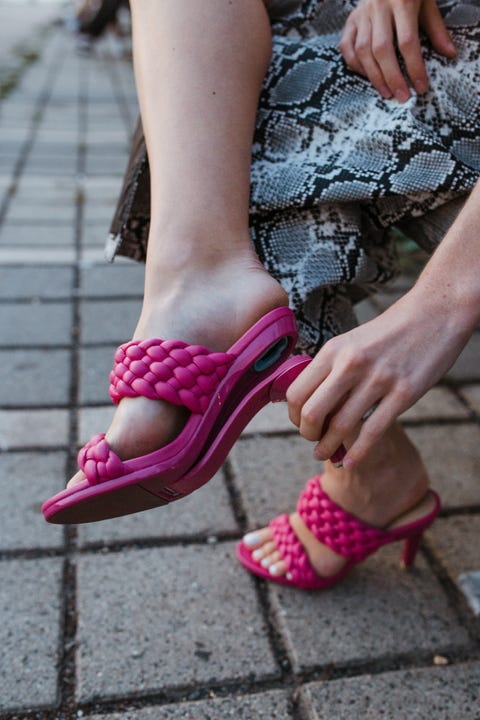 Now onto the fun part. I tried a stiletto style from each brand: The Slide by Pashion Footwear and the Shimmer heel from Vice Versa.
Browsing Pashion's site, I noticed an abundance of classic, simple styles. The Slide in Orchid Braid was one of the more trend-forward silhouettes of the bunch, so naturally, I went with it.
I opted for my true size of 7. Besides the fact that this style is super cute (it comes in the prettiest fuchsia hue!), these were also quite comfortable to wear on the move—thanks to the plush underfoot padding and cushy front strap. I wore them as both flats and heels during my 35-minute subway commute to work, and solely as heels while running between meetings at the office. In terms of actually converting the shoes, I found the process to be somewhat involved, and I definitely had to practice for a solid five minutes before getting it down pat in the morning. But once I did, it was pretty seamless.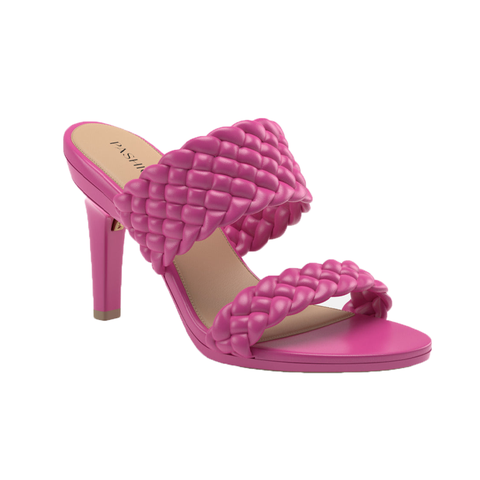 A downside: In flat form, the sole is curved, which made walking a little awkward. However, they also seemed to mold to the shape of my foot the more I wore them, so they may flatten out over time. Also to keep in mind is that when you covert them into flats, you will have extra pieces to carry with you in your bag—aka the plastic midsole and heel—until they're back in heel form.
Testing Vice Versa's Shimmer Heel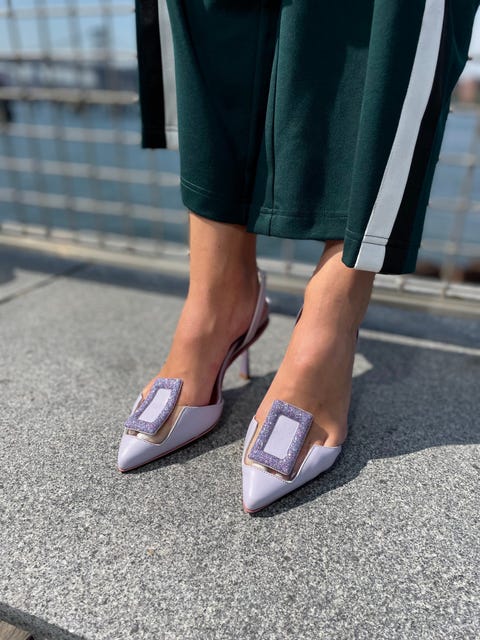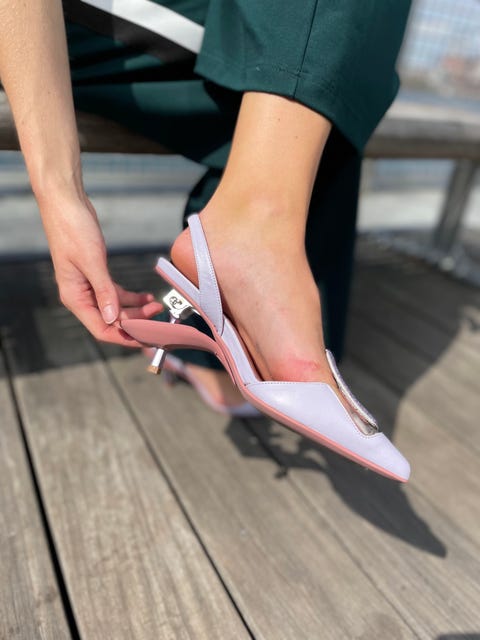 I put my Vice Versa heels to the morning commute test, too, but this time while traveling between New York Fashion Week appointments. Also true to size, the sleek pump seemed a worthy choice for the occasion, and I received multiple compliments on them throughout the day. I also got some *curious* glances while converting them into flats inside the subway, which was easy to achieve in seconds.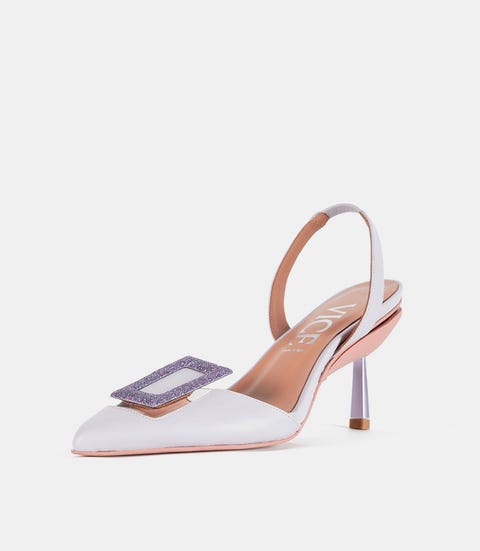 The rubber base on these is pretty substantial, so you do feel balanced when wearing them as flats. And while I have wide feet, the pointed, PVC-embellished toe box was reasonably accommodating.
Unfortunately, though, the slingback strap just wouldn't stay put on me. I tried applying double-sided tape, but it only held for a few minutes. There's a bit of elastic on the strap to prevent rubbing (which it did), however the strap seemed to stretch out the more I attempted to secure it—which made the task even more tricky. (Note: I plan to use these thin adhesive strips next time in hopes of finding a more permanent solution).
These do have some padding underfoot, but it's concentrated at the arch. The balls of my feet definitely could have used a little more love while I was wearing these as heels for extended periods of time.
The Verdict
In terms of aesthetics, Vice Versa's Shimmer heel really hit it out of the park for me. The elevated silhouette has a bit of weight to it that makes it feel extra luxe, and the aluminum heel just looks so sleek (compared to the plastic heel found on Pashion's slide sandal). I also love that these Vice Versa heels were so simple to convert and are easily wearable as flats straight out of the box.
On the flip side, the Shimmer heel didn't feel nearly as cushy as Pashion's braided slide, and as mentioned before, I did have a lot of trouble with the slingback strap staying up. (Special adhesive strips could be a possible fix, but opting for Vice Versa's mules may be the safest option for a secure fit). Vice Versa shoes are also a bit pricier, although not astronomically so.
All in all, I would say Pashion's slide was the more comfortable of the two I tested, while Vice Versa's slingback earned the highest marks on style and ease of transformation. Although these probably won't replace my other heels for good, I know they'll still earn a spot in my rotation on days when convenience is, well, everything.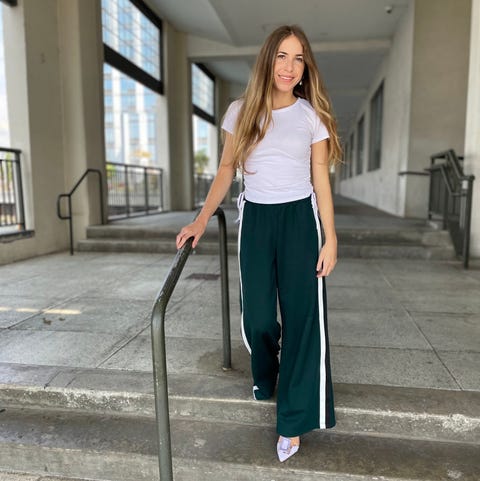 Source: Read Full Article