The Most Iconic Outfits In Met Gala History
06/04/2021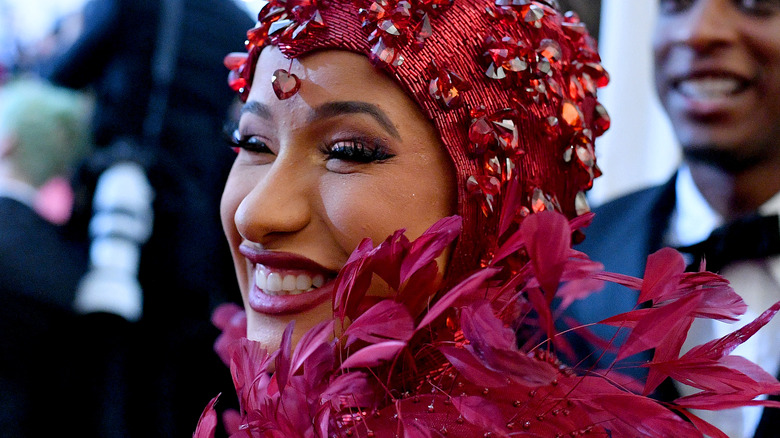 The Met Gala gives fashion lovers around the world the chance to see the stars in some of the most adventurous, bold haute couture looks of the year. The gala is a fundraiser for the Metropolitan Museum of Art's Costume Institute, formerly called the Costume Institute Gala, so fashion has always been central to the ball. Since its inception in 1948, the Met Gala has become the event of the fashion world. As Karlie Kloss told Vogue, "Before I started going in 2009, it was before social media … so there was something so mysterious about it … I just knew that whoever walked that red carpet was transported to another universe."
Additionally, the annual Met Gala has a theme or "dress code" that guests have to follow. For example, in 2021 the dress code was "American Independence" (per Vogue), and in 2019, it was "Notes on Camp" (via The New York Times). Every year, fashion lovers wait with high anticipation to see the extravagant, creative outfits of fashion-forward celebs. And over the years, guests of the ball have not disappointed. Here are the most iconic outfits ever to grace the red carpet at the Met Gala.
Princess Diana stunned in an elegant Dior slip dress at the 1996 Met Gala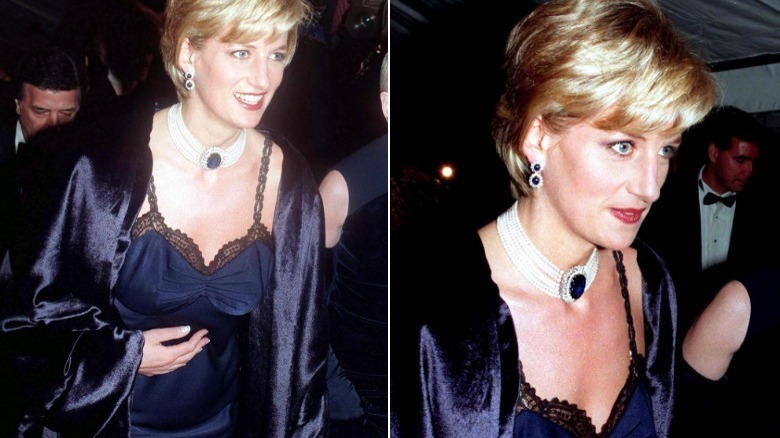 In 1996, Princess Diana stunned at the Met Gala in a simple maxi navy slip dress designed by John Galliano for Dior (via Bustle). With its delicate, black lace trimming and its elegant, loose fit, the dress managed to epitomize the fashion of '90s, while still looking completely timeless. Diana paired the delicate dress with a bold pearl and sapphire choker and matching drop earrings. She also carried her iconic quilted Dior bag, which was eventually dubbed the "Lady Dior" bag after her death.
At the time of the event, Diana's look was a sensation. In an episode of Hard Copy, Diana was called "the belle of the ball" and a "work of art" by commentators.
This look quickly became one of Diana's most iconic outfits and one of the most recognizable looks in the Met Gala's history. However, as royal biographer Katie Nicholl wrote in her 2010 biography "William and Harry," Diana almost chose another dress as she didn't want William to be "embarrassed" by the revealing, un-royal gown (per Express).
Bianca Jagger was glamorous in a metallic Halston gown in 1977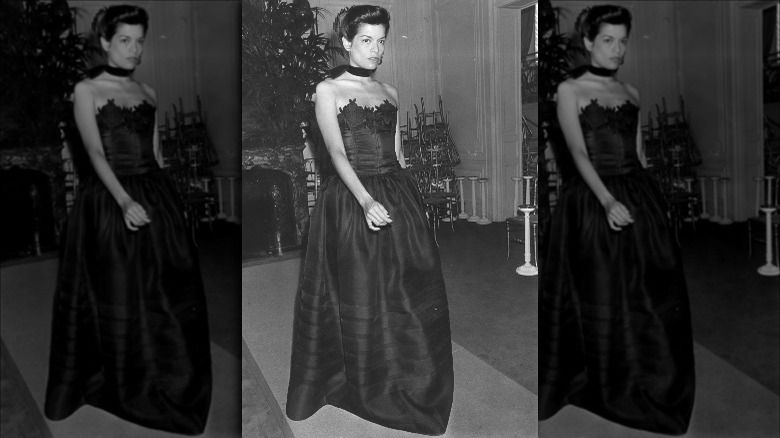 The actress Bianca Jagger (ex-wife of Mick Jagger) was famous for her fashion throughout the '70s. As fans of the Netflix show "Halston" will know, she became the muse of fashion designer Roy Halston Frowick. As Time reported of their collaboration, "The look that Halston created and Jagger wore soon came to symbolise the last days of disco and has been oft-referenced by other designers in the years since."
It's no surprise that Jagger teamed up with Halston for many of her Met Gala appearances, and her 1977 look was particularly memorable. The actress wore a metallic, glamorous gown with a cross halter neck, a fitted waist, and a cascading skirt; it was the perfect mix of old Hollywood glamour and '70s style. Throughout the years, the ensemble has become one of the most memorable in the Gala's history. In 2018, Halston's Twitter account posted a throwback to the look, and Vogue called it one of the most iconic Met Gala looks of all time.
Katy Perry glowed in an chandelier dress by Moschino at the 2019 Met Gala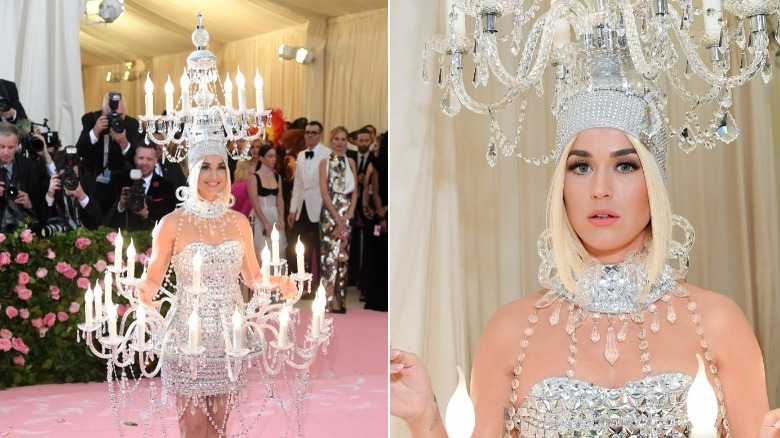 This is one look that is impossible to forget. In 2019, pop star Katy Perry arrived at the Met Gala's red carpet in a show-stopping chandelier gown by Jeremy Scott for Moschino. The glittering dress featured a full candelabra hoop skirt and a matching headdress, making Perry look like a very well-dressed cast member of "Beauty and the Beast." 
This bold ensemble was something of a risk, but it certainly paid off. As Scott explained to Vogue, he had aimed to deliver the ultimate camp look with the unexpected outfit. "The idea of elegance itself is quite camp and I wanted to play with that concept, poke a lil fun at it with a loving nudge," he shared. Scott went on to explain that the outfit, which took six weeks to make, was his most "complicated creation to date." It involved hanging delicate branches of Swarovski crystals from the bodice and even inserting a "built-in corset consisting of 18 steel bones and two hidden battery packs to illuminate the lights." This look was certainly closer to a work of art than a red carpet gown — and we absolutely loved it.
Sarah Jessica Parker slayed in a fairytale gown by Oscar de la Renta in 2014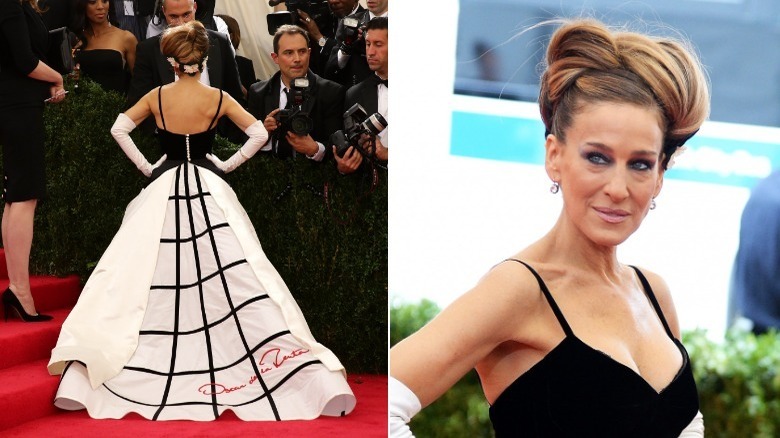 Sarah Jessica Parker was known for her fashion on television as Carrie Bradshaw in "Sex in the City," but she was also famous for her style off-screen. When it came to the Met Gala, she rarely disappointed. In 2014, Parker wore one of her most iconic looks to date; her dress by Oscar de la Renta consisted of a fitted spaghetti strap black bodice and a full white skirt with a checked black and white train. At the bottom of the train, the designer's signature was sewn in red. The classic silhouette was perfectly complemented by the contemporary monochrome color palette.
As Vanity Fair reported at the time, the 2014 Met Gala was filled with poofy gowns — but Parker's was the biggest. As she reportedly said on the red carpet, "Did you see his name on the back?" Designer Charles James added, "I said to Mr. De la Renta, please let me use scarlet embroidery thread, and splash your name across the back. It was my idea, he would never in a million years have done it, he's far too modest." There's only one word for a gown like this: iconic.
Marc Jacobs dazzled in a sheer lace dress by Comme des Garçons in 2012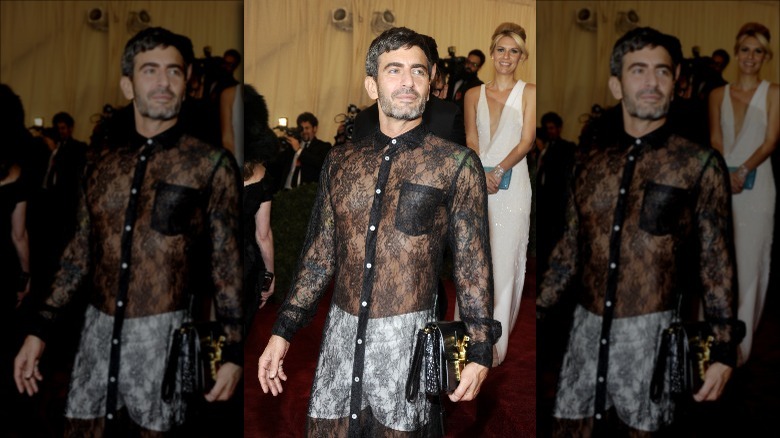 Sometimes, fashion is about taking big risks, and that's exactly what designer Marc Jacobs did at the Met Gala in 2012. The daring look — by Commes des Garçons for Red Kawakubo's gender neutral collection — featured a sheer black lace dress over a pair of white briefs. For many people, this outfit would be the stuff of nightmares — but for Jacobs, it was the perfect ensemble for the biggest fashion event of the year.
As Jacobs said to Vogue on the red carpet, "It's just a lace dress. I just didn't wanna wear a tuxedo and be boring." He went on to praise the designer Miuccia Prada who was celebrated at that year's gala. "I think Miuccia Prada is such a celebration of the unconventional and so it felt like, appropriate, somehow," he added. 
Well, the outfit certainly succeeded in being anything but boring. And while some people may have hated the look, many people were inspired by it. In fact, as The Hollywood Reporter noted at the time, the dress sold out shortly after the event.
Lupita Nyong'o shone in a sheer feathered ensemble by Charles James for Prada in 2014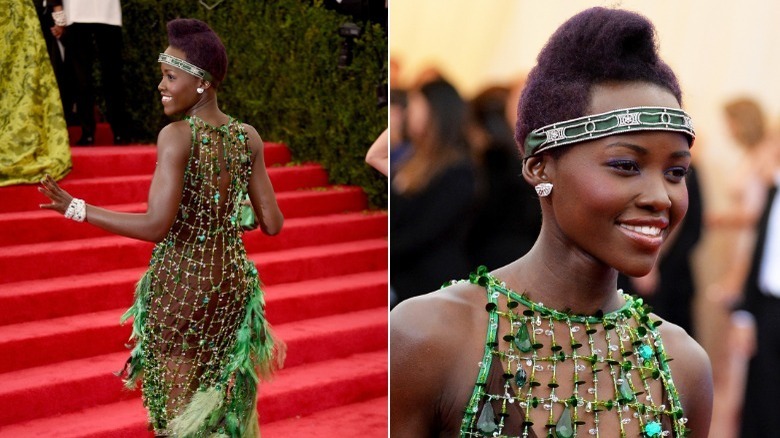 The actress Lupita Nyong'o stole the show at the 2014 Met Gala in a bright green mesh dress, covered in gemstones and trimmed with feathers. However, the sparkling emerald dress proved to be quite divisive; as Vanity Fair reported at the time, there was something of an "outcry" on Twitter. Fashion commentators Tom and Lorenzo even called Nyong'o's dress "hideous" — but we think it's one of the most memorable Met Gala looks ever.
As Nyong'o told Vogue, initially she wasn't too happy with the design. "This was the first sketch they showed us and we nixed it," she revealed. "We didn't understand the sketch, we were like, 'No, maybe not.'" Nyong'o went on to recall how they made several other dresses, but they also made the green dress. "When I saw it hanging there, of course, I was deeply attracted to it," she continued. We can't blame her — this look is completely jaw-dropping.
Kate Moss stunned in a pale slip dress by Calvin Klein in 1995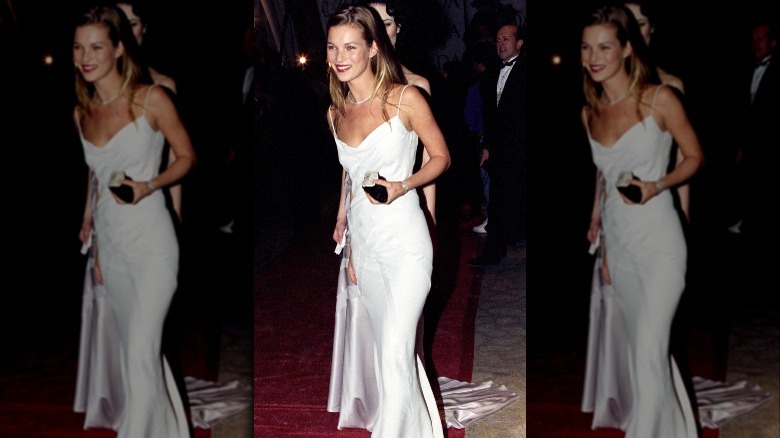 Kate Moss attended her first Met Gala in 1995, and the model lived up to expectations. While her simple, pale yellow slip dress isn't the most exciting Met Gala look of all time, it's definitely one of the most celebrated. The gown featured long spaghetti straps and a daring open back.
The simple outfit was, in many ways, an example of ultimate '90s red carpet fashion, so it's no surprise the dress has gone down in Met Gala history. The Independent called in one of the Met Gala's best dresses of all time. Vogue commented on Moss's immaculate makeup in their list of best beauty looks to come from the gala, writing that she "swiped on an oh-so-'90s matte taupe lipstick." Fashionista even called Moss' gown one of the greatest outfits in fashion history as it perfectly encapsulated Moss's personal style. "Moss's [dress] embodies her sexy nonchalance," they opined. We have to agree — everything about this dress is a yes from us.
Beyoncé was glamorous in a sleek black Givenchy dress at the 2014 Met Gala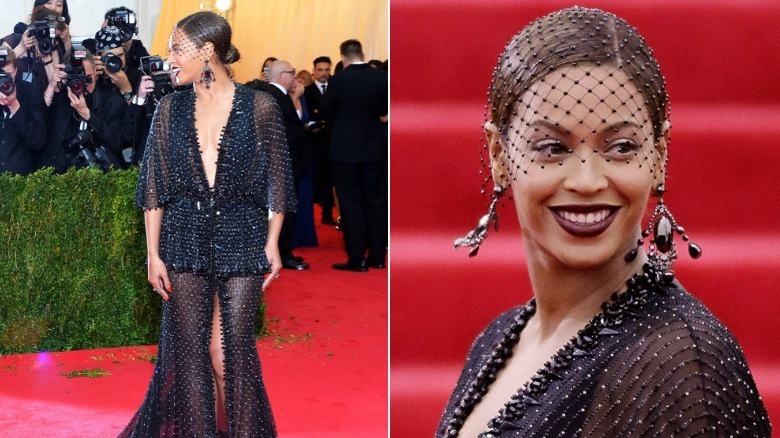 Beyoncé is famous for both her amazing voice and her flawless fashion. At the 2014 Met Gala, the superstar wore a show-stopping black gown by Givenchy; the sheer, sparkling dress featured a plunging v-neck, tiny crystals, and a dramatic train. With the matching birdcage headpiece and the dramatic makeup, Beyoncé struck the perfect mix of classic Hollywood noir and modern sophistication. Of course, fashion critics were naturally obsessed with the look. HuffPost, for instance, described the dress as "sheer fabulousness," and Hollywood Life wrote, "Beyoncé looked nothing less than royal." All hail Queen Bey!
The dress was so popular, Beyoncé released the initial sketches of the design a few days after the event. As she explained on her website, the design was made by Ricardo Tisci, who was inspired by "Diana Ross's 1970s glam," hence the sparkly, disco vibe (via MTV). We are totally on board with this stunning look.
FKA Twigs impressed in this abstract art dress by Christopher Kane at the 2015 Met Gala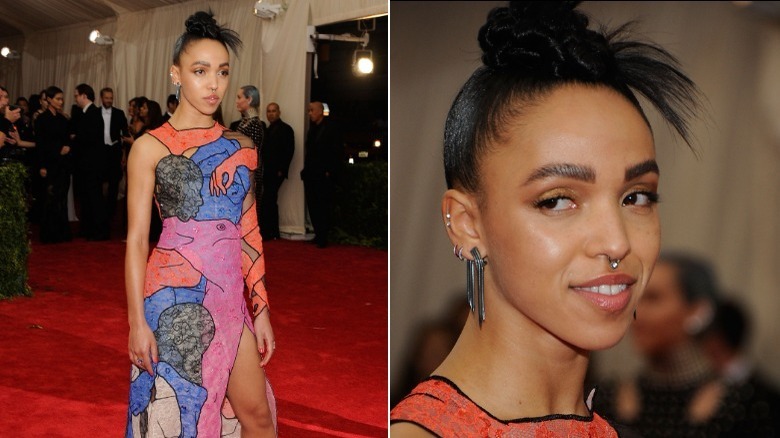 FKA Twigs is known for making big, bold statements in her music. When it comes to her fashion, she clearly takes the same approach. The singer attended the Met Gala in 2015 with her then-boyfriend Robert Pattinson in a colorful gown by Christopher Kane. The unusual dress looked more like a Picasso painting than a red carpet outfit, with various human shapes and limbs wrapped around her waist and arm.
In addition to arms and eyes, the dress featured one human body part that raised a few eyebrows: a penis! As the Independent reported, the dress was made from Kane's signature "lovers lace" pattern. Apparently, this bold dress was part of a series of gowns that featured artistic depictions of human body parts.
While walking down the red carpet with a sketch of genitalia on your thigh may seem a little risqué, Twigs's dress was actually on trend at the time, as both Tom Ford and Rick Owens had recently released pieces that drew attention to human anatomy. And after all, fashion is meant to get people talking.
Lady Gaga slayed in a massive magenta gown by Brandon Maxwell in 2019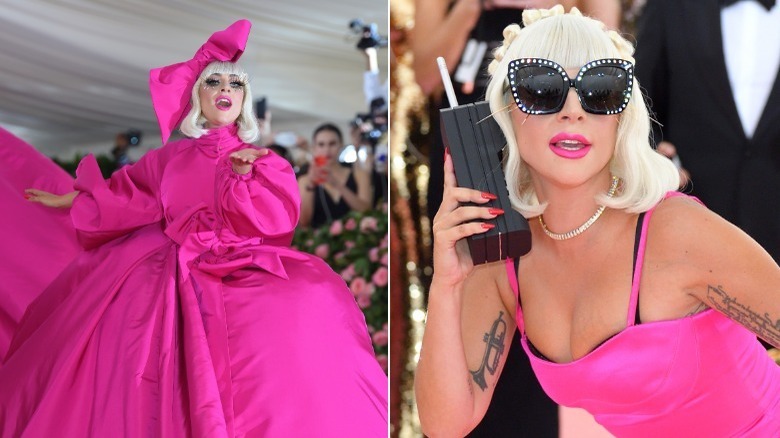 It doesn't get more iconic than Lady Gaga's 2019 Met Gala outfit. The theme of the gala that year was "Notes on Camp," and Lady Gaga clearly embraced it. The singer made headlines with her dramatic, poofy, bright pink gown by Brandon Maxwell, complete with a 25 foot train. As if this incredible dress weren't enough, the singer changed into three other outfits by Maxwell on her walk along the gala's pink carpet.
While Lady Gaga's four outfits were enough to grab attention on their own, the singer put on a real show with her entrance, too. The star was accompanied by a group of tuxedo-clad, well-choreographed men all carrying black umbrellas.
As Vogue explained, Lady Gaga made her entrance an "immersive experience," walking for three blocks along the streets of New York City in her dramatic outfit before arriving at the Met. Apparently, Lady Gaga planned the entrance meticulously. "I know intrinsically that I have a camp soul," she explained during a rehearsal.
Rihanna stunned in an epic yellow dress by Guo Pei at the 2015 Met Gala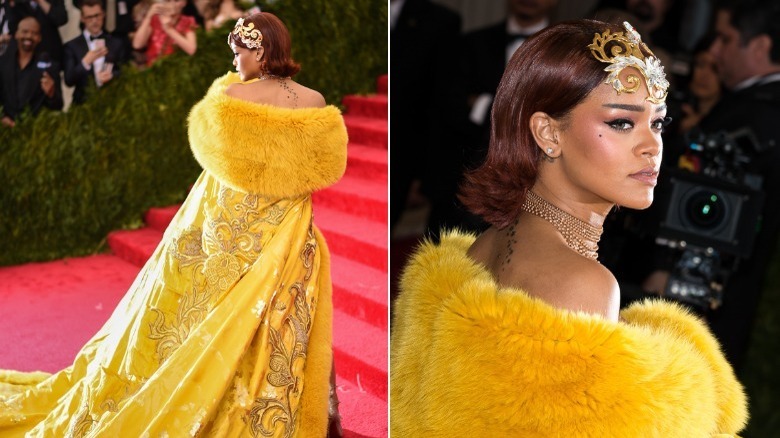 Once you've seen Rihanna's 2015 Met Gala dress, you'll have a hard time forgetting it. This breathtaking yellow outfit by Chinese designer Guo Pei featured a fur-lined coat with a gigantic train and delicate floral embroidery. The luxurious outfit was nothing short of majestic. In fact, when she tried it on for the first time, Rihanna apparently told the designer, "It feels like a dress for the queen of China."
The gorgeous dress and cape weighed about 55 pounds (via Fashionista). As Rihanna told Vanity Fair, "I'm so in love with this dress, but the train is insane! I can't really walk in it without any help — but it's so worth it." Additionally, Rihanna found the dress online; Pei had made it herself and it had taken her two years. Of course, Pei was thrilled with the love the ensemble received after it appeared on the Met Gala red carpet. As she said, "The focus and the attention paid to this dress will make it remembered by the world … It is my responsibility to let the world know China's tradition and past, and to give the splendor of China a new expression."
Florence Welch wowed in a stunning white Alexander McQueen dress in 2012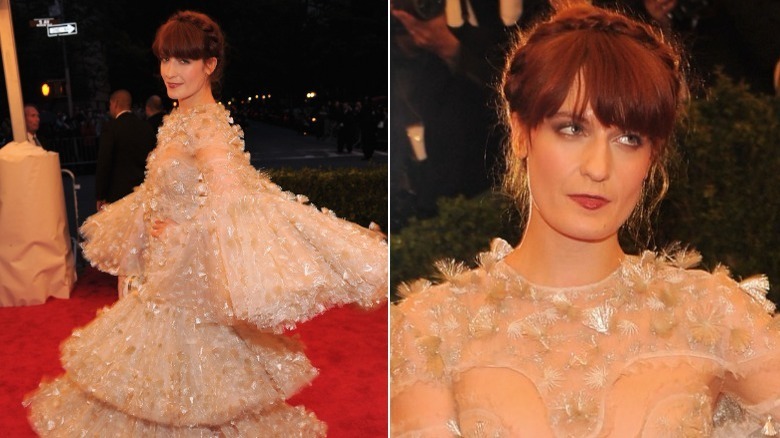 Florence Welch of Florence and the Machine fame has always been quite whimsical, both in terms of her music and her fashion. At the 2012 Met Gala, she brought whimsy to a whole new level with her spectacular white organza Alexander McQueen dress. The floaty tiered gown featured embroidered delicate dandelions and flared sleeves. Welch paired the eye-catching dress with armadillo-heeled sandals and a white McQueen clutch.
The outfit was the perfect complement to Welch's sensibility. As PopSugar noted at the time, "One look at Florence in this dress, and it's hard to imagine it on anyone else." However, The Guardian was less of a fan of Welch's look, writing, "Florence Welch has clearly taken note of the Met Ball's high tolerance for sartorial extravagance and opted for an Alexander McQueen dress with more feathers, layers, ruffles and shine than our eyes can take." We don't know about you but we definitely think this is a case of more is more!
Cardi B shone in this dramatic red ensemble by Thom Browne in 2019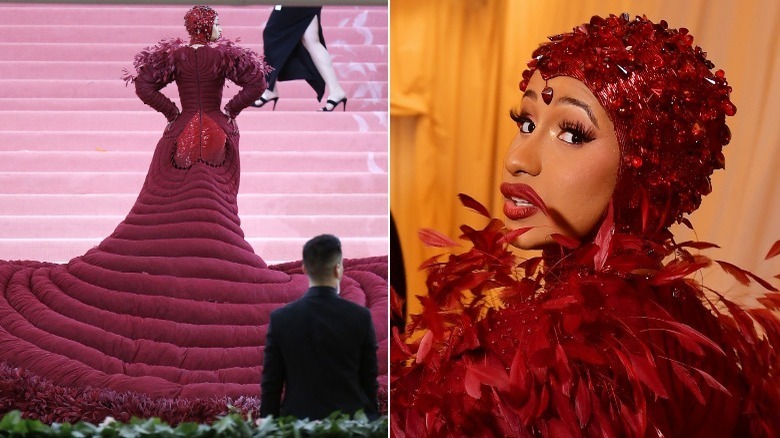 It really doesn't get more over-the-top than this show-stopping gown. Cardi B took things to a whole new level at the 2019 Met Gala by wearing a bright red feathered gown by Thom Browne, complete with a hood and a 10 foot long round train. The look was bold, dramatic, and as the theme required, very camp.
Cardi B's extravagant dress was clearly a labor of love for Browne. According to Vogue, it took over 2,000 hours and 35 assistants to get the job done. As Browne explained, he designed the dress specifically for Cardi B. "She has the ultimate beauty in a woman's body, and that is what the dress is about for me: taking advantage of that beauty," he revealed. Apparently, he did accentuate her womanly beauty in a very unique way: the dress has suggestive 44-carat ruby nibbles and what Vogue called "tonic embellishments." It's classy and vulgar all at one, and we are obsessed.
Zendaya dazzled in a classic bird-covered ball gown by Dolce and Gabbana in 2017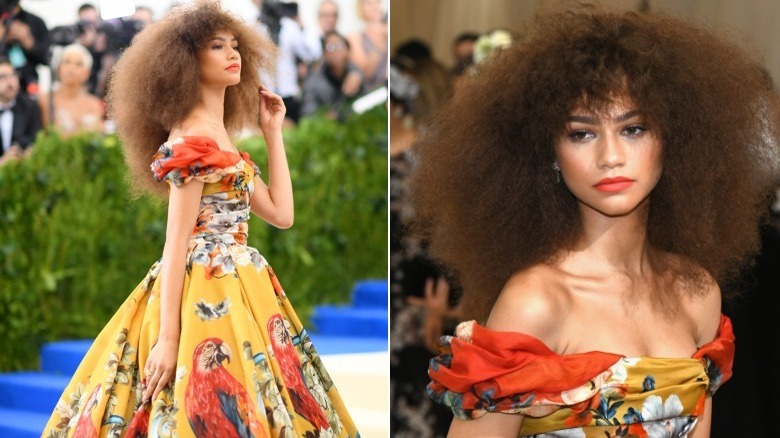 In 2017, actress Zendaya forged her own path by ignoring the Met Gala's avant-grade theme and opting for a classic ball gown by Dolce and Gabbana. As Vogue noted, the risk more than paid off. The stunning dress featured a classic 18th century silhouette with a bold orange and yellow tropical parrot print. Zendaya finished off the look with a natural Afro and bright, colorful makeup. Even Rihanna appreciated the look, writing "Brown goddess" on Instagram.
People were understandably blown away by Zendaya's outfit. As PopSugar wrote at the time, "When we laid eyes on Zendaya's golden Dolce & Gabbana gown at the Met Gala, we momentarily lost our breath. The tropical-printed gown looked more like a work of art than a dress, after all." And as Teen Vogue put it, "This year, she came to the Met to slay." This iconic, bold ensemble is, without a doubt, one of the most iconic looks ever to grace the Met's red carpet.
Source: Read Full Article