Ariana Grande Liking a Tweet Dissing Cardi B Is Apparently Fake
07/16/2021
A screenshot circulates online of the 'Save Your Tears' singer's alleged reaction to the rapper's new collaboration with Normani called 'Wild Side', but it has been debunked.
AceShowbiz – Ariana Grande has no ill feelings towards Cardi B. After the former Nickelodeon star was accused of dissing the Grammy Award-winning rapper on Twitter, it has been claimed that the whole thing was a sham.
On Thursday, July 15, following the release of Cardi's new song with Normani Kordei called "Wild Side", a screenshot circulated online of Ariana's alleged liked tweets, which included one that shaded the Bronx femcee. It read, "Cardi's verse ruined the song, I can't listen to it without being irritated …."
@manisposition, who allegedly posted the original tweet, later seemingly followed it up with other posts which read, "I DELETED SO F**KUNG (sic) FAST" and "let me deactivate chile. Imma follow my close mutuals on my spam."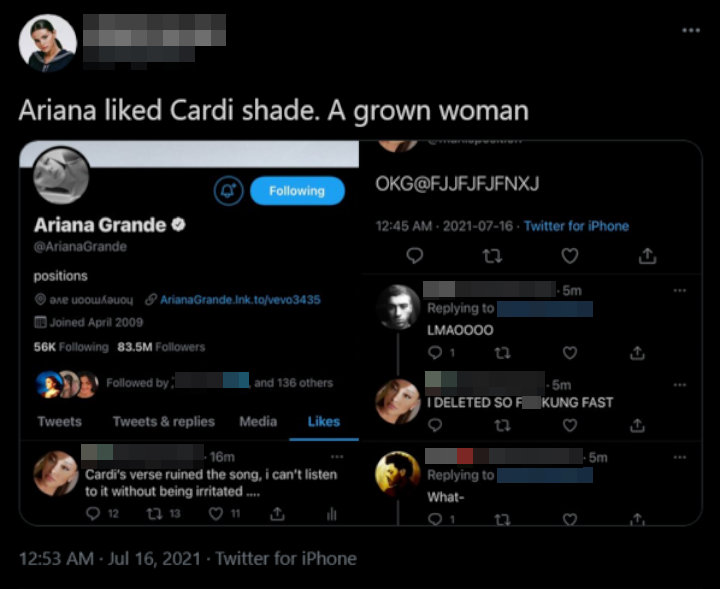 Screenshot of Ariana Grande's liked tweet dissing Cardi B is reportedly fake.
However, some Internet users have found evidence that it was fake. The original Twitter account of @manisposition is still up and clarified that he/she never posted the said tweet dissing Cardi, let alone Ariana liking her/his tweet.
"Ariana would never please, if she liked my tweet I would've been passed out," the said Twitter user wrote. The apparent Ariana fan added, "It's a false alarm giys (sic). Also this is not me lol. The whole thing was blown out of proportion," before stressing, "ARIANA DIDNT LIKE ANYTHING I WAS FREAKING OUT OVER THE WILD SIDE MUSIC VIDEO!!!!!"
Additionally, a screenshot has surfaced of DMs between two people who orchestrated the whole thing. In the alleged chat, one of them contemplated about making a white mode version of the screenshot tweets, which was responded with, "PLEASEEEE" by the other person.
Ariana, meanwhile, has not responded to the allegation.
Source: Read Full Article