Candace Owens Snarks at Stephen A. Smiths Claim Vaccine Saved His Life After COVID Battle
01/20/2022
The conservative political commenter says it's the 'peak stupidity as a species' after the sports journalist declared that being vaccinated saved him from the deadly virus.
AceShowbiz –Candace Owens, who has been pushing anti-vaccine conspiracy theory, is now picking on Stephen A. Smith. The conservative political activist has refuted the ESPN commentator's claim that vaccine saved his life following his scary COVID-19 battle.
On Tuesday, January 16, Candace once again took to her Twitter account to voice her anti-vaccine stance. Disagreeing with the sports journalist, she snarkily remarked that it is the "peak stupidity as a species."
"Stephen A. Smith caught Covid, was hospitalized with severe symptoms, and *almost* died. He believes that this is proof that the vaccine he received, worked. Because he only *almost* died," Candace pointed out, before adding, "We did it y'all. We've reached peak stupidity as a species."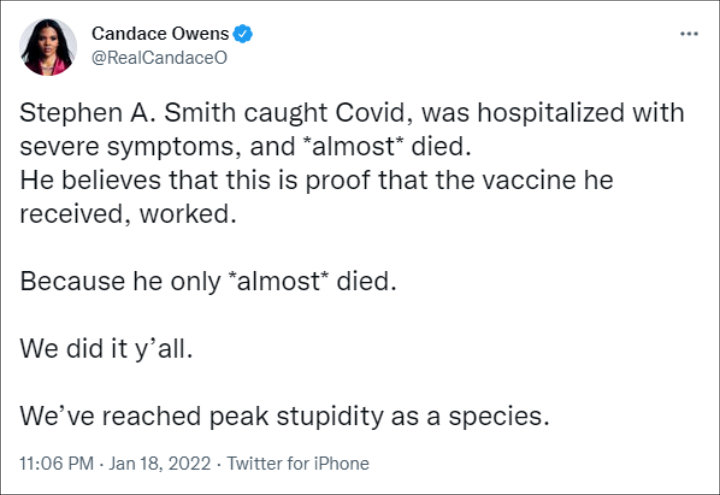 Candace Owens refuted Stephen A. Smith's claim that vaccine saved his life after his scary COVID battle.
Stephen opened up about her scary battle with the virus earlier this month, after testing positive in late December. When he made his return to "First Take", he revealed that "it almost took [him] out."
The 54-year-old said that he feared he might die after he was hospitalized with a 103-degree fever and double pneumonia on January 1. "I didn't know if I was going to make it," he shared. "[The doctors] told me, had I not been vaccinated, I wouldn't be here. That's how bad I was."
"I had pneumonia in both lungs. My liver was bad. It had ravaged me to the point where even now I have to monitor my volume, get to the gym every day, walk before you run," Stephen further detailed. He then admitted that though he's "still not 100 percent with [his] lungs," he's already tested negative for COVID. "I'm on the road to recovery," he stressed.
Candace herself recently bragged about surviving COVID despite not being inoculated. She tweeted on Sunday, "I would like to apologize to all of the people who are upset that I am unvaccinated and somehow survived covid."
She further undermined the virus as she described it as "a disease with an approximate 99.87% survival rate for individuals under the age of 65." She sarcastically said, "I too am shocked that I survived those odds," before adding in a separate post, "Maybe I should buy a lottery ticket."
Source: Read Full Article