How Was Prince Harry And Meghan Markles Oprah Interview Received At A British Award Show?
09/10/2021
Prince Harry and Meghan Markle's interview with Oprah Winfrey that aired back on March 7 has been making headlines for months, mainly because it marked the very first time that the Duke and Duchess of Sussex were given a platform to speak out about their decision to step down as senior members of the royal family — and move out of the UK — the year prior. The interview showed a different side of the couple, who spoke, candidly, from personal experiences, together for the very first time since they moved to California.
While many royal watchers supported Harry and Meghan's decision to speak out — and appreciated what they had to say — there was also a great deal of backlash, according to Express. Royal experts across the globe criticized the Duke and Duchess of Sussex, many shocked by the whole thing, calling it "disrespectful," according to Good Morning America. The interview itself proved to be good television — and, according to the Wall Street Journal, some 17 million people tuned in to watch. It was even nominated for an Emmy Award, according to Harper's Bazaar. 
Although it has been six months since the interview aired, one thing is for sure: People are still very passionate about their opinions of the interview — and of Harry and Meghan. This was certainly the case at a British awards show that took place on September 9. Keep reading to find out the crowd's reaction to Harry and Meghan's interview when a clip was played on the big screen.
Prince Harry and Meghan Markle doesn't appear to be very popular in the UK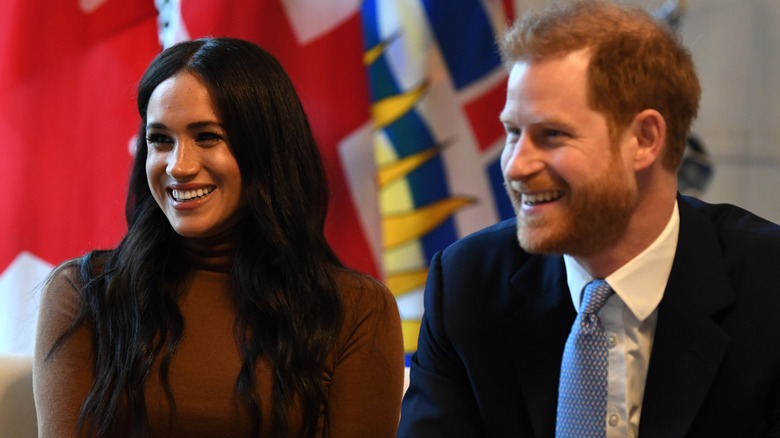 According to the Daily Mail, the crowd at the 2021 National Television Awards held in London wasn't too pleased with Prince Harry and Meghan Markle's interview with Oprah Winfrey — and they made sure that their feelings were known during the September 9 event. The report indicates that the crowd actually booed when a clip of the interview was played during a montage that was put together for the evening. "Megan and Harry were shown on screen during a montage of TV moments from the last twelve months. Immediately, there was audible booing throughout the arena. It was as though they were pantomime villains," a source told the Daily Mail.
"When the clip came up of Meghan there were boos from the audience. Some shouted out and there was laughing. There were a few embarrassed faces but sadly Meghan was obviously not too popular on the night," another source, identified only as an anonymous celebrity, told the Daily Mail. The booing comes just a week after Fox News reported that Harry and Meghan's "favorability" rating had dropped to an all-time low amongst people polled in the UK.
Source: Read Full Article