Inside Harry And Meghan's Private Calls With William And Kate
08/25/2021
It's been a few months since Prince Harry and Meghan Markle sat down with Oprah Winfrey and divulged harrowing details about their lives as working members of the royal family. In the bombshell interview, Meghan revealed that there was concern among royal family members about what color Archie's skin would be when he was born and that her sister-in-law Kate Middleton made her cry the week of her wedding over flower girl dresses. Harry had a few revelations of his own, briefly touching on the rumored hostility between him and Prince William. "I love William to bits. He's my brother. We've been through hell together," Harry said (via People). "But we are on different paths." 
Harry also made a comment about Prince William and their father, Prince Charles, that raised eyebrows. "My father and my brother are trapped. They don't get to leave, and I have huge compassion for that," Harry revealed to Oprah, per People. Prince William defended the royal family in a comment to the press after the interview aired, particularly touching on the alleged comments made about Archie's skin color. "We're very much not a racist family," he told reporters, as the outlet noted.
So how are the siblings (and siblings-in-law) getting along months after the interview? Read on to find out.
Prince Harry and Prince William are now 'very close with one another'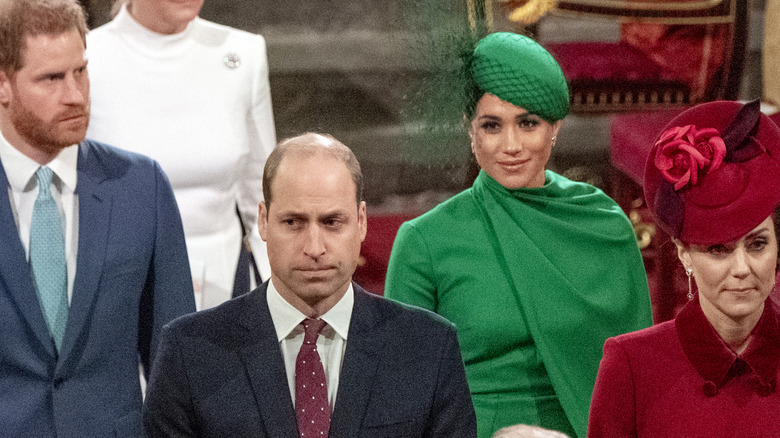 Prince Harry and Prince William are reportedly patching things up between the two of them. The pair first reunited at the funeral of their grandfather Prince Philip. They met again to honor their mother's 60th birthday in early July, and now it appears that the brothers are in regular communication again. "I know that the four are talking with one another and they're talking by Zoom [and by] FaceTime. They're very close with one another," Diana's vocal coach Stewart Pearce, author of "Diana: The Voice of Change," told Us Weekly. Pearce believes the calls are informal and often involve the couples doing things like making dinner or enjoying a cup of tea while they chat.
Pearce revealed that the Duke and Duchess of Sussex have "very different" views on the world than the Duke and Duchess of Cambridge. "Their lens on the world is highly individualized. And what's remarkable is that they all totally respect [each other], but this lens is different," the author explained. "They have absolutely turned a new page in their relationship and have started the healing," a source told Us Weekly. The "Suits" actress and her sister-in-law have also begun mending fences. Kate has reportedly been "sending [notes and] gifts and trying to build up a relationship," per the insider.
Let's hope this relationship continues on this positive trajectory.
Source: Read Full Article