Of All Of Cara Delevingne's Looks – This Stands Above The Rest
08/18/2021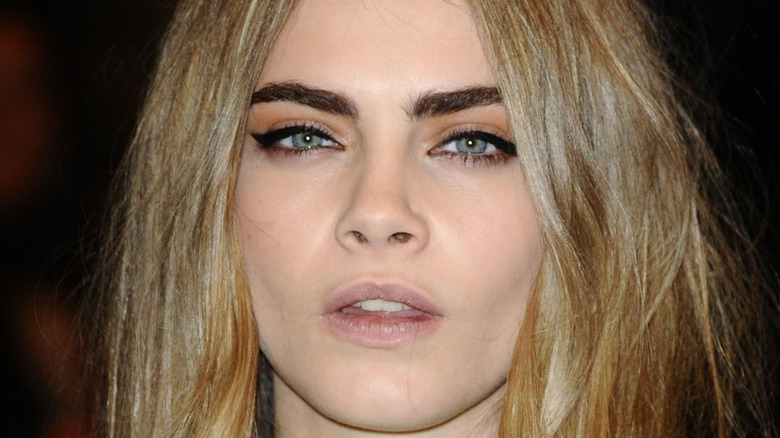 Model and actress Cara Delevingne is known for her unique style, with magazines like Glamour devoting entire slideshows and lengthy articles to her flair for fashion. Delevingne's appearance has grown and adapted over the years as she's become more comfortable with who she is and what she values most in an outfit. In a 2017 interview with Refinery29, the model spoke about which ensembles have made her feel the most empowered; "I think when something is really well fitted to your body and you feel comfortable in it," she said. "Also, I think pockets are really important because I don't like wearing a handbag."
Even though comfort is key for Delevingne, she never shies away from the challenge of wearing something daring or restrictive, like the dazzling silver dress she donned for the 2017 premiere of her movie "Valerian and the City of a Thousand Planets" (via ELLE). The model/actress has worn so many memorable outfits over the years that perfectly encapsulate who she is as an individual, but one look in particular stands above the rest.
Cara Delevingne's 2018 Met Gala look turned heads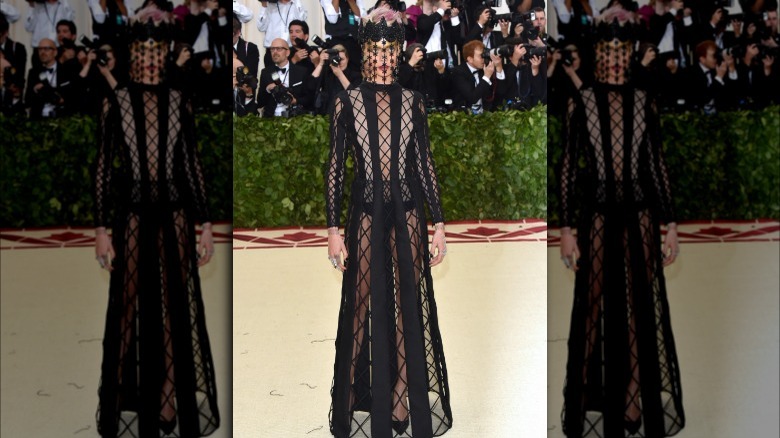 The Met Gala is perhaps the biggest night in fashion. The fundraising event benefits the Metropolitan Museum of Art in New York City, and the theme for the festivities changes each year (via Vogue). Invited celebrities turn out in droves as each one strives to make the Best Dressed List in their themed attire. Some people fall short of the mark, but Cara Delevingne has always understood the assignment. This was especially true during the 2018 Met Gala, where her look was undeniably one of the red carpet best.
The theme for that year's event was "Heavenly Bodies: Fashion and the Catholic Imagination," and Delevingne wore an ensemble that was heavenly indeed. She stepped out in a dramatic, gothic Dior Haute Couture outfit that left little to the imagination. The outfit featured "sheer lattice-patterned panels" and a cage-like gown that was stunning to behold, per Hollywood Reporter. To complement the dress, Delevingne wore a matching Dior beaded crown and veil. She also debuted violet-hued hair, a symbolic color of Catholic mourning, further proving that her attention to detail is unparalleled (via Allure).
Source: Read Full Article