The Most Expensive Outfits Worn By Real Housewives
07/01/2021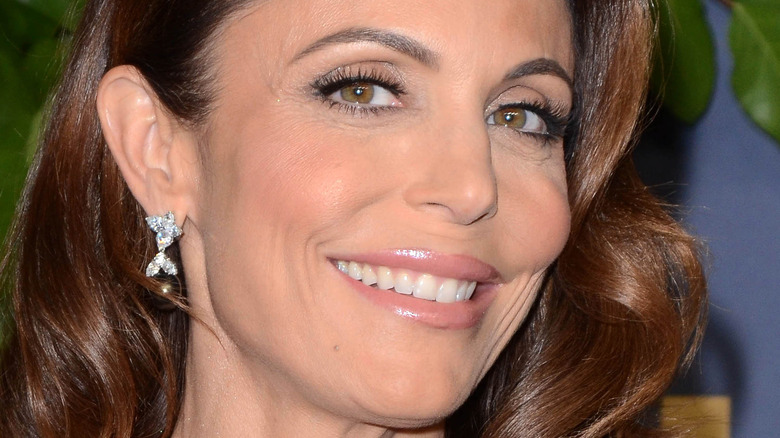 The ladies of "The Real Housewives" franchise are known for their sense of style. As the show documents the affluent housewives' daily lives, viewers see them in everything from casual day looks to stunning evening gowns. Many fans of the popular reality TV show watch for the fabulous fashion as well as the dramatic moments.
With all the memorable sartorial looks, you may have found yourself watching an episode of "The Real Housewives" and wishing you could swap wardrobes with one of the housewives. But, their enviable outfits don't come cheap. It's no secret that these ladies have plenty of money and enjoy treating themselves to a lavish lifestyle no matter the price tag, and their clothing budget is no exception. Between designer clothes, shoes, bags, and other accessories, their closets are full of crazy expensive items.
But, have you ever wondered just how much these reality TV stars splurge on their appearances? We've tracked down some of their most iconic and most expensive outfits to find out exactly that.
Kameron Westcott paired this beautiful gown with expensive accessories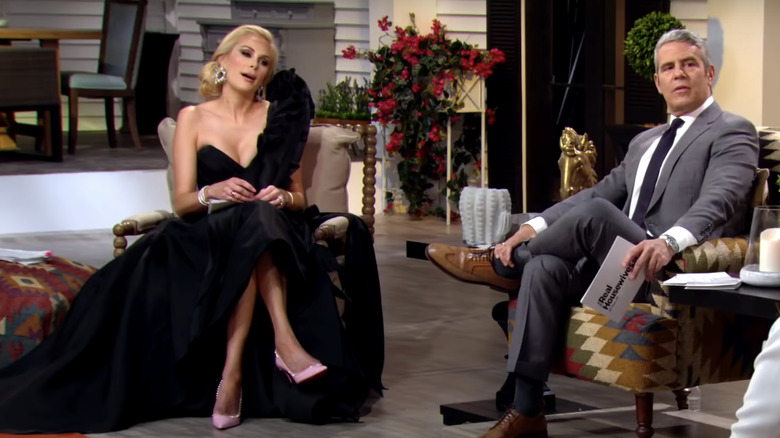 It's no secret that these ladies pull out all the stops for reunion episodes, but Kameron Westcott was show-stopping even by "Real Housewives" standards in Season 5's reunion show. She wore a bold, one-shoulder, ruffled black gown custom-made by Nardos Imam of Nardos Design. The couture fashion brand has a salon located in Dallas, making it the perfect option for the Texas housewife's look. Since the one-of-a-kind dress was made specifically for Westcott, there's no exact price. But, Nardos' custom designs begin pricing at $5,000 and go up from there.
In an Instagram post with photos of Westcott, Nardos Design pointed out that it was the second reunion in a row the reality star had worn one of their dresses. Westcott also wore a custom red tulle mermaid gown in the Season 5 "RHOD" Reunion. We'll have to wait and see if she makes it three in a row next season.
Westcott accessorized with glitzy and expensive jewelry. Her crystal earrings, by Amina Muaddi, retail at $712. Westcott's bracelet, by Nicole Rose, wrapped around her wrist in the shape of a snake and was made with real diamonds and it cost a shocking $14,900. Westcott finished the look off with pretty pink heels that added a nice splash of color to the primarily black ensemble. The studded Christian Louboutins are currently sold out, but similar shoes come in around $900 per pair.
Bethenny Frankel spent a surprising amount on this leather dress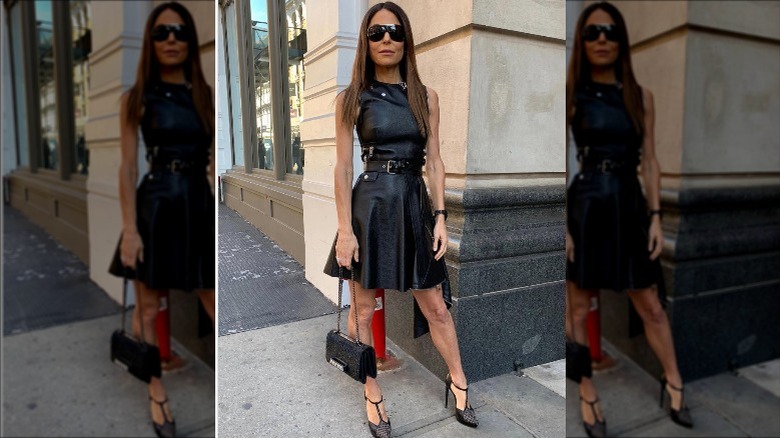 With a fashion line of her own, it's not surprising that Bethenny Frankel is quite the style icon. Whether she's dazzling at a reunion episode of "The Real Housewives of New York City," or rocking a street look, Frankel always knows how to make a statement.
The "RHONY" star showed off one of her fabulous looks to her Instagram followers a few days before Thanksgiving in 2020. Frankel looked fun and edgy in this belted leather dress with zipper details; the black mini dress puts a feminine twist on a biker-inspired look. She matched the dress with black shoes, a black purse, and chic sunglasses for an all-black, monotone outfit.
In the caption of the post, Frankel asked, "Who's more dressed, me or your turkey?" Well, we certainly hope dressing the turkey wasn't as expensive as this little black dress. The asymmetric Alexander McQueen dress costs over $3,000. Though Frankel's exact dress is currently sold out, there is a similar leather McQueen dress, with the addition of a ruffle available now. Unfortunately, it also has a hefty price tag and is currently on sale for $4,560.
Dorit Kemsley spent big money to dress in Louis Vuitton from head to toe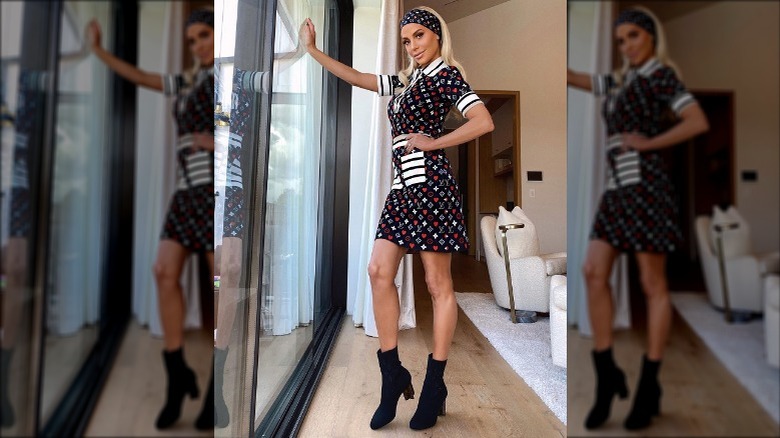 Dorit Kemsley has loved fashion since she was a young girl. During an interview with Vogue, she talked about how her mother and grandmother were early inspirations for her style. She said her grandmother "never left the house without a full face of makeup and a little handbag." Kemsley also remembered experimenting with outfits from her mother's closet. "And I'll never forget, by the time I was in sixth grade, I could fit into my mother's clothing, so I would wear her clothes to school," she revealed. "I was in elementary school, and my teachers would look at me like, wow Dorit." That affinity for fashion has stuck with Kemsley into adulthood, and viewers of "RHOBH" frequently see her unique and often expensive taste on the show.
Kemsley took to her Instagram to share this fun but pricey day look. The knit polo dress is printed with a pattern of hearts and the Louis Vuitton logo from the Game On collection. The designer dress costs $2,700, but Kemsley didn't stop there; she paired the dress with a headscarf and shoes by the same designer. The scarf comes from the same Game On collection and is printed with a matching pattern. Kemsley wore the $665 scarf at the front of her head, with her flowing blonde curls looking flawless behind it. She finished the head-to-toe Vuitton look off with a pair of ankle boots that cost $1,220.
Melissa Gorga was stunning in her Season 11 reunion gown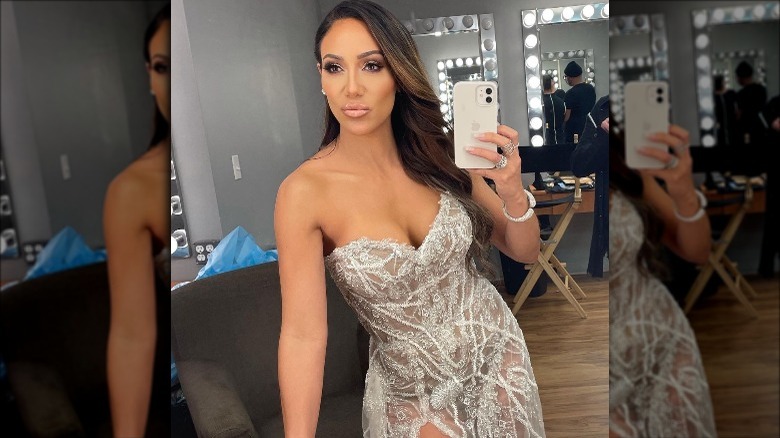 Melissa Gorga uses her keen eye for style to curate the clothing at her New Jersey boutique, Envy by Melissa Gorga. Her store mostly sells simple designs that you could wear for everyday fashion. However, Gorga abandoned this effortlessly casual look in favor of full-on glam during the Season 11 reunion episode of "The Real Housewives of New Jersey." It was Gorga's ninth reunion episode, and she looked stunning in a partially see-through, heavily embellished silver gown designed by Ryan Patros. The custom-made couture gown was tailor-made for Gorga, and though it's hard to put an exact price on the one-of-a-kind dress, it's safe to say it didn't come cheap. Ryan Patros's custom couture pricing starts at $5,000 and only goes up from there.
Gorga paired the gorgeous dress with earrings, bracelet, and rings by Nicole Rose Kopeland, and the silver jewelry looked flawless with the sparkling gown. Additionally, her shoes were a pair of strappy nude heels by Giuseppe Zanotti; similar Zanotti shoes retail close to $1,000. Gorga's makeup artist, George Miguel, finished off the look with a beautiful nude lip and smokey eye, while hair stylist Julius Michael did her hair in a dramatic side part. Gorga described her entire look in an Instagram caption saying, "A little see-through, a little side part, and always a nude lip baby."
Kyle Richards shows off a pricey dress in this mirror selfie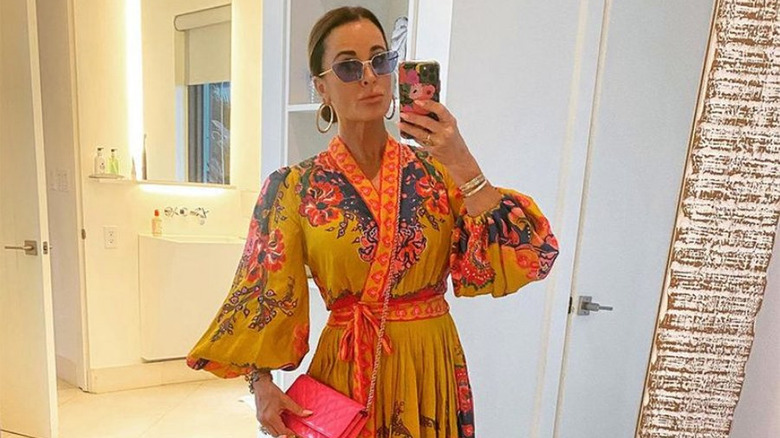 Kyle Richards from "Real Housewives of Beverly Hills" posted many beachy looks on her Instagram during her trip to the Turks and Caicos Islands in April of 2021. One of them was this mirror selfie she took to share the "island vibes" with her followers. Her brightly colored wrap dress definitely matched the vibes, and it's hard to decide whether to be more jealous of the tropical vacation or the adorable outfit.
Though the dress looks perfect for a day of relaxing at the beach, its cost may stress you out. According to Us Weekly, the Zimmermann dress costs nearly $800 — and if that seems like a lot, wait until you hear about her purse. Richards has a taste for luxury handbags and is often seen carrying a Hermes Birkin. However, for this beachy look, she opted for another designer; the mini, pink Chanel purse with a gold chain adds another pop of bright color to the outfit. While this cross-body bag is small, the price tag isn't: Similar Chanel purses retail at $2,800.
Eboni K. Williams looks elegant in an expensive monochromatic look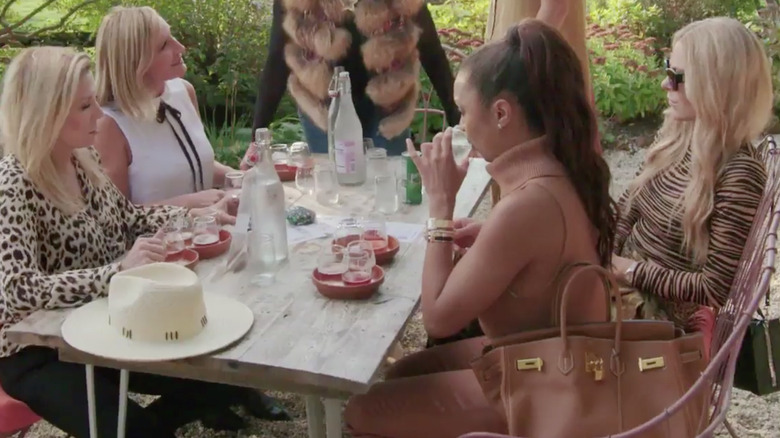 Eboni K. Williams joined the cast of "The Real Housewives of New York City" in Season 13. Before coming on the show, she had an impressive career as a public defender and then a broadcast journalist. During an interview with Vanity Fair, she discussed changing the way she dressed to get hired as a public defender. "I show up to the interview looking like I look," she said, "my curls, my suit, my heels. And they were like, I don't know if you're really cut out for this."
However, since then, Williams has used the way she dresses to send messages about herself, even writing a book called "Pretty Powerful: Appearance, Substance, and Success." She described this book to Vanity Fair by saying it is about "the intentionality of leveraging your aesthetic and how you show up appearance-wise in spaces to convey messaging."
Williams looked chic and classic on Season 13 Episode 3 of "RHONY," on which she had an important conversation with Ramona Singer, explaining the historical context of calling someone "the help." For this professional look, she wore a camel turtleneck by Alice and Olivia, which costs $225, and matching pants. She accessorized with a Hermes H Bracelet, which retails for $690, and finished the monochromatic outfit with a matching Birkin Handbag that cost $14,000.
You won't believe how much Bethenny Frankel spent on these feathered boots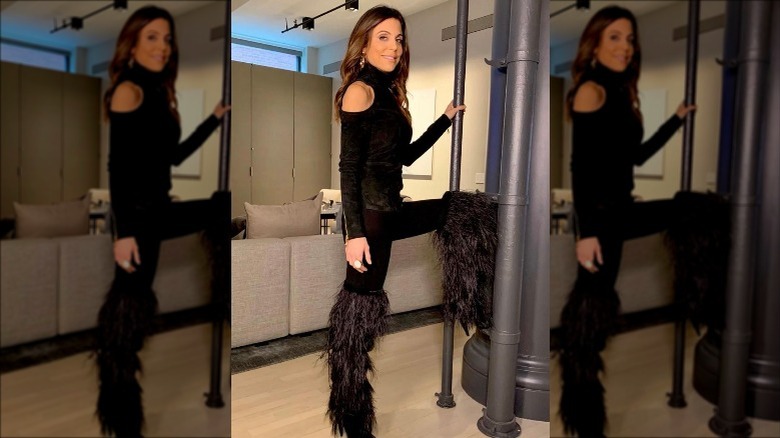 Bethenny Frankel shared a photo on her Instagram of this fabulous outfit that she wore on her show, "The Big Shot with Bethenny." With fluffy ostrich feathers covering most of her legs, the feathered boots definitely draw the eye and are the biggest statement in the outfit. They also come with the biggest price tag: These over-the-knee Yves Saint Laurent boots originally cost $10,000. 
Though the rest of the outfit wasn't as expensive as the designer boots, they certainly weren't cheap. According Vogue, Frankel wore the pricey boots with a pair of black suede pants and black suede bodysuit by Balmain. The exact pants and bodysuit Frankel wore are now out of stock. However, the same designer currently sells a similar black bodysuit for around $1,500. And, other black suede pants by Balmain originally cost $3,500. The shoulder cutouts on the bodysuit, feather-covered boots, and various fabric textures take the classic, all-black look and give it some excitement and edge.
Teresa Giudice dazzled in this pricey designer dress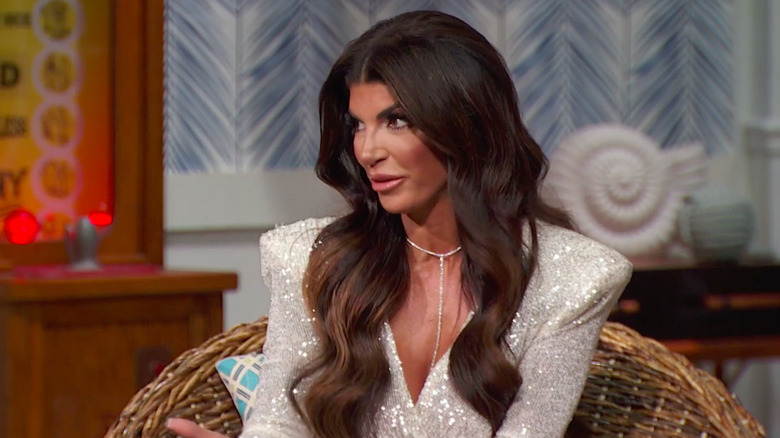 Like many of her fellow Real Housewives, Teresa Giudice has a love for fashion, and viewers can see this in the many stylish looks she's worn on the "Real Housewives of New Jersey." In an interview with Paper, Giudice talked about how she experimented with different styles when she was younger. "I've always loved fashion," she revealed. "I was always the type in high school trying new things and combos — weird hats and accessories. My whole outfit would sometimes revolve around that hat or belt." She added that she came close to being named best dressed at her high school, but lost the title to a competitor.
But Giudice didn't sport any weird hats or belts on the "RHONJ" Season 11 reunion episode. Instead, she opted for a stunning sequined gown designed by Michael Costello priced at $5,500. The dress had an elegant but distinctive look due to the plunging neckline, high slit, and prominent shoulder pads. Guidice matched the sequined dress with equally dazzling jewelry by Sofer Jewelry and delicate heels by Stuart Weitzman.
Stephanie Hollman looked amazing in this expensive black sequined dress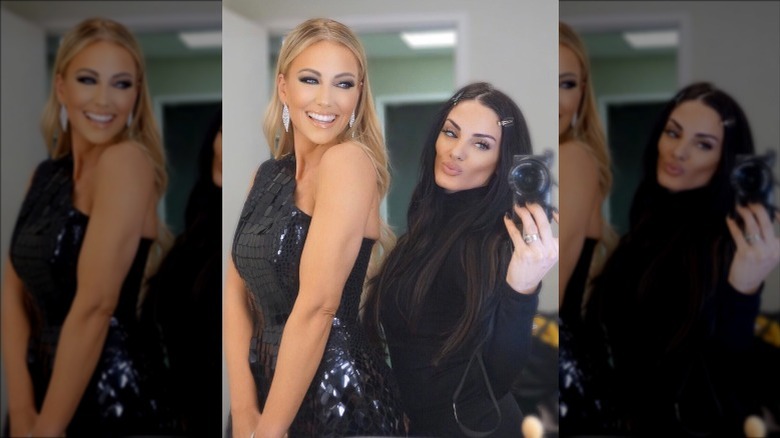 Another reunion look that stole the show was Stephanie Hollman's Alex Perry gown on Season 4 of "The Real Housewives of Dallas." The one-shoulder dress is covered in black sequins patterned in a croc print. Wearing the beautiful $5,000 gown, Hollman literally sparkled throughout the whole episode.
The dress designer, Alex Perry, is a favorite pick for many of the Real Housewives. His designs have also been worn by Kyle Richards and Lisa Rinna as well as Hollman. Perry is well-known in his home country of Australia, and thanks in part to the Real Housewives, is becoming more and more popular in the U.S.
Hollman paired the glamorous dress with jewelry by Nicole Rose and makeup by Priscilla Distasio. She thanked her stylists and designers in an Instagram post of herself and Distasio. "Thank you all for the love and support you have shown me throughout the years," she wrote in the caption. "There are no words to express what you mean to me and how blessed I feel to have you in my life. I am humbled and so grateful for this opportunity and for your kindness."
Erika Girardi wore this over the top blazer during season 10 of RHOBH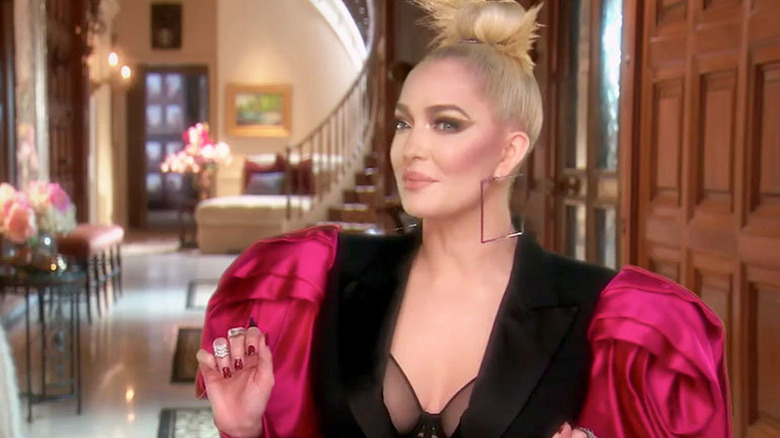 Erika Girardi is another housewife known for her personal style, especially when it comes to her interview looks. The "Real Housewives of Beverly Hills" star is also a broadway performer, having played Roxie Hart in "Chicago," and she brings her flair for the dramatic arts into her fashion choices. Girardi told "Page Six Style" that, "Confessional looks are my favorite. You are alone in your home and you can really be anything you want. Mine are always a little theatrical because that's who I am at heart."
One of the most memorable of these theatrical looks was the puff sleeve Alexander McQueen blazer that Girardi wore in her Season 10 confessional. The red rosette sleeves turned the classic black jacket into an over-the-top look that we can't get enough of. Last year Giardi sold this iconic blazer, as well as several of her most loved pieces, on Vestiaire Collective, a fashion resale site. Her used McQueen blazer was sold for $2,300. That may seem expensive, but it's quite a bargain when you consider that it was originally closer to $6,000. Discussing the dramatic pieces she sold, Girardi told Page Six she hopes the buyers, "Wear them and enjoy because I certainly did; these are not for the faint of heart."
Dorit Kemsley looks flawless in this extravagant safety pin dress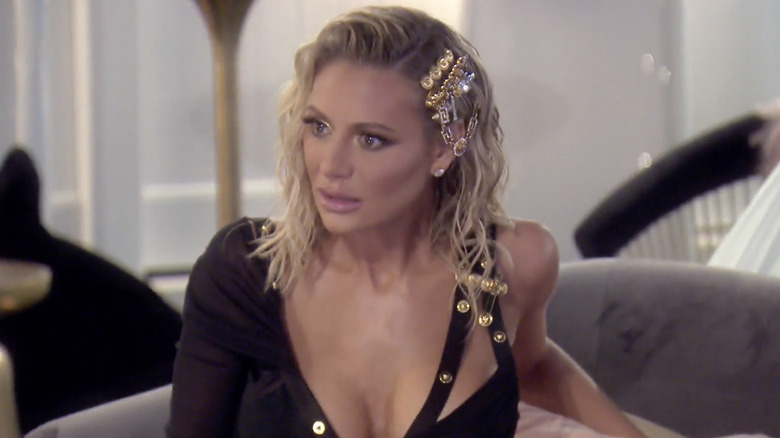 When you hear the words "safety pin dress," you might not think of luxury fashion. Still, the black safety-pin-adorned dress worn by Dorit Kemsley during her party on Season 10 Episode 16 of "The Real Housewives of Beverly Hills" is precisely that. We all know Kemsley loves high-end designers, and this avant-garde dress is actually a couture piece by Versace. It comes in at €6,500, making it close to $7,700 after conversion.
A similar Versace dress with the same iconic safety pins became a sensation in the '90s when Elizabeth Hurley wore it to a movie premiere (via PopSugar). Kemsley reworked the '90s-inspired look with her own style and accessories. She kept her shoulder-length blonde hair down and wavy with several gold hair clips pinned to one side. The hair clips went great with the golden safety pins on the dress — and like the dress, they were not cheap. Just one of the hair accessories, also by Versace, costs $250.
Source: Read Full Article