The Truth About Chase Stokes Relationship With Madelyn Cline
08/20/2021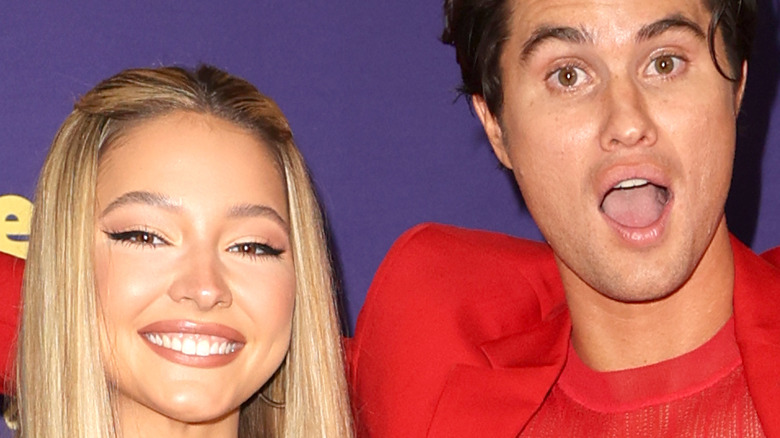 Chase Stokes and Madelyn Cline's characters – John B Routledge and Sarah Cameron – are dating in the popular Netflix series "Outer Banks." And they don't even have to fake the fiery chemistry they share on-screen. Why not? Well, the actors are together in real life, too. The pair is currently trending on TikTok because fans noticed Stokes appeared to mouth "Mads" – a nickname for Cline – during an emotional scene on the show (via Us Weekly).
"Did anyone else noticed that chase stokes said 'mads' during Sarah's death scene," one user asked in a post that has amassed more than 334,000 likes (via TikTok). Cline referred to the scene in question as "heartbreaking" in a recent interview with Elle. "Honestly, I was really trying to do what he needed for that day. Because he was really carrying the brunt of the work. I was literally playing dead," Cline explained. She added that it wasn't really a "surreal" experience to act out the situation with her boyfriend since it took place in the middle of a 12-hour workday.
However, she emphasized that shooting any sort of emotional scene like that came with challenges. "It is heartbreaking when you have someone standing over you crying and heartbroken," she explained. Totally understandable. This is just one situation the couple has been candid about since confirming their off-screen relationship with a sweet Instagram post in June 2020.
Chase and Madelyn got together after filming the first season of "Outer Banks"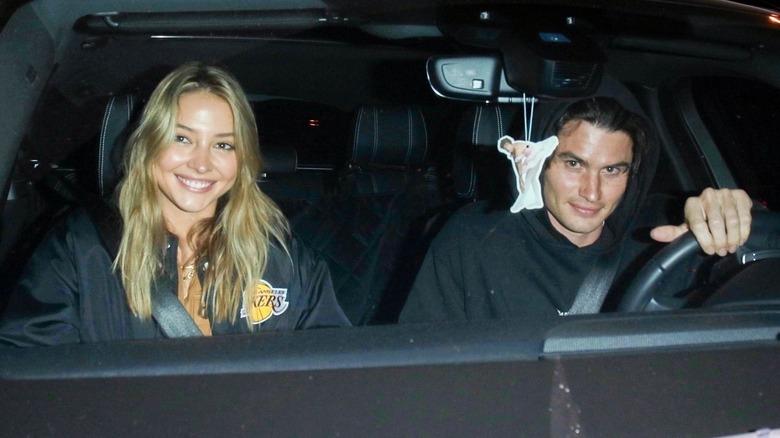 Fans of the show commended Chase Stokes and Madelyn Cline for the chemistry they shared on-screen before they even knew that they were dating in real life. Cline told V Magazine that the duo worked really hard to make what they had believable. "Our goal from day one was to really sell John B and Sarah's relationship," she explained. "We really had to start at our own friendship and find that friendship in John B and Sarah for the love story to sell."
Although their hard work helped them pull off a believable relationship on the show, Stokes told Us Magazine that it took them a while to realize that their feelings extended beyond acting. "It was just always work-oriented – really until the day we wrapped," he said. They figured out that something was brewing as the world went into quarantine because of the pandemic. "We were like, 'Is something here or am I crazy,'" the actor said. "That's sort of where it bloomed from there."
Of course, there was some speculation about their relationship status before they confirmed that they got together. A timeline compiled by Elle revealed that fans were curious about why the duo was spotted in an apartment together during a virtual interview in April of 2020.
They don't let their real-life relationship get in the way of work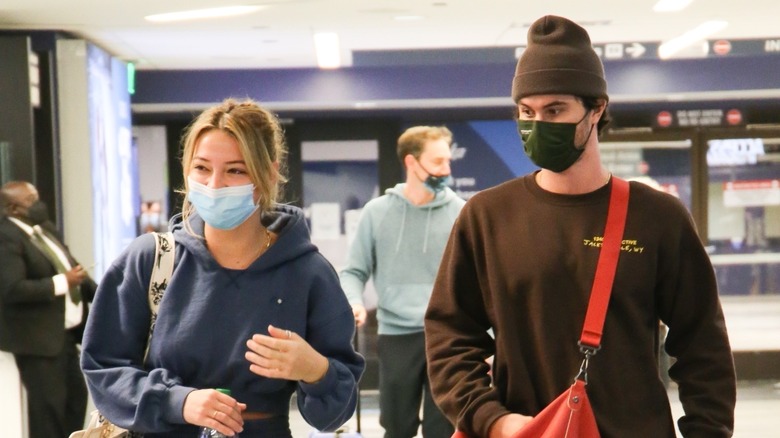 Anyone who has ever worked with their partner knows it can be tough. That's especially the case when appearing on screen. Vanessa Hudgens was candid about one time she fought with her then-boyfriend Zac Efron during a "High School Musical" rehearsal. According to her, the director caught the tail end of their tiff and was concerned about what it could mean for the popular Disney series.
Obviously, dating a coworker comes with risks. However, Chase Stokes and Madelyn Cline found a way to work things out when they returned for the second season of "Outer Banks" as a couple. Stokes opened up to Us Magazine. "I think there's always this element of [asking] 'How can we make it not about Maddie and Chase? How do we make it about Sarah Cameron and John B,'" he said. "So that's been fun to sort of find the ebbs and flows of the characters and give it that birth, vs it being everybody looking at us for who we are as a couple outside of work."
He added that he is "even more proud" to watch Cline grow as a result of the role. Cline emphasized the importance of keeping "a healthy balance and a healthy boundary" between work and their relationship in her chat with Elle. She also confirmed that they talked things out before going back to set.
If anything, Chase and Madelyn are relationship goals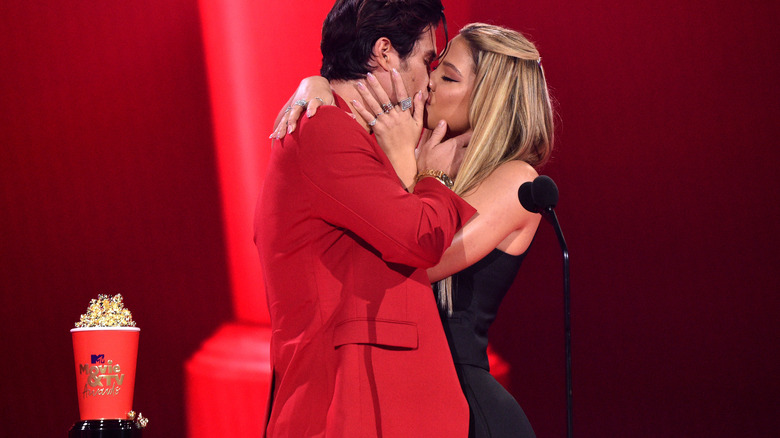 The fact that Chase Stokes and Madelyn Cline have found a way to make their relationship work makes them seriously inspiring. Cline had a sweet answer when Elle asked if it was a struggle to date her coworker. "It's nice because you're both going through it at the same time," she explained. "We all are, as a cast, so it's wonderful to have that shared experience together, but it's especially nice just for [Chase and I] to have gone through this experience together. I feel like we've become incredibly close because of it."
Stokes shared a similar sentiment in a chat with V Man. "I'm very thankful for her and the journey we're on, it's been awesome." He added that what they shared was "very healthy." Thankfully, fans are able to watch their relationship play out in real-time. Take the time they kissed onstage at the 2021 MTV Movie & TV Awards (via MTV). Then there are the social media posts.
"It's quite rare to meet somebody and feel everything change," Stokes wrote in an Instagram caption for Cline's birthday. "Thank you for making the coldest days warm, for your infectious love, and being the best dog mom to Lil mi. Happy birthday sweet thang you make my heart warm and fuzzy." Elite Daily compiled some of the other sweet things Stokes has said about his girlfriend, and checking that out is bound to make you feel things. How cute is that?!
Source: Read Full Article