Truck Drivers Sentence Reduced From 110 to 10 Years After Kim Kardashians Support
12/31/2021
The SKIMS founder thanks Colorado Governor Jared Polis for granting immigrant truck driver Rogel Aguilera-Mederos the significant commutation after she called for clemency.
AceShowbiz -A truck driver has been granted a 100-year commutation, thanks in part to Kim Kardashian. Rogel Aguilera-Mederos, who was sentenced to 110 years in prison for a deadly 2019 car pileup on a Colorado freeway, will now serve 10 years instead after the reality TV star called for clemency.
On Thursday, December 29, Gov. Jared Polis commuted punishment in the case. "You were sentenced to 110 years in prison, effectively more than a life sentence, for a tragic but unintentional act," he wrote in his letter. "While you are not blameless, your sentence is disproportionate compared with many other inmates in our criminal justice system who committed intentional, premeditated, or violent crimes."
The Colorado governor added, "The length of your 110-year sentence is simply not commensurate with your actions, nor with penalties handed down to others for similar crimes. There is an urgency to remedy this unjust sentence and restore confidence in the uniformity and fairness of our criminal justice system, and consequently I have chosen to commute your sentence now."
Jared further called on Colorado Commission on Criminal and Juvenile Justice to review sentencing guidelines to "ensure greater consistency in sentencing to prevent future bizarre outcomes like the one in this case."
Following the commutation, Kim took to Instagram to thank the governor. "Thank you @Govofco for taking action to reduce Mr. Aguilera-Mederos sentence!" she posted on her Story, along with a copy of the letter signed by the governor. "While his new sentence is 10 years, he will now have an opportunity to come home in five years and be with his son and wife."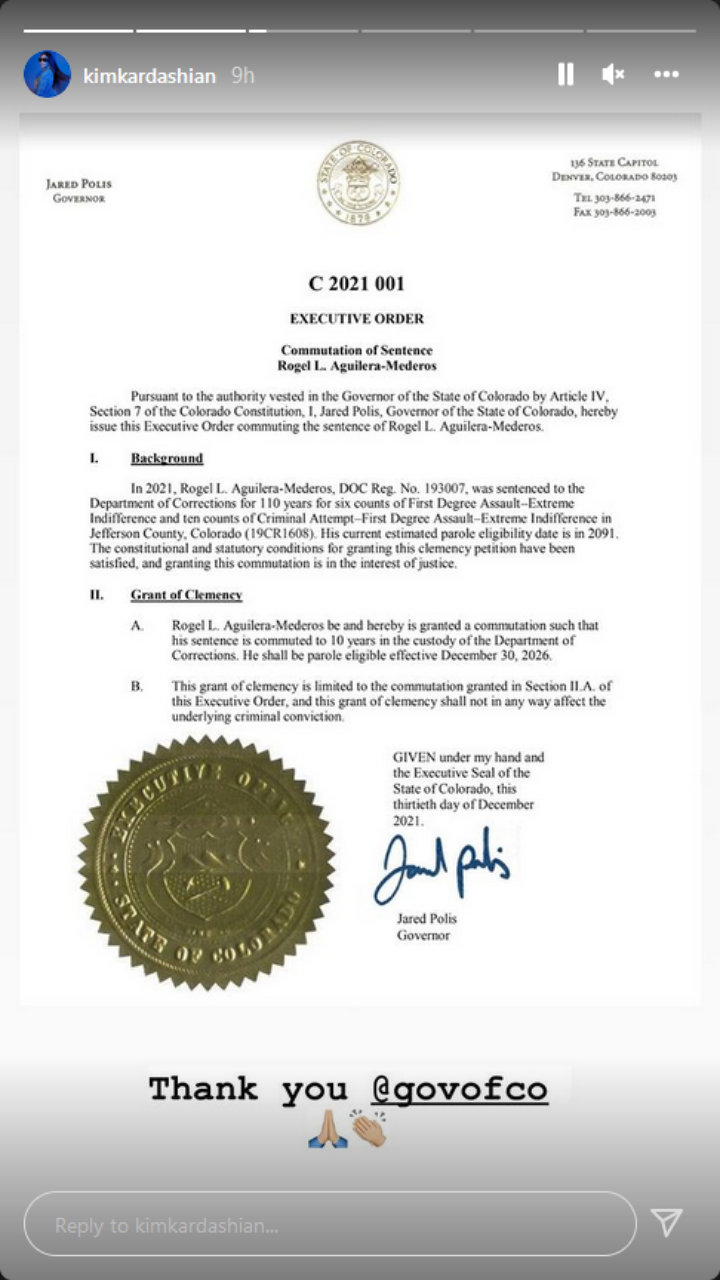 Kim Kardashian thanked Gov. Jared Polis for granting truck driver Rogel Aguilera-Mederos clemency.
She pointed out that "this case was a clear example of why mandatory minimums don't work and need to be abolished," adding that she was "grateful to Governor Polis for his empathy and leadership on this case."
The aspiring lawyer went on praising the governor for granting "three commutations, fifteen individual pardons" and signing "an Executive Order granting 1,351 pardons for convictions of possessions of two ouncers or less of marijuana." She pointed out, "I LOVE THIS! Considering marijuana (sic) is legal now in Colorado it's the right thing to do!"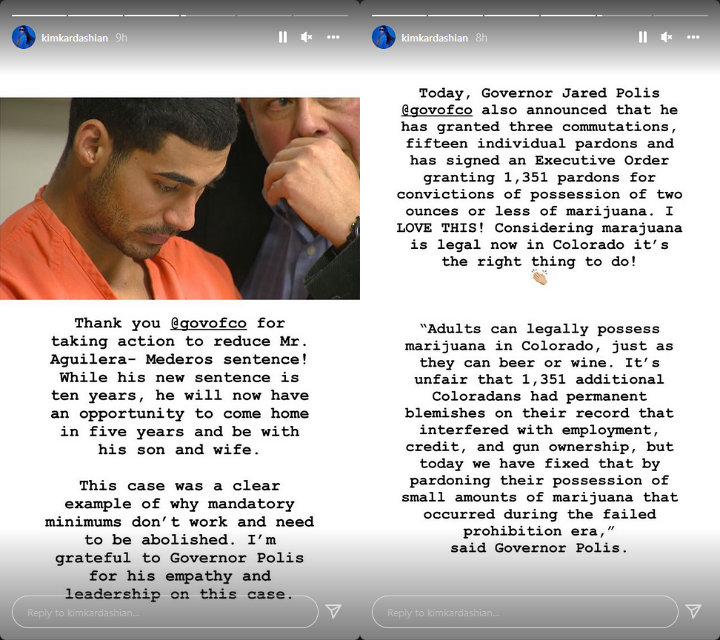 The reality TV star praised the Colorado governor for the decision.
Rogel will now be eligible for parole beginning December 30, 2026 as a result of the commuted sentence.
Source: Read Full Article