Australia's leading lady Marina Prior returns to Mary Poppins
09/04/2022
Whether "feeling pretty" in West Side Story, walking the French streets in Les Miserables, or performing Little Drummer Boy at Melbourne's Carols by Candlelight, Marina Prior has sung her way into the top tier of Australian talent – a position she plans to keep.
With multiple awards and over 30 lead roles to her name, Australia's leading lady of musical theatre is ready to stun the nation two times over, beginning next year with her return to the "theatre masterpiece", Mary Poppins.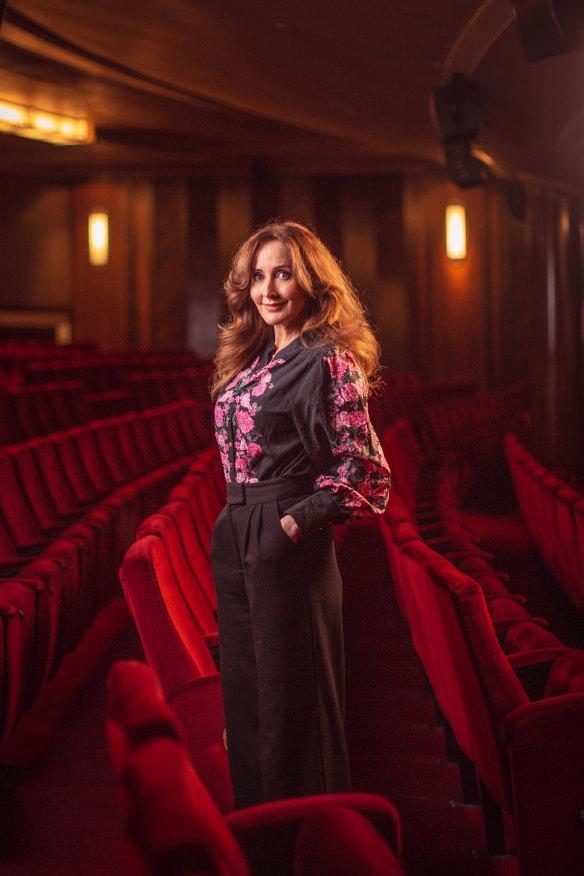 Marina Prior prepares for her return to the Mary Poppins stage in 2023.Credit:Scott McNaughton
"The opportunity to be in a production like this is something that you would never turn down … It is an iconic show," Prior said, before quickly admitting disdain for the over-used descriptor.
"Everyone says iconic, but it is … It has incredible production values, it's just gob-smacking. But at the heart of it, it's the story about a fractured family who actually find themselves finally back together again, through the magic of this Mary Poppins."
Having played Mrs Banks – mother of the young firecracker duo Jane and Michael – in its 2011 Melbourne season, the soprano singer will grace the Poppins stage once again, but in entirely different garb and with double the characters.
Testing her acting abilities, Prior, now 58, will make her comeback as both Miss Andrews – Mr Banks' wicked former nanny who replaces Mary Poppins during the second act – and the Bird Woman, "an angel dressed up as a homeless woman". The two characters could not have less in common, but Prior was prepared for the challenge, viewing it as part of her career's natural progression.
"I started in the industry 40 years ago next year playing ingenues and romantic heroines, the good girl and the soprano and all that sort of thing," Prior said, leaning forward in her chair as she looked back on the challenges she overcame.
"I had to fight really hard to move into character roles and comedic roles because people were sort of like, 'No, no, no. You stay where you are.' But I wanted to evolve.
"There's a sense of, 'I'm still here' – 40 years later from doing Christine in Phantom [of the Opera] to now playing these roles. I'm really just proud of the fact that I can step into character roles, and I didn't get left by the time I turned 30."
Although still playing eight shows a week as Violet Newstead in Dolly Parton's 9 to 5: The Musical, Prior said she had already embarked on coaching lessons, memorising dialogue, and re-capturing the magic defining Mary Poppins ahead of rehearsals in December.
Marina Prior as Mrs Banks in the 2011 Melbourne season.Credit:Illawarra Mercury
Since her musical debut as Mabel in The Pirates of Penzance in 1983, Prior has performed in numerous groundbreaking productions, including Cats, The Sound of Music and West Side Story. But of all the shows, the Advance Australia Award winner said returning to Poppins was most akin to "coming home", largely thanks to her producer Cameron Mackintosh who she credited with some of her most informative creative moments.
"I know the talent of the people in the show, and I know it's going to be a wonderful experience. I've seen firsthand from last time what the effect on the audience is. They laugh, they cry. It's lovely."
Music surrounds Prior wherever she goes, her pitch-perfect humming filling the theatre's hallways as she walks from A to B. Despite needing to memorise dialogue for two separate characters, undergo extreme costume changes, and learn an entirely new backstage plot, Prior has been here before. She knows what to do.
"I think after 40 years… I mean, I'm nervous on an opening night. But right now, when I think about it, I'm more excited than nervous."
Mary Poppins will return to Melbourne's Her Majesty's Theatre in January 2023.
A cultural guide to going out and loving your city. Sign up to our Culture Fix newsletter here.
Most Viewed in Culture
From our partners
Source: Read Full Article