Biden, Roy Wood Jr. Take Aim at Tucker, Lemon and More at WHCD — All the Best Jokes
04/30/2023
President Joe Biden's sharp wit took on Disney v Ron DeSantis, Fox News, those "Dark Brandon" memes and even his own age — before host Ron Wood Jr. of "The Daily Show" went harder on all those topics, plus Vice President Kamala Harris and more.
President Joe Biden may get criticized for his age, which he's well aware of, but he was in sharp, comedic, fighting form at Saturday's White House Correspondents' Dinner.
The 80-year-old POTUS dropped a pretty solid standup set ahead of the evening's host, "Daily Show" correspondent Ron Wood Jr., taking aim at the firings of Tucker Carlson and Don Lemon, as well as Florida Governor Ron DeSantis' battle with Disney, Fox News' battle with Dominion Voting Systems and, yes, his own age.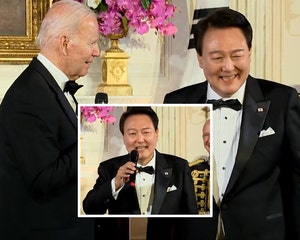 South Korean President Shocks White House State Dinner with American Pie Rendition
"I get that age is a completely reasonable issue," he told the assembled crowd. "It's on everyone's mind, by everyone I mean the The New York Times."
"You say I'm over the hill," he quipped. "Don Lemon would say that's a man in his prime." The president, of course, referring here to Lemon's controversy for saying South Carolina Governor Nikki Haley wasn't in her prime at 51.
Unable to render YouTube Video.
He had one more joke about his own age by bringing up Fox News owner Rupert Murdoch, who is 93 years old. "I like Rupert Murdoch," he said of the media mogul 13 years his senior. "How can I dislike a guy who makes me look like Harry Styles?"
The president got in a jab at Fox News' newsworthy firing, too, saying of his reelection bid, "The job isn't finished; I mean it is finished for Tucker Carlson."
He then joked at, "Fox News owned by Dominion Voting Systems," referring to the network's $785.5 million settlement with the company. He said that he "called Fox honest, fair and truthful, and I could be sued for defamation."
The president also took a quick shot at Florida governor Ron DeSantis, who's been embroiled in a battle over Walt Disney World's independent status since the media giant criticized the state's "don't say gay" law.
"I had a lot of Ron DeSantis jokes ready, but Mickey Mouse beat the hell out of me and got there first," he said, referring to Disney suing DeSantis for his relentless attacks on the Orlando resort, saying it is being done as government retaliation.
The president also threw in some jokes about Marjorie Taylor Green, Elon Musk, NPR and his own approval rating. You can check out all of that, and his more serious comments, in the video above.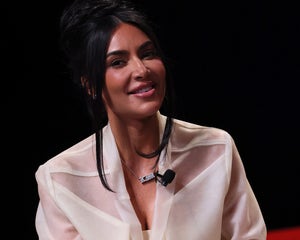 Kim Kardashian Would Step Away from Reality Television to Work as a Lawyer
Wood You Like Some More?
While the president was a little gentle with his barbs, softening the edges, not so the evening's host, Roy Wood Jr. The longtime "Daily Show" correspondent went in even harder after Biden had warmed up and primed the crowd.
Just before leaving the stage, Biden told Wood, "I'm going to be fine with your jokes but I'm not sure about Dark Brandon." With this, he put on his signature aviator shades that launched the popular memes.
Wood joked about all the same things Biden did, only he took things much further and much darker than the president did. Maybe it was Wood who needed those aviator!
Unable to render YouTube Video.
Referencing riots in France over the retirement age getting pushed to 64, Wood quipped of the president, "Meanwhile in America we have an 80-year-old man begging us for four more years of work."
"Let me finish the job," he said as if in Biden's voice. "That's not a campaign slogan, that's a plea." Later he quipped, "Say what you want with our president, when he wakes up from that nap, work gets done."
He definitely swung harder at both Carlson and Lemon, saying that "we are all unified under one thing, and that's scandal."
"Scandals have been devouring careers this year," he said, referring to both firings, and Dominion's defamation suit against Fox News over the latter's debunked 2020 election claims.
Speaking to the staff of Carlson's late news program, Wood said that he can commiserate with their situation. "I work at 'The Daily Show' so I too have been blindsided by the sudden departure of the host of a fake-news-program."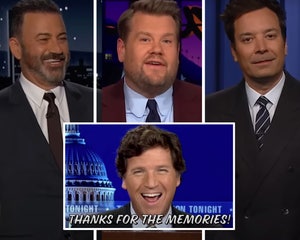 Late Night Hosts Roast Tucker Carlson After Fox News Exit: 'What An Absolutely Delightful Shock'
"Tucker got caught up," Wood added. "Caught up like that dude from 'Vanderpump Rules.'" This time, he was referencing the Scandoval whereas Tom Sandoval got caught cheating on Ariana Madix with Raquel Leviss — the reality scandal that has dominated news headlines these past few months.
He also joked that the right-wing pundit needs to get back on the air right away because "right now there's millions of Americans that don't even know why they hate you," referring to the president.
As for his firing, Wood said, "Tucker Carlson is the first host to get fired from Fox News for something that's only partially about how he treats women. That's progress. He shattered the a–hole ceiling.
"Speaking of a–holes," Wood continued. "Don Lemon is out of a job."
"Don Lemon released a statement saying he got fired from CNN, then CNN released a statement saying that they offered Don a meeting," Wood explained. "They had to part ways, because Don Lemon can't even accurately report a story about Don Lemon."
He went on to chide the network for firing him after so few scandals, saying you're supposed to let them pile up for the ratings. "Yes, Don Lemon was a diva and he said a couple of women were raggedy in the face, but that's a promotion at Fox News," he said.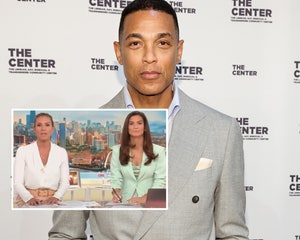 How Don Lemon's CNN Co-Anchors Addressed His Exit On First Show Without Him
Wood then took aim at the vice president, but in a way that was at least somewhat complimentary to Kamala Harris. He noted how there is so much focus on what she does or doesn't do in her role as VP, which Wood says is a "disrespectful question."
"That's a disrespectful question, because nobody ever asked that question of the vice president until a woman got the job," he noted. "I don't know what Mike Pence did. The only thing I know about Mike Pence is that he's really good at playing hide-and-seek at the Capitol."
He joked that if the job is to be ready to step in and save the country in the even of an emergency, then "it's the perfect job for a Black woman — shouldn't be, but it is." He also said that it didn't matter what she did, a man was going to get credit for it anyway.
Then, turning to Biden, he said, "And by the way, Mr. President, great job of being the first woman vice president …I don't even know how you did that, wonderful job."
The comedian got in some shots at Supreme Court Justice Clarence Thomas' latest scandals, and even offered up some advice to the journalists in the room about having their "fair and nuanced reporting" stuck behind pay walls.
"People can't afford the truth," Wood argued. "Say what you want about a conspiracy theory, but at least it's affordable."
He heaped praise on the importance of local journalism, calling for support, and spoke passionately about his father's career in local radio and his mother's in education.
Biden also spoke of the importance of the fourth estate in a democracy, again sharing his determination to free wrongly imprisoned journalists abroad and bring them home.
You can check out all of Biden and Wood's full remarks in the videos above.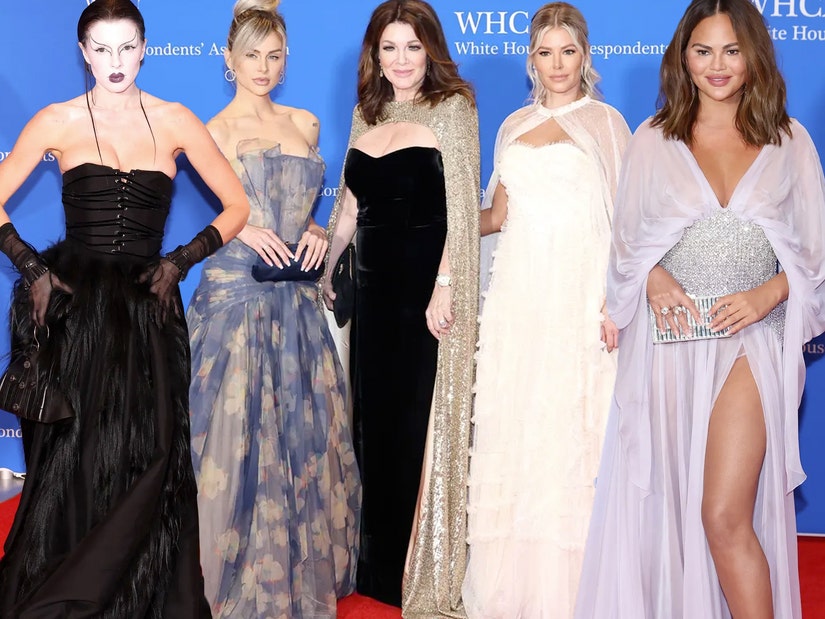 Source: Read Full Article