BTS and ARMY Celebrate Suga's Birthday
03/09/2020
Suga of BTS was born on March 9, 1993, effectively making him the world's favorite Pisces. The Korean rapper is officially 27 years old, and the members of BTS and fans around the world dedicated time to celebrate Suga's birthday.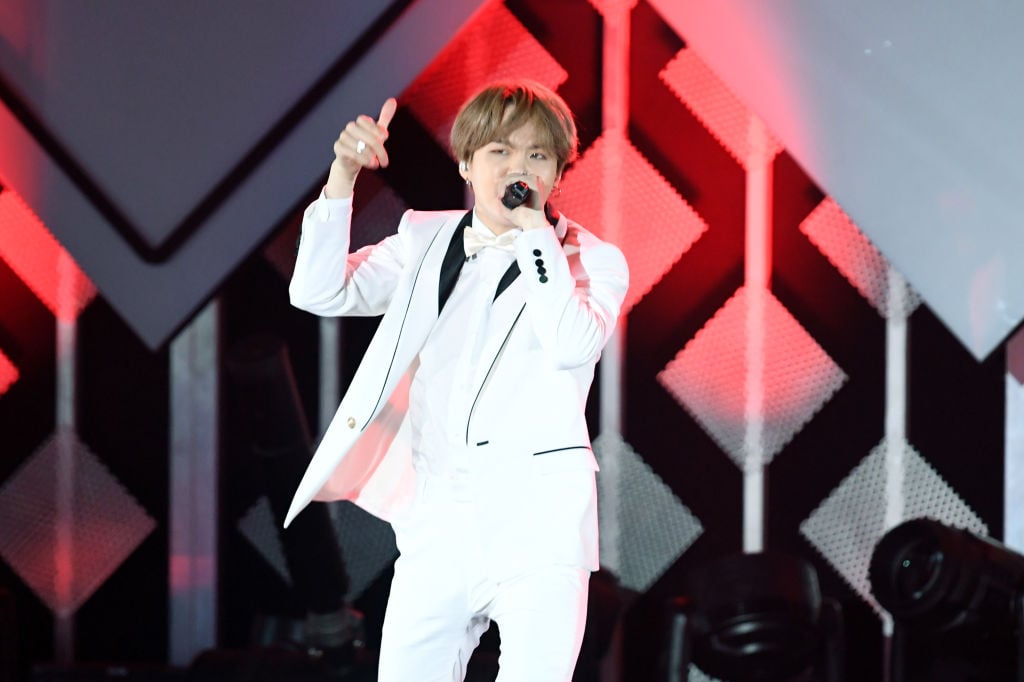 Suga held a VLIVE for BTS fans for his birthday
To celebrate his birthday with ARMY, Suga held a VLIVE livestream with fans. During the livestream, Suga told fans that he went and ate with the other members of BTS. He told fans that he knows the members so well he can always tell when they are planning something for his birthday.
He also told fans that he misses ARMY, and he is sad he has not been able to perform for fans recently. Suga thanked fans for always remembering his birthday, and told everyone to stay healthy.
How the band members celebrated
Two days before Suga's birthday, the seven BTS members held a VLIVE for fans. Jin told the group that he would pay for a meal with the members. While out to eat for Suga's birthday, BTS surprised Suga with a birthday cake, which he pretended to be surprised about.
The BTS members also posted a video of Jin paying for the meal, as he promised to do.
"Happy bday Yoongi. Our Seokjin hyung paid for everyone including the staff's table. Awesome Jin for real real real real real real. Thank you for the meal hyung," reads the tweet according to a fan translation.
BTS fans wrote messages to Suga on social media for his birthday
Around the world, fans celebrated Suga's birthday by writing inspiring messages on social media. On Twitter, fans trended #CaptainKorea, #HappyBirthdayYoongi, #HappySUGADay, and a multitude of other hashtags to celebrate the rapper. With the posts, fans thanked Suga for his dedication to his art, his sage advice, and his relatable humor.
"Happy birthday to the best rapper, dancer, producer, writer, and singer Min Yoongi thank you for giving us your best music and thank you for existing Army appreciates you #AgustDay #HappyBirthdayYoongi #HappySUGAday," wrote a Twitter user.
"This man is humble, loving, hard working, & fiercely devoted to his craft, his members & Army. Wishing him happiness on his birthday is the least we can do #HappyBirthdayYoongi#SUGADAY@BTS_twt," one fan tweeted.
"happy birthday to min yoongi. you're such an INCREDIBLE producer, lyricist, rapper, vocalist and dancer. your songs are beautiful and hold so much meaning. thank you for everything #SUGAday #HappySUGAday #HappyBirthdayYoongi," wrote a fan on Twitter.
"Happy Birthday SUGA I hope your special day will bring you lots of happiness, love, and fun. You deserve them a lot. Enjoy! All things are sweet and bright. May you have a lovely birthday Night. #HappyBirthdayYoongi #HappySUGAday," a fan tweeted.
"HBD to our sweet, thoughtful & talented Min Yoongi. He makes me laugh with his wit & sense of humour. He has grown so much since debut and I am so proud of the man he is today. He is so relatable & so endearing. Today we celebrate Yoongi #HappyBirthdayYoongi #yoongiDay," another fan tweeted.
Source: Read Full Article