Celebs Who Accused Other Celebs Of Ripping Them Off
07/13/2021
We're in the midst of the reboot, remake generation. It's a time when the Upper East Siders of "Gossip Girl" can rewrite history as socially-conscious Gen Zers or Lizzie McGuire can battle network executives to resist a schmaltzy PG revival (even though butterfly clips have also, you guessed it, had a fashion reboot of their own). It's a place where a film that's been made four different times can still pull in multiple Oscars (ahem, "A Star Is Born") and Ariana Grande can borrow a melody from "The Sound of Music" to make a No.1 hit. Stop us if you've heard this one before — or maybe don't.
If you've browsed new film releases to find yet another "Fast and Furious" film, you — like many of us — might be wondering: is anything original anymore? Has Hollywood become so eco-friendly that it also must recycle ideas? As it turns out, some celebrities are asking the same question. From stealing melodies to stealing jokes, these celebrities all claim they've been ripped off by one of their peers.
Bethenny Frankel thought Sonja Morgan's boozy business was 'a cheater brand'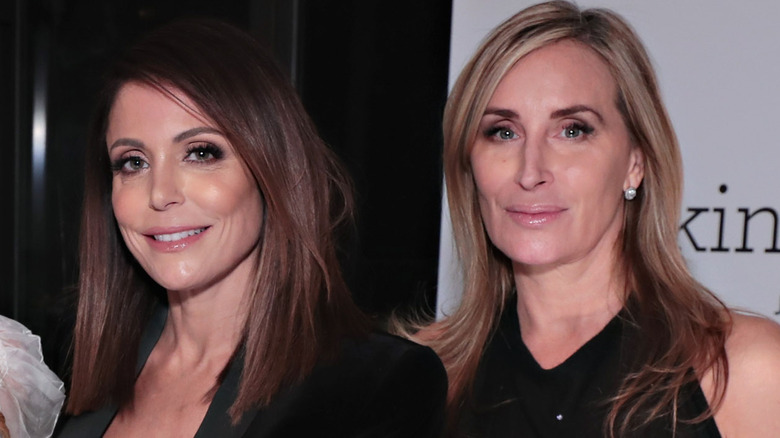 "The Real Housewives of New York" made Bethenny Frankel a household name, but her SkinnyGirl brand made her a multi-millionaire. The self-made star is worth an estimated $70 million, the bulk of which came when she sold her pre-made cocktail brand to Beam Global for $100 million, per Money. With that kind of success, it's not surprising that Frankel's co-star Sonja Morgan decided to dabble in the alcohol business, too — but did she have to choose such a similar brand name?
Morgan has had a string of failed business ventures, including a flop of a John Travolta movie that ended up pushing the star towards bankruptcy after she was forced to fork over $9 million in a lawsuit, according to E! News. The same year the lawsuit was resolved, Morgan announced her liquor brand, Tipsy Girl. Sound familiar?
Needless to say, Frankel was livid about her castmate's plans. "They call it a cheater brand when a brand rides on the coattails of another brand and kind of uses a similar name," she said during a brutal on-camera confrontation. "I'm completely insulted and I don't want anything to do with you." Morgan, who claimed the name was a fluke, didn't appear to give her Prosecco brand a pro-second thought and went ahead with the idea anyway. Fortunately for Frankel, it never really got off the ground even though Morgan attempted to launch a Tipsy Girl restaurant in 2016.
Madonna claimed Lady Gaga 'blatantly ripped off' her song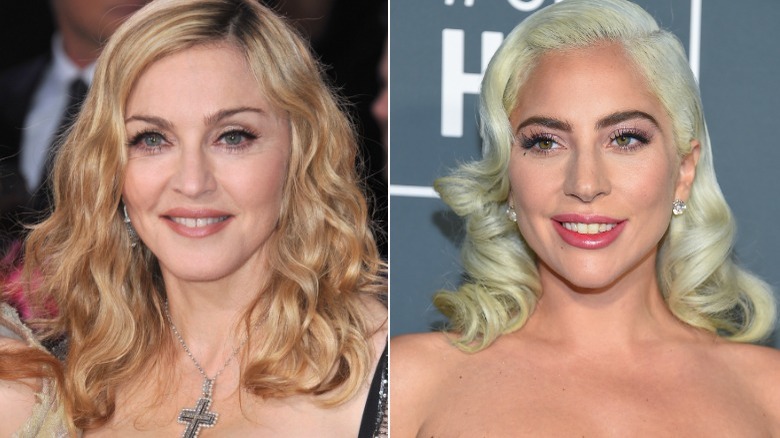 Lady Gaga may be Mother Monster, but there's only one Queen of Pop in Madonna's eyes (eyepatch phase notwithstanding). For a decade, the pop stars — who both cut their teeth in New York City clubs — have been feuding over creative similarities. It all began in 2011 when Gaga released the single "Born This Way," which bore a notable resemblance to Madge's 1989 hit "Express Yourself."
In a "20/20" interview, Madonna famously called Gaga's song "reductive" before becoming an IRL version of Kermit the Frog sipping tea. Years later, she alleged to Rolling Stone (via Entertainment Tonight) that Gaga had "blatantly ripped off" one of her songs, presumably "Express Yourself." By that point, Gaga had written off the drama, admitting to Attitude (via HuffPost), "I've basically been hoping that I would become so good that one day I would piss off Madonna." 
When a star was born in 2018, the feud was reborn. During press rounds for the Bradley Cooper flick, Gaga repeated the line, "There can be 100 people in the room and 99 don't believe in you, and you just need one to believe in you." According to W Magazine, Madonna took to Instagram to let the world know that there can be 100 people who talk about there being "100 people in a room," but she's the one who said it first. At the time of this writing, the Queen of Pop is still clinging to her crown.
Queen and David Bowie weren't cool with Vanilla Ice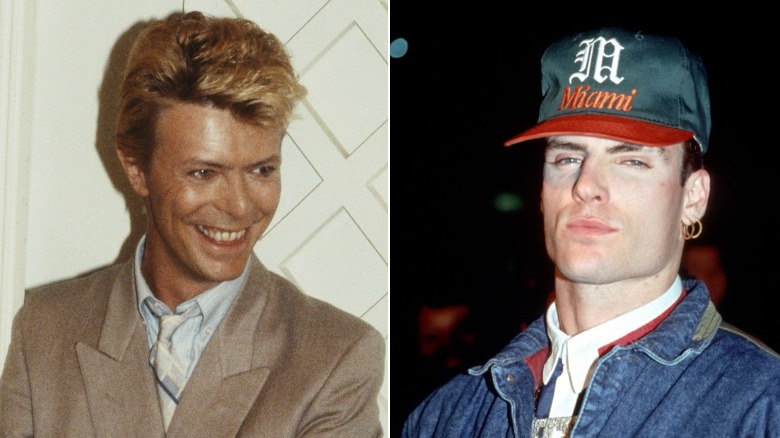 Vanilla Ice was just 16 years old when he recycled a couple bass notes and emerged years later as the mega-star loser of one of the most high profile copyright cases in history. In short: Queen and Bowie threatened a lawsuit alleging that the rapper had ripped off their 1981 single "Under Pressure" with his hit "Ice Ice Baby." Ice tried to cooly defend his creative integrity — boldly claiming that adding a single pickup note made his bass line original — but ultimately admitted that he had used a sample.
"All they wanted was credit. And that's all we gave them, you know? 'Sample by David Bowie and Queen.' It's no big deal," Ice said in an interview — but that wasn't all he really gave them.
According to Rolling Stone, who called Ice's snafu one of the "most hilarious copyright cases of all time," the singer settled with Queen and Bowie out of court, awarding songwriting credits to both parties. This likely evolved into a massive payday because, as Ice said on "The Dan Patrick Show," his debut album still sells 2 to 3 million copies annually. He also claimed to Dan Patrick that he flat-out bought "Under Pressure" to avoid a costly lawsuit settlement. "Like Michael Jackson owns the Beatles. It was cheaper than the lawsuit," he said. "They're both my song." A rep for Queen told Ultimate Classic Rock that wasn't exactly the case, but "[a]n arrangement was made whereby the publishing in the song was shared."
Mark Ronson and Bruno Mars have been up to their eyeballs in lawsuits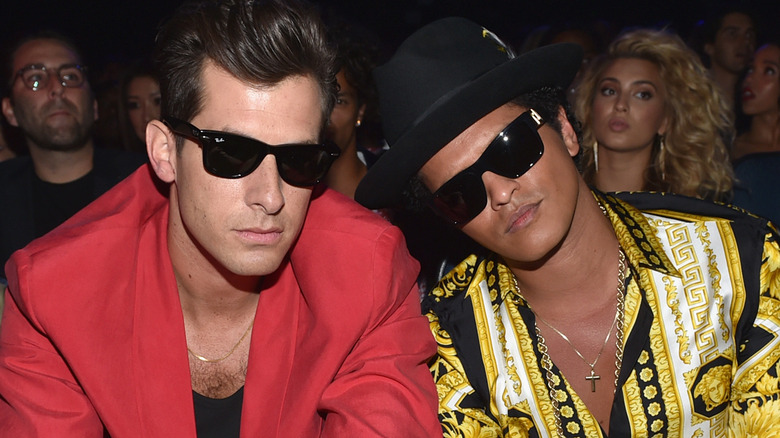 There comes a time when one must wonder: is "Uptown Funk" a classic or is the entire country trapped in some sort of musical Stockholm syndrome as it continues to incessantly play six years after its debut? In truth, it may sound like a classic because it ripped off elements from classics — at least according to Angie Stone of the '70s hip hop trio The Sequence.
According to TMZ, The Sequence sued Mark Ronson and Bruno Mars in 2017 alleging that "Uptown Funk" lifted "compositional elements" from their 1979 hit "Funk You Up." Stone even claimed to the outlet that Mars admitted her song inspired the single, and she wasn't about to let it slide. "Bruno Mars took the lyrics, the cadence, and the melodies," she told Rolling Stone. "And then they went and reached over to [Sugarhill Gang's 1981 hit] 'Apache' and got 'Jump on it/Jump on it.' I'm like, OK, now y'all done did too much. We're broke over here, OK? We need some money. We need some of that, because we created that!"
In addition to The Sequence, Ronson and Mars have faced similar copyright claims from The Gap Band, who they added as co-writers; Lastrada Entertainment, who owns Zapp & Roger's 1980 single "More Bounce to the Ounce"; and Collage, an '80s electro-funk band who claimed the song was "an obvious, strikingly and/or substantially similar copy" to their 1983 hit "Young Girls" (per Pitchfork).
You can find 50 Cent in the club, claiming Randall Emmett ripped him off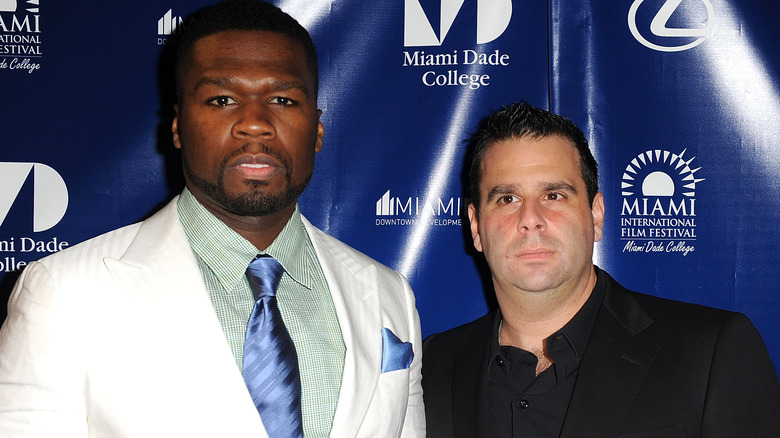 50 Cent has made some curious business decisions. The most prominent appears to be flashing sandwiches stuffed with stacks of cash on social media after filing for bankruptcy, but the second may or may not be partnering with Randall Emmett, the uber-rich fiancé of Bravo star Lala Kent and the guy behind John Travolta's "Gotti," a flick that famously achieved a 0% Rotten Tomatoes score. No, 50 wasn't plagiarized like some of his peers, but he was allegedly ripped off in the sense of business.
According to reports from Esquire and Us Weekly, 50 Cent and Emmett fostered a friendship when they both worked as executive producers on Starz series "Power." Then, sometime in 2013, the rapper partnered with the producer on a venture called Cheetah Vision, allegedly giving Emmett a $1 million loan. Six years later, Emmett reportedly hadn't repaid him, yet Kent was flaunting her then-boyfriend's wealth on "Vanderpump Rules." That's when 50 embarked on his patent repayment strategy: get rich or die trying (or, at the very least, blast Emmett on social media until he paid up).
50 Cent took the drama to Instagram, roasting Kent, and alleging that Emmett owed him $1 million. This spawned the now-viral "fofty" incident, where Emmett — in a bid to get the public tirade end — apologized in a text, misspelling the rapper's name. 50, of course, posted the screenshot online. Eventually, 50 shared on social media that Emmett paid up (via Us Weekly).
Olivia Rodrigo's promo photo gave Courtney Love deja vu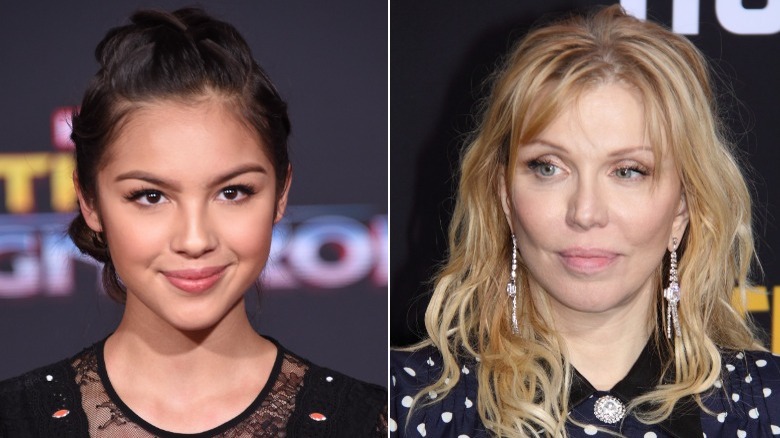 Olivia Rodrigo's debut album "Sour" broke 2021 sales records — but it wasn't just groundbreaking. It was familiar, featuring heavy influences like an apparent Paramore nod on "Good For You" and a prominent Taylor Swift sample. The Disney star's inspiration has always been transparent: Swift and producer Jack Antonoff are credited as co-writers on "1 Step Forward, 3 Steps Back," and the track's title includes a hidden number 13, holy numerology in the Church of Swift. Rodrigo even shared a veritable Instagram Stories mood board to highlight the inspiration behind her "Sour Prom Concert Film." So, why was Courtney Love — for lack of better words — sour about it?
In June 2021, Love took to Instagram to allege that Rodrigo's prom-themed photo had ripped off the album art for Hole's 1994 record, "Live Through This." "Spot the difference! #twinning," she wrote. According to Time Out, Rodrigo gushed in the comments section, "love u and live through this soooo much." In turn, Love demanded flowers, and it all felt playful until the conversation moved to Facebook. There, Love lamented, "No credit given where due? That's a**."
The reality is that both images draw inspiration from the same source: the 1976 flick "Carrie." In the aforementioned mood board, Rodrigo posted a still from the flick. Years before that, Ellen von Unwerth, who shot Love's album art, told AnOther that the horror classic was an inspiration. Great minds really do think alike.
Justice wants justice for Justin Bieber's rip-off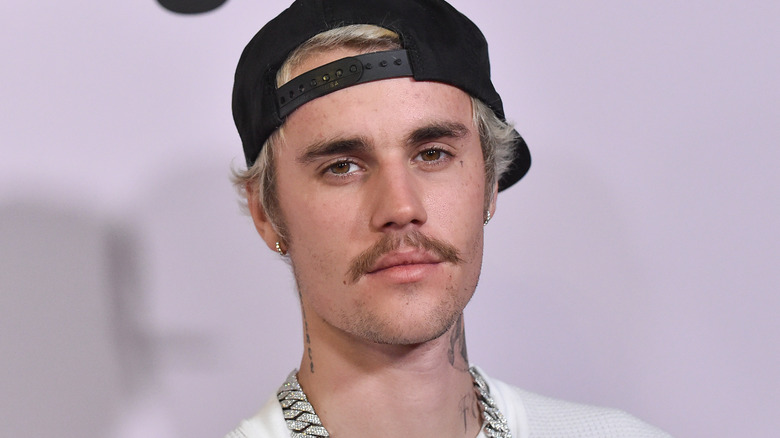 Justin Bieber is no stranger to copyright lawsuits. Per ABC News, he was sued in 2016 when indie artist Casey Dienel, who plays under the name White Hinterland, alleged that his hit single "Sorry" stole a vocal sample from her song "Ring the Bell." Biebs wasn't all that sorry for this one. As reported by TMZ, the matter was dropped after Skrillex showed how he produced the similar vocal loop. It was a weird happenstance, but it set the stage for future lawsuits.
In 2021, the pop star landed back in the news for allegedly recycling someone else's trademarked logo. According to NME, Bieber received a cease-and-desist order from French dance duo Justice over the text on his "Justice" album, which contains a crucifix-style letter "T" similar to the logo the duo had been using since 2003. While it could be a coincidence, Justice's management told SPIN that Bieber's team reached out to specifically discuss collaborating on a logo with Justice's graphic designer — they just didn't know he'd be using the same exact word. Bieber's team reportedly ghosted on the call.
In an interview with The Guardian, Justice's Gaspard Augé slammed Bieber's artwork as a "very conscious rip-off." "Though Bieber is from Canada, his actions fit this mindset of American hegemony: 'Oh well, it's just a small band from France, I'm sure we can take their name, nobody will care,'" he said. Will Justice ever get justice?
Princess Nokia said no thank u, next to Ariana Grande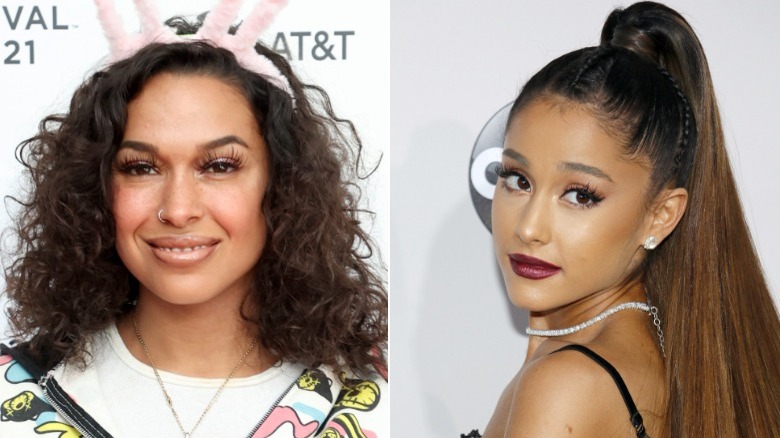 Ariana Grande's "7 Rings" brought Broadway to the Billboard charts when it borrowed the melody of Richard Rodgers and Oscar Hammerstein II's "My Favorite Things." The interpolation was a fresh new perspective on the old "Sound of Music" track, and Hammerstein II and Richard Rodgers got credit as two of the song's 10 co-writers. As "7 Rings" danced around the upper echelons of the charts, one New York rapper was vying for the 11th spot.
According to Consequence, Princess Nokia accused Grande of copying her song "Mine," the fifth track on the album "1992 Deluxe" (the album, her most successful to date, peaked at No. 7 on the Billboard Global 200). In a now-deleted Twitter video, the Puerto Rican star reacted to Grande's single, asking the question "Does that sound familiar to you? 'Cause that sounds really familiar to me. Oh my god… ain't that the little song I made about brown women and their hair? Hmm… sounds about white."
Though she didn't specifically mention "Mine," the track is solely about hair. It also shares a similar — though not exact — line with "7 Rings." Nokia repeats the phrase "It's mine, I bought it," whereas Grande sings "You like my hair? Gee, thanks, I just bought it." Though Nokia hasn't called out Grande specifically, she did retweet a tweet (which was captured by Pitchfork before it was deleted) alleging that Grande's "Thank U, Next" album "literally plagiarizes flows, words, bars from Nokia." 
Marvin Gaye's estate won't give up their Blurred Lines copyright claim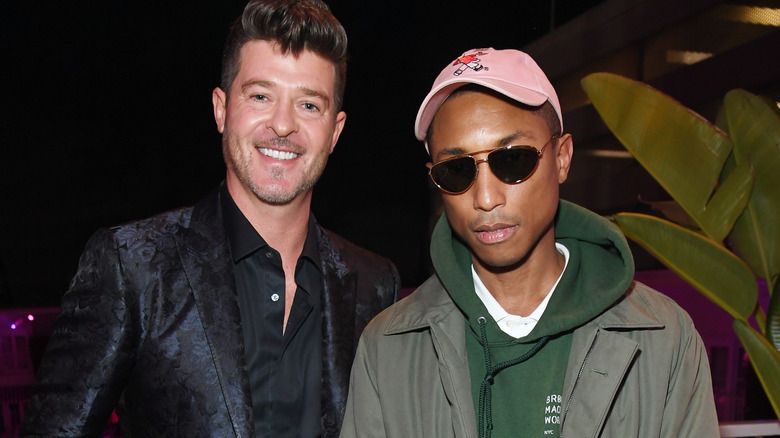 Marvin Gaye wasn't around to call out Robin Thicke and Pharrell for stealing his sound, but his estate sure was. The thing about copyright lawsuits is that an artist can fight from beyond the grave — and in this case, he was awarded millions. As it turns out, the lines of copyright law aren't that blurry.
According to NBC News, Marvin Gaye's family sued the duo in 2013 over their single "Blurred Lines" (T.I. was also named in the lawsuit because he was a featured artist). The track broke records, securing a No. 1 spot on five different radio charts. At the time, it had the highest radio audience in history and sold more than four million copies. In the suit, Gaye's family claimed the song ripped off the late singer's 1977 hit "Got to Give It Up."
After a years-long battle, the saga seemingly ended in 2018. According to Billboard, Thicke and Williams were forced to cough up nearly $5 million (this fee was reduced from the original settlement ruling of around $7 million). However, that wasn't the end. The feud was reignited after Williams told Rick Rubin for GQ that he "reverse engineered" Gaye's track — even though he told the courts he never intended to make a song that sounded like Gaye. According to Entertainment Weekly, Gaye's family "filed a motion in federal court" accusing Williams of perjury, but a judge threw it out.
Soulja Boy claimed Drake 'word-for-word' copied his flow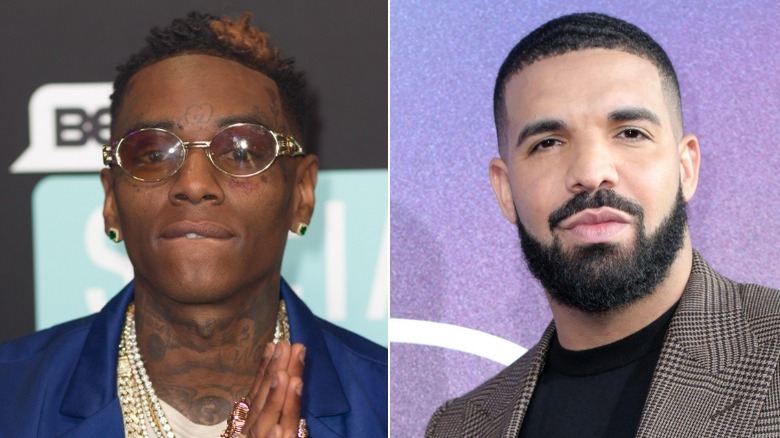 When Soulja Boy appeared on "The Breakfast Club" in 2019, he had no qualms Soulja Boy tellin'em that Drake totally ripped him off. The "Crank That" singer even cranked up the drama by dramatically standing up and saying the "Degrassi" alum "got bodied by Pusha T" in a now-viral moment. (Pusha T famously exposed Drake's secret love child, Adonis).
Per XXL, Soulja Boy's main gripe was with the Canadian singer's 2010 single "Miss Me," which he thought copied the "whole f***ing flow, word-for-word, bar-for-bar" of his 2007 track "What's Hennenin." "Stop playing with me like I didn't teach Drake everything he know. Y'all didn't hear Drake on his first song — 'Tell me what's really going on / Drizzy Drake back in this thing / I'm ready / What's happenin','" he said, singing Drake's melody. "That's Soulja! That's my bar."
Soulja Boy also told XXL that he was salty about their 2013 collaboration, "We Made It." The pair never made a video and Drake never gave him the chance to perform the song with him, even though he was doing "on tour the whole time." Drake ultimately squashed the beef by doing what Drake does best: sliding into Soulja's DMs to smooth it over. The singer claimed it's "always been love" and he'd have made a video if he knew that was something Soulja wanted.
XXXTentacion though Drake was 'b***h' for biting his track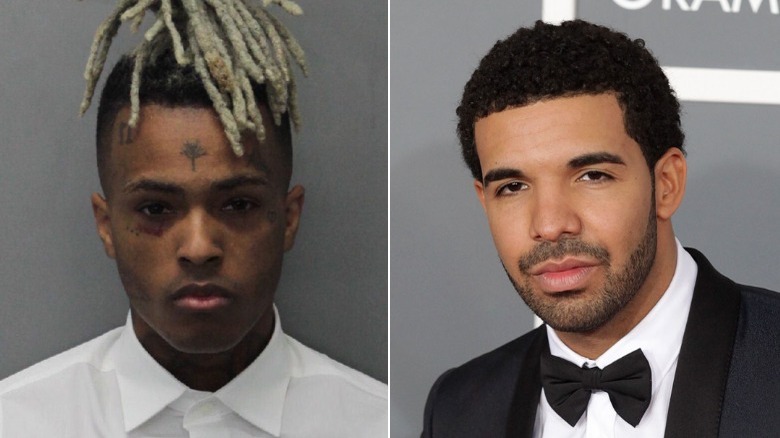 Drake hasn't just annoyed the rappers that came before. He's also annoyed the rappers that came after him. XXXTentacion was fresh out of jail (and a year from his tragic death) when he accused Drizzy of supposedly copying his style. Again, "The Breakfast Club" is to blame for poking the bleach-haired bear.
During the interview, host K. Foxx asked the star about his beef with the Canadian rapper — which X was clearly waiting to talk about. Why? The controversial Soundcloud star thought Drizzy's "KMT" ripped off his track "Look At Me," and he wasn't happy about navigating the whole situation from jail. "You could take his verse, like [fans] did a mashup," he said. "They put his verse on my song and they — the cadence is literally just at the same tempo … I think he's a b***h. That's a b***h move, especially when I was in jail facing life."
X didn't necessarily want to ignite a rap feud (though he did add insult to injury by tweeting a lewd comment about Drake's mom). The rapper admitted he would've happily let the mega-star "hop on" a "Look At Me" remix — and even give him "100% of the royalty rate." Either way, X was a bit busy to fight with a former teen soap star. According to The Telegraph, he was "facing 15 criminal charges including aggravated battery of a pregnant woman" at the time of his death.
Louis C.K. wasn't cool with Dane Cook allegedly stealing his bits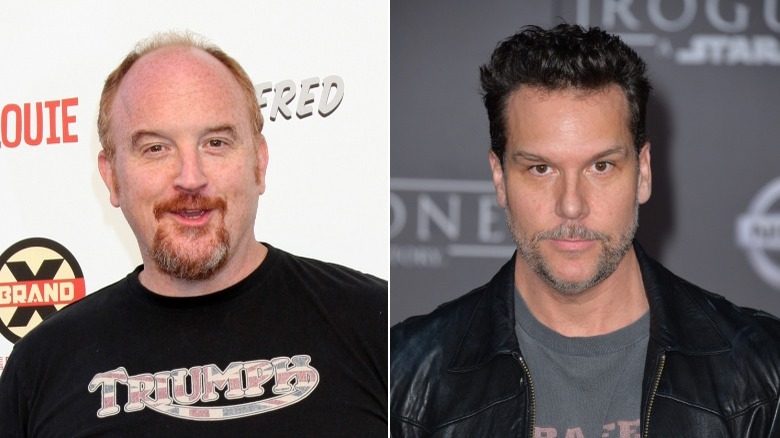 In 2018, The Hollywood Reporter recapped a Louis C.K. show where the comic told an audience he'd lost about $35 million in the wake of his sexual misconduct scandal. It's safe to say that Dane Cook allegedly biting his jokes isn't exactly on the top of his — or anyone's — mind these days, but there was a time when the pair's long-standing feud made quite the headline.
Back in 2010, C.K. explained to Movieline that he started to dislike Cook because the comedian regularly bumped his slot at comedy shows, particularly those at Los Angeles hotspot The Laugh Factory. By the time he realized Cook was telling "three bits" that were similar to his, it only "p****d" him off "for a very unfair reason, which is I just didn't like the dude." C.K. ultimately mentioned it online, and it quickly became a thing of public interest.
Since then, C.K. claimed the pair "exchanged emails" about the alleged rip-off jokes and ended up on "non-terms." Though he wasn't thrilled with Cook's behavior, he understood it. "I think it's possible he might have seen these bits and absorbed them, and not known that he took them from me," he said. "I worry about that myself sometimes. It's hard to know where your thoughts come from, especially when you have a thirst for material because you need it professionally."
Lana Del Rey claimed Radiohead sued her over Get Free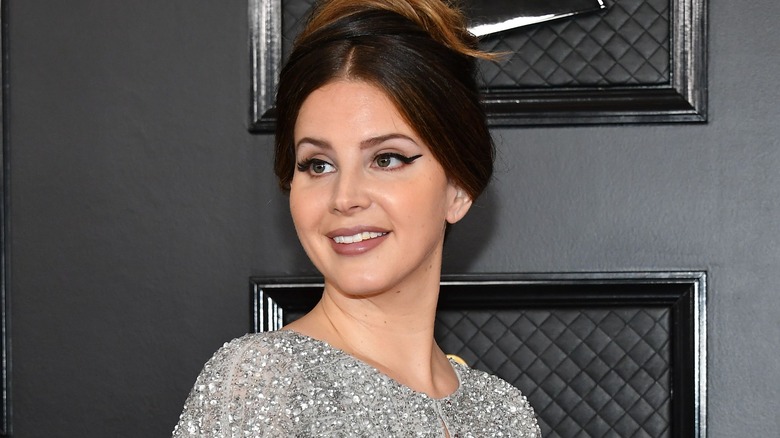 In the last decade, Radiohead have made more headlines about Thom Yorke's bizarre dancing than their music. At time of this writing, the band hasn't released an album since 2016, but they did launch an online public library dedicated to everything they've ever created. Nonetheless, that doesn't mean it's free to copy — which is something someone should've probably told Lana Del Rey when she showed up without her library card.
In 2017, Del Rey dropped her album "Lust For Life" (which ironically shares a name with Iggy Pop's 1977 album). The 16-track behemoth was punctuated with the airy closer "Get Free," and Radiohead — or Radiohead's publisher — apparently made it through at least 70 minutes of the LP to figure out that the last track kind of sounded like the band's mega-hit "Creep." What did Radiohead want? Some plush publishing credit. 
According to Vulture, Del Rey complained on Twitter (in since-deleted comments) that the band was going after 100% of the song's publishing. She claimed to have offered 40%. The band's representative refuted her claims, alleging Radiohead hadn't even filed a formal lawsuit (though a call-out in the press is sometimes all it takes). The situation became so heated that The Guardian did a note-by-note analysis, and about a year later, Del Rey told crowds at Lollapalooza that the lawsuit — which Radiohead's camp denied ever existed — was "over," according to the BBC.
Tom Petty called out Sam Smith with some rare words of encouragement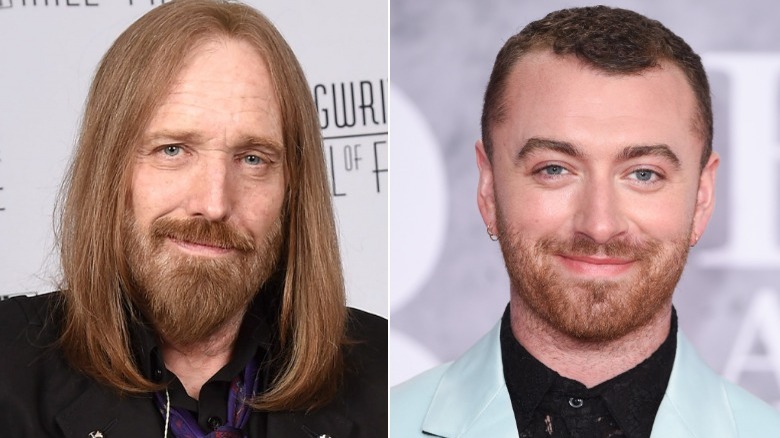 The late Tom Petty never meant to get into a battle with Sam Smith, but the press tried really hard to make it happen. Instead of a public feud — like in the case of Courtney Love and Olivia Rodrigo — Tom Petty welcomed the young star with grace, while also acknowledging that, yeah, he kind of lifted a piece of his song.
It all went down in 2014. That year Smith released the single "Stay With Me." According to the BBC, someone from Petty's camp noticed that it sounded similar to the classic rocker's 1989 single "I Won't Back Down," a track that came out before Smith was even born. Smith reportedly agreed but admitted it was "a complete coincidence." By the start of the following year, Petty and his co-writer Jeff Lynne had been awarded writing credits.
In a statement on his website (via the AP), Petty admitted that he had "no hard feelings" towards the star. Rather, he offered some light encouragement. "All my years of songwriting have shown me these things can happen," he wrote. "Most times you catch it before it gets out the studio door but in this case it got by." All in all, Petty said the accidental rip-off was "hardly news." 
Source: Read Full Article