How Much Does Britney Spears' Engagement Ring Cost?
09/13/2021
Britney Spears is engaged again! The star confirmed the exciting news with her fans on September 12 when she revealed she'd be walking down the aisle with her longtime boyfriend, Sam Asghari, in a video posted to Instagram. It showed her and her husband to be posing together as she excitedly showed off a huge sparkler on that special finger.
In the clip, the star — who was dressed in pink and rocked deep pink streaks in her hair — repeatedly put her hand up to her face as Asghari smiled beside her. "I can't f**king believe it !!!!!!" she wrote in the caption, alongside six ring emoji and a red heart.
The big news came mere days after Asghari was photographed by paparazzi looking at what appeared to be engagement rings during a trip to a Cartier store in Beverly Hills, with the snaps published by Page Six. A source told the outlet at the time that the model and personal trailer, who's been dating Spears since 2016, "wants to spoil Britney with a very special, over-the-top and meaningful proposal when the time is right."
Well, it seemed like the time must have been right and Asghari went ahead and popped the question, but what we really want to know is how much Spears' ring really cost. Read on for the all the details on her stunning new piece of jewelry.
Britney Spears' engagement ring from Sam Asghari could be worth $70,000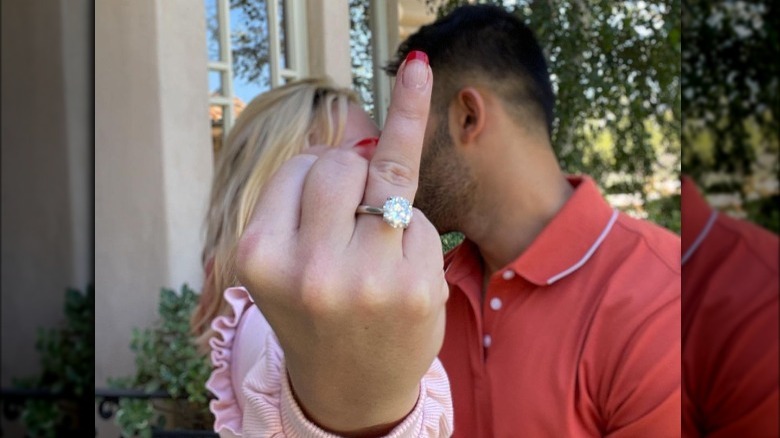 If you want an engagement ring like Britney Spears' from Sam Asghari, then you're going to have to drop some serious cash. CEO of RareCaret.com, Ajay Anand, told Hello! he estimates Spears' engagement ring could have set Asghari back around $70,000. Woah.
Though Asghari was spotted browsing at Cartier, he didn't go with the iconic brand for this sparkler. He chose a piece from Roman Malayev of Forever Diamonds New York, opting for a "4-carat round brilliant stone in a platinum cathedral setting" which also features a "floating solitaire design" and "pavé detailing on the bridge and flush set diamonds on the prongs and basket." The ring is so special it's described as "one-of-a-kind" and inspired a new setting called "The Britney" (via Page Six).
As for Spears' ring more specifically, it has the word "lioness" engraved inside; Asghari's nickname for the superstar. Aww!
As for how that stacks up against her past rings? Well, her former fiancé Jason Trawick presented her with a 3.5 carat $90,000 engagement ring in 2012, which Spears reportedly gave back (via TMZ). Before that, she got two engagement rings from Kevin Federline with the backup dancer reportedly replacing his original ring with a more bling 5.5 carat one in 2005 (via People), though it's not clear exactly how much either cost.
It seems like the star is (understandably) thrilled with her new ring from Asghari, and we're wishing the two the very best!
Source: Read Full Article