International Artist Kai Is Set to Release Limited Edition "Just Evil" Mini Sculptures
10/11/2023
Next week, fine artist Kai will unveil limited edition sculptures of his popular art series "Just Evil." The series has been a mainstay in the artist's catalog and presents his iconic Imaginary Friend (IF) character embodying the popular mantra: "hear no evil, speak no evil, see no evil." Imaginary Friend has been translated into framed paintings and expansive murals, but now fans can get their hands on the special edition famed artwork by Kai in three variations: green, rhodium, and gold.
Kai, an LA native, modestly started his artistic journey at 14 to translate his personal perspectives on society. He wanted people to feel different emotions when viewing his work and to encourage fans to see different views of life. Even while remaining anonymous, Kai gained a cult following in LA's art scene starting with his "Moron" series. The artworks featured a satirical Marlboro cigarette packaging displaying anti-smoking messaging. He was inspired to create the series in order to convince his father to stop smoking, which his father eventually ended up doing.
A few years later, amid a trip overseas, Kai came up with his Imaginary Friend (IF) series. IF is an affable character that possesses no race, religion, or gender as a way to convey thought-provoking and sentimental themes. Kai displayed IF around the world, highlighting the essential message of love and kindness for all. Now, the character is seen in murals, paintings, and sculptures across the US, Mexico, Middle East and Europe. Kai garnered global recognition for his work upon returning from his global excursion, broadening his fanbase and granting him the opportunity to collaborate with legendary brands, athletes and celebrity figures like Odell Beckham Jr, Champion, Adidas, Trolli, Michelle Obama and more. "Just Evil" is a commentary art piece inspired by the proverb, "see no evil, hear no evil, speak no evil." The series has been turned into a mural in Kai's hometown, a framed two-dimensional painting, as well as life-sized sculptures.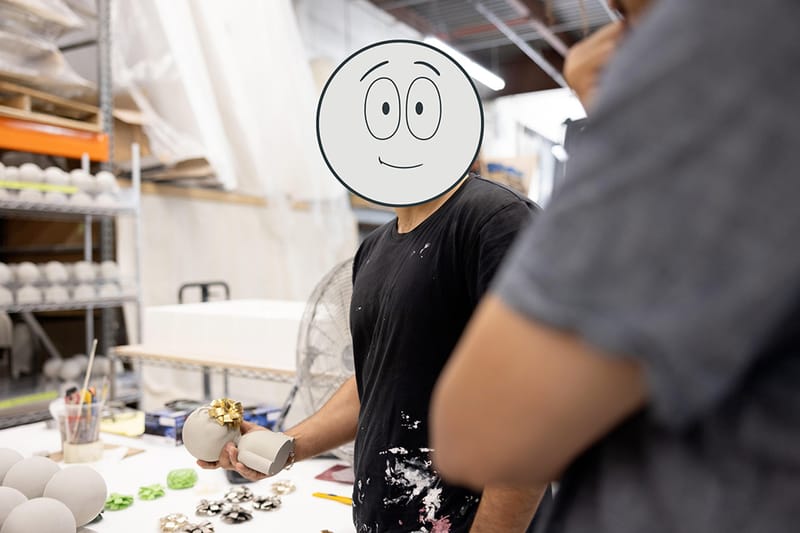 Kai
Now, limited edition sculptures of the acclaimed art piece will be available in eight-inch formats. The latest release is perfect for dedicated and newer collectors alike. Each sculpture is crafted from cement and produced in three different color variations: green, rhodium, and gold. Each material used in the capsule creates a sense of exclusivity. The collection's green version is limited to 99 pieces, while the rhodium variation is limited to 26. The gold IF sculpture is the most exclusive, with only 18 made.
Kai's "Just Evil" limited edition sculptures ranges from $2,950 to $4,950 USD and will be available October 17 at 1pm EST on KaiEditions.com. Fans that are NFT holders will have early access to the drop.
Check out more of Kai's work in the video below:
Source: Read Full Article