Meghan Trainor, Ally Brooke and More Singers Reveal the Christmas Music They Can't Stop Listening to
11/17/2020
T.J. Maxx, Marshalls and HomeGoods are teaming up with your favorite singers to bring some holiday cheer this season. Find out how singing Christmas songs could make a big difference.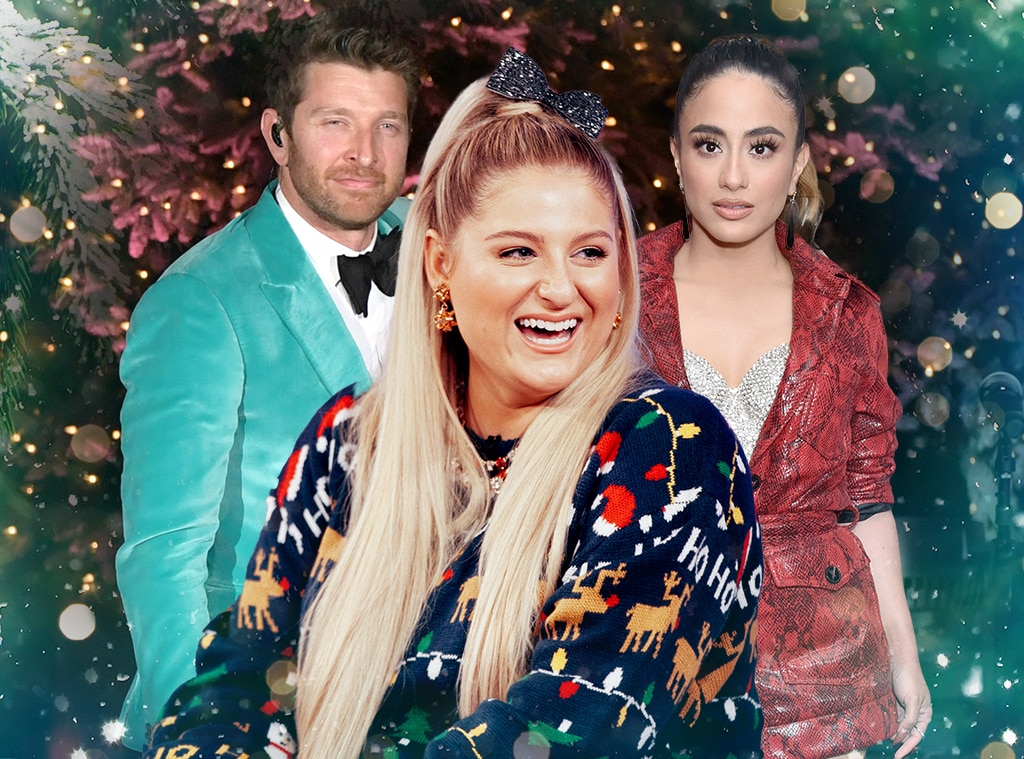 Sing it with us now: It's the most wonderful time of the year!
Believe it or not, the holiday season is here with stores filling up with wrapping paper, radio stations blasting Christmas music and ugly sweaters taking over clothing racks.
Starting Tuesday, Nov. 17, T.J. Maxx, Marshalls and HomeGoods will embark on a mission to help shoppers find joy in the magic of the season through a new campaign titled #CarolForaCause.
Musicians including Meghan Trainor, Sofia Reyes and Brett Eldredge will #CarolForaCause and invite consumers to sing a favorite carol acapella, play music and dance or lip sync over a classic holiday track. Those who do will help raise funds for Feeding America. 
So what will be your song of choice during the winter months? Some singers have a few suggestions.
"For us, the holidays are all about family and love, and that's what this music transports me to," Ally Brooke exclusively shared with E! News when sharing her favorite holiday tunes. "And I'm so happy I was able to release my very first original Christmas song this year, 'Baby I'm Coming Home!' I'm so happy my fans love it and I can't wait for more to add it to their holiday playlists." 
Keep scrolling below for even more music inspiration and find out how to get involved online now. 
Trending Stories
Camilla Luddington Responds to Criticism of Grey's On Set Masks
The Juiciest Reveals About Pete Davidson and Ariana Grande's Romance
Candace Cameron Bure Shares Note Lori Loughlin Sent Her
"I start every Christmas by listening to 'A Jolly Christmas' from Frank Sinatra because it's the perfect way to slowly enter Christmas wonderland! I also love Michael Bublé's album Christmas and Mariah Carey's album Merry Christmas."
"My family and I would listen to Billy Gilman's album Classic Christmas every year when I was growing up," Pentatonix member Mitch Grassi shared. "Hearing it makes me feel so nostalgic and comforted. It's like a little piece of home!"
"My dad is a big fan of Michael Bublé so we always listen to Michael Bublé's Christmas songs."
"I love everything from Mariah Carey to Carrie Underwood, who just dropped her first Christmas album which I am completely in love with! I love Celine Dion, The Carpenters, Frank Sinatra, Gloria Estefan—these are all Christmas albums I grew up listening to. Every year I listen to them with my family and every year they take me down memory lane to all the beautiful holiday memories."
"Music was always a big part of any celebration in my family. I remember growing up, my mom and dad would always play Bing Crosby during the holiday season. So hearing him always makes me light up and remember those times."
"'White Christmas'—Bing Crosby, 'It's The Most Wonderful Time of the Year'—Andy Williams, 'Zat You Santa Claus?''—Louis Armstrong, 'Mistletoe and Holly'—Frank Sinatra, 'Oh Tenanbaum'—Vince Guiraldi Trio"
"Mariah Carey's Christmas album is my favorite of all time."
Source: Read Full Article