Saba Yazdjerdi Pays Tribute to Iranian Culture Through Furniture
03/09/2023
Themes relating to heritage and identity have informed the latest furniture collection from Iranian designer and architect Saba Yazdjerdi.
Crafted for Mexico City-based brand Materia, the collection is made up of a mirror; a bench; a seat; and a sculptural vase. Each explores various faces of a traditional Iranian athletics system and collectively aims to "reclaim an identity".
"Through my research, I find stories that inspire and speak to what Iranian culture is," she says. "It is also a reclaiming of our identity that we've lost for so many years." Much of the new collection has been inspired by Yazdjerdi's grandfather, who was passionate about the sport and rituals of Pahlevani. "Pahlevani is a performative sport and it has rhythmic music that accompanies it, but it also is a body-building element to it, as well as various rituals and a respect for elders that practitioners adhere to," she explains. "[My grandfather] helped revive its popularity in the decades after the revolution by holding events within Iran as well as in neighboring countries."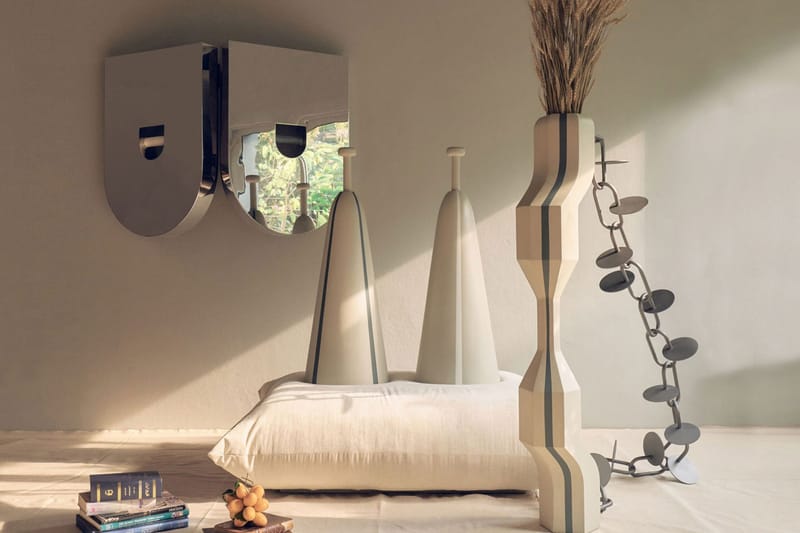 Materia
The Sang-ru mirror takes its name from 'Sang' – Farsi for a stone shield-shaped tool, which would be used in pairs to protect Pahlevan athletes during combat. For the collection, Yazdjerdi has reinterpreted the object as a mirror – and sees the two sides as offering separate reflections – one of the self, and the other of the surroundings.
Welded metal and fiberglass were used to create the Kabbadeh-chin vase, which is based on a Kabbadeh weight – or steel bow – used to strengthen and train in preparation for handling a bow and arrow. By recontextualizing the object into a vase form, Yazdjerdi wanted to change its connotations: "rather than finding a bow and arrow, one is met with a vase that 'shoots' flowers," she says.
The collection is completed by two pieces of furniture – a bench, and an abstract seat both inspired by a pair of wooden clubs known as Mil used in training. The Mil-stone bench is crafted as a tribute to the designer's family and the community her grandfather fostered, while the Mil-gah seat is intended to represent modesty while offering a protective perch.
Take a closer look at the collection above, and for more design – check out Poplight's viral wall light, which can be installed in 20 seconds.
Source: Read Full Article