Black Widow's Release Date Delayed Six More Months
10/22/2020
Disney has decided to push back the release date of Black Widow yet again. It will now not hit theaters until May 7, 2021, at the very least.
Tenet hitting theaters last month, followed by The New Mutants, was a sign of hope that the movie industry was on the road to returning to normal. However, the $20 million opening was a sign that we are not yet there yet. The movie's studio has said it is playing the long game with Tenet and isn't as startled by the low box office numbers as it probably should be.
It would appear that others have seen Tenet's slow start as a warning to stay away rather than a signal that it's time to dive back in. Warner Bros. has rescheduled Wonder Woman 1984's release date for Christmas Day, and Disney has been even more aggressive when it comes to its own superhero offering.
RELATED: Watch The First Full Trailer For The MCU's Weird And Wonderful Wandavision
It was revealed by The Hollywood Reporter that Black Widow will now not be released in theaters until May 7, 2021, at the very earliest. That's one year and one week after the movie was supposed to be released. It also means 2020 will be the first calendar year since 2009 that a Marvel movie has not been released in theaters.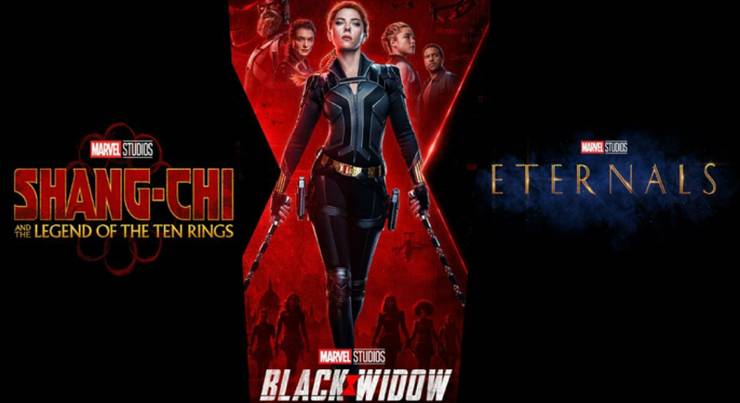 Speaking of other Marvel movies, Black Widow's move means the release dates of other highly-anticipated MCU installments have had to be changed. Shang-Chi and the Legend of the Ten Rings was supposed to be released on May 7, but will now not hit theaters until July 9, 2021. Interestingly, The Eternals, which was supposed to be sandwiched between Black Widow and Shang-Chi, will now not be released for over a year, moving to November 5, 2021.
Frustrating times for Marvel and Disney. The decision to move Black Widow's release date yet again also suggests that making Mulan available via Premier Access on Disney+ hasn't been the success Disney hoped it would be. Chances are we will never know the exact number of people who were willing to pay $30 to watch the live-action remake at home. Not enough to warrant the next chapter of the MCU following suit, at least not yet.
Source: Read Full Article