Chris Hemsworth and Natalie Portman Hold Hands as They Return on Thor: Love and Thunder Set
11/02/2021
As the Australian actor and the Oscar-winning actress film romantic scenes for the upcoming movie, it is believed that the flick will take fans back to the time when Thor and Jane Foster were still a couple.
AceShowbiz –Chris Hemsworth and Natalie Portman have returned on the set of "Thor: Love and Thunder". Months after production of the movie wrapped up in Australia, the two actors have been spotted filming more scenes for the upcoming superhero flick.
On Monday, November 1, pictures emerged of the Aussie hunk and the Academy Award-winning actress filming romantic scenes. They were photographed holding hands while taking a relaxing stroll. Another photo had the God of Thunder depicter rubbing his on-screen love interest's shoulders. They were also seen enjoying hot dogs and giggling during the casual outing.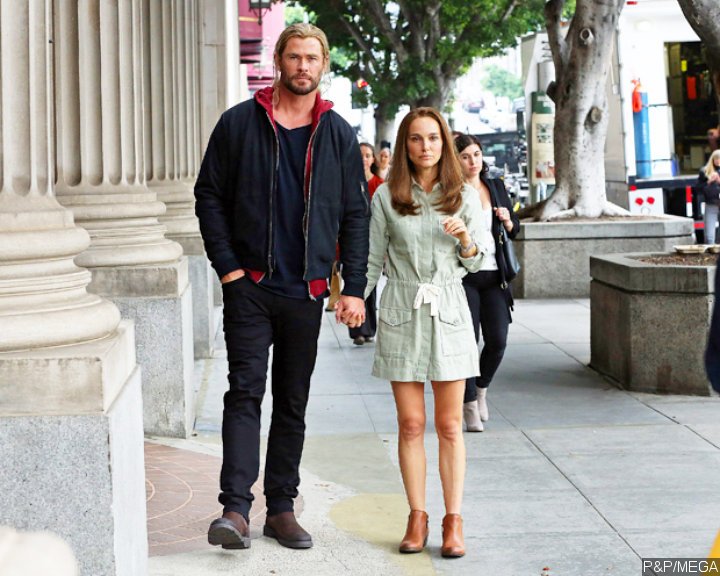 Chris Hemsworth and Natalie Portman filmed romantic scenes for 'Thor: Love and Thunder'.
While it's obvious that there's still some love between Thor and Jane Foster in the scenes, it doesn't necessarily mean that they will be back together in "Love and Thunder". It is believed that they were filming flashback scenes that will take fans back to the time when their characters were still a couple as Hemsworth wore a wig that looks like from the "Thor: The Dark World" era in the new set photos.
Thor and Jane were last seen together on "The Dark World". In the next installment, "Thor: Ragnarok", when a few fangirls mentioned they heard Jane dumped him, Thor responded by yelling out he was the one who dumped her. Odin, meanwhile, explained that it was a mutual split.
Meanwhile, in "Love and Thunder", Jane will be taking on the mantle and powers of Thor whilst suffering from cancer. Director Taika Waititi previously described the movie as a romance film.
Other stars returning for the fourth "Thor" movie are Tessa Thompson as Valkyrie, Jaimie Alexander as Sif, Jeff Goldblum as Grandmaster, Waititi as Korg, as well as Matt Damon, Sam Neill and Luke Hemsworth as Asgardian actors playing Loki, Odin and Thor respectively.
Christian Bale is cast as the villain, Gorr the God Butcher, and Melissa McCarthy is added to the cast as an actress playing Hela. Chris Pratt, Dave Bautista, Pom Klementieff, Karen Gillan, Sean Gunn and Vin Diesel additionally will reprise their "Guardians of the Galaxy" roles for the movie, which is scheduled to hit U.S. theaters on July 8, 2022.
Source: Read Full Article