'Coal Country' Theater Review: A Steve Earle Musical With a Huge Carbon Footprint
03/04/2020
A new show digs coal because, hey, somebody's got to do life's dirty work and destroy the planet
Who says the musical is dead? The last 10 years have been jam-packed with effervescent, hilarious and melancholy movie musicals for moviegoers of every kind. Whether they incorporate their songs magically into the narrative or simply break at every possible turn for another gangbusters performance, these films kept a song in our hearts and married their wonderful tunes to memorable, sometimes completely unforgettable storylines. To each of these incredible films we say, "Bravo."
Runners-Up (alphabetically): "Anna and the Apocalypse," "Get On Up," "Frozen," "Jem and the Holograms," "The Last Five Years," "London Road," "The Lure," "Moana," "Pitch Perfect 2," "Tangled"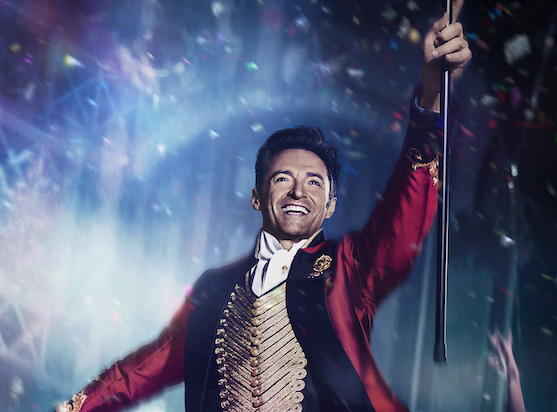 10. "The Greatest Showman" (2017)
The life of circus entrepreneur P.T. Barnum was nowhere near as sappy and sanitized as it appears in Michael Gracey's "The Greatest Showman." But then again, selling tickets to see an entertaining lie because the truth is inconvenient and/or grotesque is entirely in keeping with Barnum's modus operandi. Hugh Jackman smarms his way through a string of dazzling, show-stopping numbers about the importance of following your dreams, as his team of sideshow performers find their own voices by embracing the very qualities that made them otherwise ostracized. It's undeniably charming and catchy musical filmmaking; just don't forget to take it all with a mountainous grain of salt.
Fox
9. "Pitch Perfect" (2012)
It's pretty daring for any movie to call itself "Pitch Perfect," but Jason Moore's film gets away with it. This absolutely delightful college comedy stars Anna Kendrick as a promising DJ who's forced to join a disgraced a cappella group and ultimately helps transform their old-fashioned sound into a bold, modern new musical group with powerful bonds that are forged through stressful friendships. The arrangements are a treat, the cast is uniformly wonderful and hilarious, and — while we're at it — Elizabeth Banks' sequel "Pitch Perfect 2" is a fantastic continuation of every element that made the original such a treasure in the first place.
Universal
8. "The Muppets" (2011)
After a long hiatus from the big screen, the Muppets returned in a movie that captures all the magic and whimsy that made Jim Henson's lovably weird creations so popular in the first place. Jason Segel (who also co-wrote the screenplay) stars as a midwestern everyman whose Muppet brother, Walter (voiced by Peter Linz), uncovers a scheme by an evil billionaire to bulldoze Muppet Studios. To save the legacy of the Muppets, the brothers get the band back together in a massive intercontinental road trip that gives all the beloved characters a chance to reflect on what they mean to each other… and what being a Muppet means to people who aren't a part of the group. Bret McKenzie's "Man or Muppet" rightfully won an Academy Award for Best Original Song, but his soundtrack is full of bright and teary-eyed tunes, from "Life's a Happy Song" to "Pictures in My Head" to an unforgettable all-chicken cover of "Forget You."
Walt Disney Studios
7. "A Star Is Born" (2018)
Bradley Cooper's directorial debut takes the classic film — which had already been made three times to widespread success and acclaim — and deftly brings it into the modern era. Cooper stars as alcoholic country star Jackson Maine, who stumbles across an incredible new musical talent in Ally, played impressively by Lady Gaga in her first major acting role. The story is maudlin, sometimes to a fault, but Cooper, Gaga and especially Sam Elliott as Maine's older brother give absolutely stellar performances steeped in familiarity and sensitivity. The new songs, in a wide range of musical styles, are all utterly believable as best-selling hits (which, in real life, they became).
Warner Bros.
6. "La La Land" (2016)
Damien Chazelle's song-and-dance ode to Hollywood might not be the best musical of the decade, but it may have done more to revive interest in the live-action version of the genre than any other film. Celebrated for its tender performances, lush nostalgia and memorable songs, "La La Land" captures a Los Angeles that probably only exists in the minds of the artists who live there, in which the romance between a struggling jazz pianist (Ryan Gosling) and a struggling actress (Emma Stone) takes on epic significance and seems to typify the whole Hollywood experience. If only Gosling and Stone had the singing and dancing chops to actually hold up to Chazelle's classic musical influences, "La La Land" might have reached even greater heights. But the earnest attempt to reach classical greatness, even when it's ever so slightly out of grasp, is all part of the film's undeniable charm.
Lionsgate
5. "Rocketman" (2019)
Dexter Fletcher's sublime musical biopic of Elton John is, without the songs, a relatively standard musical tell-all. Taron Egerton plays the iconic performer as he works his way up from an emotionally abusive household into the big time, and from there directly into toxic romantic relationships and drug addiction. But "Rocketman" wisely incorporates John's music whenever it's relevant to the story, regardless of when it was written, which enlivens the entire production and transforms John's story into a glorious, energetic and colorful musical extravaganza. Fletcher knows how to stage a fantastic number, and Egerton proves he's a real-deal movie star by flinging himself into each number — and each powerful emotional moment — with excited aplomb.
Paramount
4. "Sound of Noise" (2010)
Released with little fanfare and swiftly forgotten by mainstream audiences, this Swedish-French comedy directed by Ola Simonsson and Johannes Stjärne Nilsson is unique and wonderful. "Sound of Noise" tells the story of a group of musical anarchists who break into the daily routines of banks and hospitals, to name a few respected institutions, to transform humdrum life into renegade musical performances. Hot on their trail is a detective who, to his lifelong chagrin, is completely tone-deaf, and who must unlock the meaning of music to understand and capture his quarry. Daring, distinctive filmmaking that reminds us that music isn't only here to entertain us: It also has the power to challenge and transform us.
Bliss
3. "Sing Street" (2016)
Joy. That's what John Carney's ebullient "Sing Street" evokes, with its feel-good story of young artists discovering their inner geniuses and escaping the small-town, familial-strife drudgery of Dublin in the 1980s. You almost don't notice how incredibly easily success comes to Conor (Ferdia Walsh-Peelo) and his band of misfits because the songs are among the catchiest produced this decade. They sound like the characters think they sound, and the film's drama is just as upbeat and reassuring and catchy as those tunes. (And somehow none of the film's instant classic tunes — not even "Drive It Like You Stole It" or "Girls" — were even nominated for the Academy Award for Best Original Song. A crime if ever there was one.) A delightful synthesis of kitchen-sink reality and the happiest of dreams.
The Weinstein Company
2. "Popstar: Never Stop Never Stopping" (2016)
Mystifyingly overlooked but completely brilliant, Akiva Schaffer and Jorma Taccone's "Popstar" is the best musical comedy of the decade. Probably the best broad comedy, too. This absurdly funny Lonely Island film stars Andy Samberg as Conner, a bestselling pop star who has let fame inflate his ego to the point that his next album is full of songs that should never have seen the light of day, including one that compares sex to the assassination of Osama bin Laden, and another about how the Mona Lisa is "an overrated piece of s—." The lyrics are deliriously silly, and the songs are as catchy as anything on the radio. As the film follows Conner down the path to redemption and into a reunion with his long-suffering former bandmates, "Popstar" earns genuine emotional investment even as it engages in off-the-wall gags about off-screen swarms of bees and packs of wolves attacking beloved music star Seal. "Popstar" is comedy gold and musical platinum.
Universal
1. "Inside Llewyn Davis" (2013)
Music isn't always a symptom of a fairy tale. A lot of the time it's hard work for very little reward. The Coen Brothers' pointed and bittersweet musical drama "Inside Llewyn Davis" stars Oscar Isaac as a folk singer in the 1960s who's trying to build a solo career but can't seem to do anything right. When he isn't losing his friend's cat, he's turning down lucrative percentage deals that could have set him up for life, and playing gigs that would eventually go down in history because somebody else played that night. Isaac's revelatory performance is full of melancholy and bruised ego and a talent and a passion that can't be kept in check by life's demeaning brutalities, and the many wonderful songs — even the superficial and kooky "Dear Mr. Kennedy" — bolster Llewyn's incredible story at every single turn. It's one of the great modern films about stymied artistry, and a truly mature and powerful movie musical.
CBS Films
Decade in review: "A Star Is Born," "The Greatest Showman" and "Popstar: Never Stop Never Stopping" are among the decade's best
Who says the musical is dead? The last 10 years have been jam-packed with effervescent, hilarious and melancholy movie musicals for moviegoers of every kind. Whether they incorporate their songs magically into the narrative or simply break at every possible turn for another gangbusters performance, these films kept a song in our hearts and married their wonderful tunes to memorable, sometimes completely unforgettable storylines. To each of these incredible films we say, "Bravo."
Source: Read Full Article