Emma Watson on Being Mistaken for Emma Roberts in Harry Potter Special: Its Too Cute
01/06/2022
After the Hermione Granger depicter jokes that young Roberts was too cute to be mistaken for her in 'Harry Potter 20th Anniversary: Return to Hogwarts', Roberts replies with an equally sweet remark.
AceShowbiz –Emma Watson has responded to the "Harry Potter" special debacle that mistook young Emma Roberts for her. Three days after the mix-up sparked a frenzy on Twitter, the British actress shared her reaction on Instagram.
Taking to the photo-sharing site on Wednesday, January 5 to weigh in on the error, the Hermione Granger depicter poked fun at herself. She reposted the photo of young Roberts and wrote in the caption, "I was NOT this cute, @emmaroberts #emmasistersforever."
Roberts herself has caught wind of Watson's post and she responded with an equally sweet remark. Sharing a screenshot of the "Beauty and the Beast (2017)" star's post on her Story, the "Scream Queens" alum replied, "Haha! I don't believe that @emmawatson."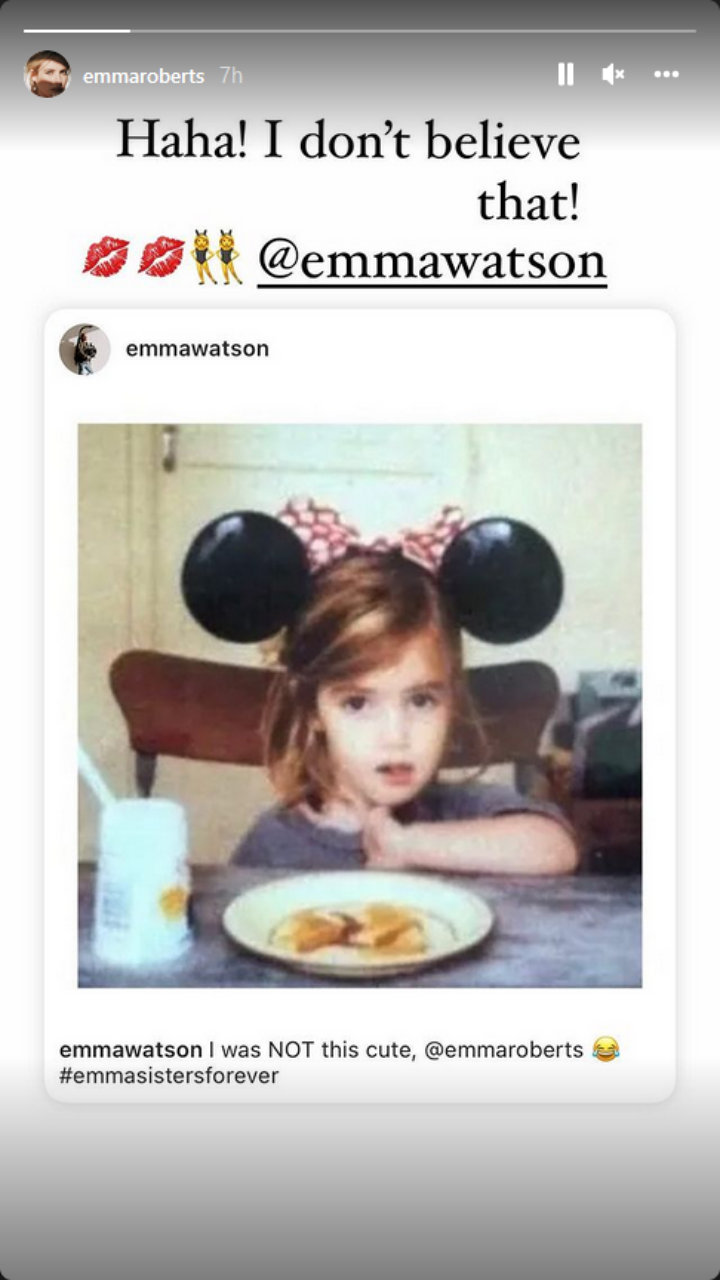 Emma Roberts responded after Emma Watson poked fun at the 'Return to Hogwarts' mix-up.
When "Harry Potter 20th Anniversary: Return to Hogwarts" debuted on HBO Max on New Year's Day, January 1, fans quickly noticed the error. The special used a childhood picture of Roberts instead of Watson, who portrayed Hermione Granger in the film franchise.
Producers of the special were quick to respond to the mix-up. In a statement to EW, they said, "Well spotted Harry Potter fans! You brought an editing mistake of a mislabeled photograph to our attention. New version up shortly."
But that's not the only mistake spotted in the reunion special as fans also noticed that the editor mistakenly tagged Oliver Phelps as his twin brother James Phelps and vice versa. Poking fun at it, Oliver Phelps posted on Instagram along with a screenshot of their interview, "I guess after all those pranks over the years somebody decided to get their revenge."
Tom Felton jokingly took the blame for the mislabel, writing in the comments section, "It was my doing" alongside a snake emoji, to symbolize his character's Slytherin house. Matthew Lewis, who portrayed Neville Longbottom in the films, chimed in, "This is legit hilarious. Dude. Wtf? Haha."
One day after the premiere, HBO Max has uploaded a new version of "Return to Hogwarts" and fixed the errors.
Source: Read Full Article