Jimmy Kimmel Inserts Himself Into 'Spider-Man: No Way Home' Trailer as a Major Villain (Video)
11/18/2021
Step aside Aaron Taylor-Johnson, there's a new Kraven in town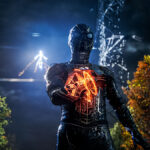 "Are you ready to have your head hanging on my wall in my den?" Kimmel-Kraven threatens. The footage then cuts to a definitely-real-and-not-at-all-altered shot of him fighting alongside Jamie Foxx's Electro — or at least, Electro's lightning blasts.
Following the trailer, Kimmel admitted that joining "No Way Home" is "a dream come true" and promised his longtime friend and sidekick Guillermo, "I won't forget you when I'm a movie star."
For what it's worth, we're pretty sure the "No Way Home" trailer actually did round out the Sinister Six already — revealing Lizard, presumably from "The Amazing Spider-Man," and what looks like a quick glimpse at Hobgoblin — but of course, it's hard to know for sure just yet. We definitely think there's still room to introduce the actual Kraven. So we'll let Kimmel have this one, for now.
"Spider-Man: No Way Home" hits theaters on Dec. 17, 2021.
Source: Read Full Article