RHUGT: Brandi Glanville Claims Caroline Manzo Incident Was Set Up
03/31/2023
The 'Real Housewives of Beverly Hills' alum makes use of Twitter to defend herself from allegations that she 'touched' her co-star without her consent during 'RHUGHT' season 4 filming in Morocco.
AceShowbiz –Brandi Glanville believed that "The Real Housewives of Ultimate Girls Trip" incident involving herself and co-star Caroline Manzo was a "set up." The former star of "The Real Housewives of Beverly Hills" took to Twitter to once again defend herself from allegations that she "touched" Caroline without her consent.
"I am not suing ANYONE not #Peacock or Anyone else for that matter," Brandi wrote in one tweet. She added in a separate tweet, "I can speak on anything I want to speak on-it was at the end of an 18 hour Wrk [sic] day at our belly dancing party & I'd like to see footage on it before hand as both myself & Caroline were very intoxicated."
She also shared that Caroline was "fine" after the incident. "I'm f**king sick of this narrative.I was hired for a 2nd season of girls trip cuz they LOVED what I did on 1st season I was told to bring the party just like before & that's exactly what I did & Iwas punished for it. It feels like a f**king set up. It's BS & Caroline was fine," the reality TV star added.
Concluding her message, the 50-year-old star wrote, "Those are my statements. Yes I'm pissed off. Yes, this is been life f**king ruining and I'm not gonna be responding to anyone commenting."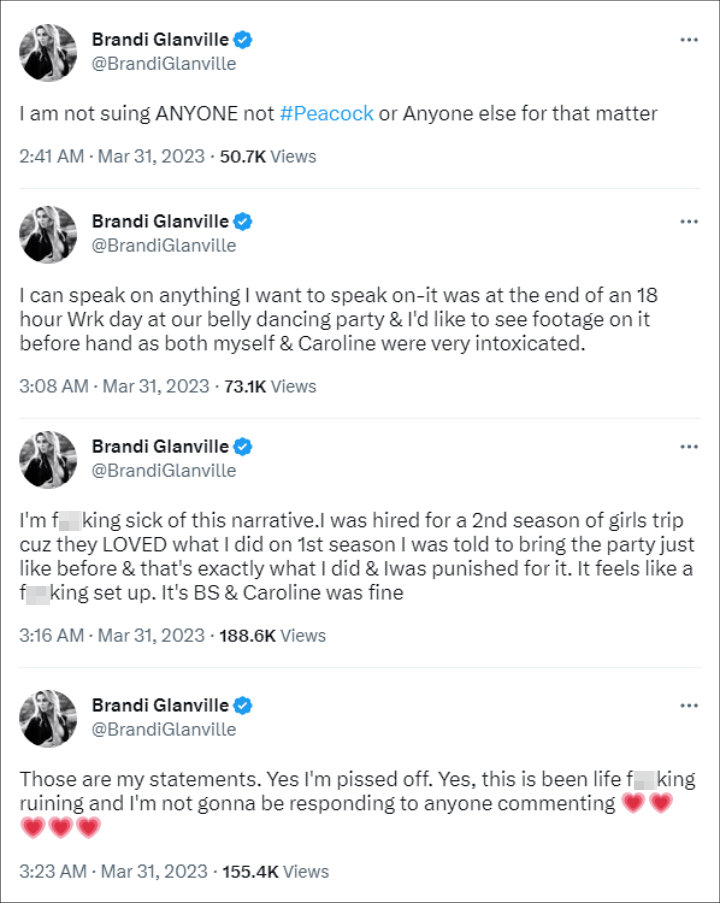 Brandi Glanville believed 'RHUGT' incident was a 'set up.'
Prior to this, it was reported that Brandi was kicked out during filming of "RHUGT" season 4 in Morocco after being inappropriate with Caroline, prompting both to leave the show early. According to Page Six, Brandi gave her co-star "unwanted kisses" and even "touched [Caroline's] breast area and vaginal area" during the taping earlier this year. A source also told the outlet that Brandi "stuck her tongue down [Caroline's] throat."
Peacock later announced in a statement that the network and production company behind the show, Shed, were launching an investigation into the matter. "The safety and security of cast and crew while shooting is extremely important and we take all reports seriously. In this situation, production immediately launched a comprehensive review and is taking appropriate action," read the joint statement.
Meanwhile, Caroline addressed the drama during her interview with New York Live on March 16. "I can't say much, only because it's not good for my headspace, but it took a lot for me to go back [to the Housewives universe] there," she told the host at the time. "[I was] going back with the best of intentions, with the highest of hopes, to do something fun. Unfortunately, it didn't work out for me that way."
The 61-year-old later admitted that she departed from the show "early" due to a negative experience. "I came home early," she recalled. "And at this point, I just truly don't have the space in my head to talk about it. So, I'd rather not but I would imagine it would unfold on the series when it airs and there'll be a lot said then."
Peacock has yet to reveal the premiere date for "RHUGT" season 4.
You can share this post!
Source: Read Full Article