Tessa Thompson Explains How Hosts 'Have Entered the Real World' Changes 'Westworld' in Season 3
03/06/2020
The third season of Westworld is almost here. Fans got a taste of what's in store through the trailer. Now Tessa Thompson, who plays Charlotte Hale, is talking about the new season. Find out what she had to say about the characters entering the real world and how it'll change the HBO show.
'Westworld' Season 3 trailer has been released
The trailer for the new season was released. We get glimpses into what multiples characters will be doing.
Dolores (Evan Rachel Wood) is seen being in the real world and she tells Caleb (Aaron Paul) that he is being watched. She tells him that they're going to kill the person who took his future. They team up together and Dolores isn't afraid to kill everyone to complete their mission.
Maeve (Thandie Newton) is given the task to kill Dolores. We know Bernard (Jeffrey Wright) and Charlotte are also in the real world. Man in Black (Ed Harris) is also heard saying, "We're going to save the f*cking world."
Aaron Paul teased humans are also stuck in loops
Paul talked about his character, Caleb with TV Insider. He revealed that humans will have something in common with the hosts of Westworld.
"It's how a lot of people live their lives," Paul said. "They wake up, go to work and do their job in order to survive. Caleb is always trying to break out of this routine. But he just can't — and there may be a very specific reason for that. The hosts will slowly realize how humans are also stuck in these endless loops."
He added, "She sees that outside of the walls of Westworld, it's not too different from inside." It's probably not surprising that Dolores will want to break them free of that too.
Tessa Thompson said entering the real world feels like a new start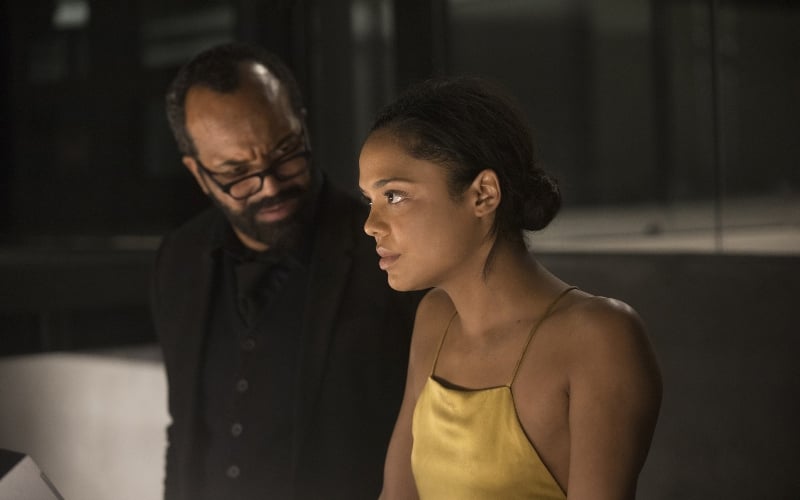 Thompson talked about season 3 at the premiere, according to Variety. She said several things make this new season feel like the show is starting over.
"In a weird way, it feels like this is the premiere of the show again because we have entered the real world and the show continues to ask the question what it means to be human, but it's asking a host – pun intended – of new questions," she said. "We have lots of people that have come to join our cast, fresh blood, so it feels like the show is starting all over again."
Co-creator Jonathan Nolan talked about what the show will be exploring in the new season. "The show took a fairly dim view of humanity through the first two seasons. Now we get to ask the question is humanity embodied by what we've seen of it in the park," he said. "If Dolores, Maeve and the rest of the hosts have only been exposed to the kinds of people who would go to Westworld, is that really all that humanity is made of?"
Fans will soon get clues to the answer to that question. Season 3 premieres March 15 at 9 PST on HBO.
Source: Read Full Article