The Actors Behind Ian and Barley Lightfoot of Disney and Pixar's 'Onward' Worked Together in the Past
03/07/2020
It's time for a quest with Chris Pratt and Tom Holland. No, we're not talking about another Avengers movie. This time, the two actors star in an animated Disney and Pixar film, Onward. There, Chris Pratt and Tom Holland portray two brothers — Barley and Ian Lightfoot, respectively. Behind the scenes, however, the actors shared that they are "good buddies," even supporting each other on set.
Here's what we know about Tom Holland, Chris Pratt, and their latest blockbuster, Onward.
Tom Holland and Chris Pratt star in Disney and Pixar's animated film, 'Onward'
Times have changed in this fantasy world. Families like Ian and Barley's traded magic and wonder for modern-day convenience. But, when they find a wizard staff left behind by their father, everything changes. Disney and Pixar's animated film, Onward, premiered in theaters on March 6, 2020. Since then, fans fell in love with these two elf-brothers.
Sure, Tom Holland and Chris Pratt play two brothers in this Pixar film, but in real life, they're just as supportive and brotherly. They acted alongside each other for multiple Marvel movies, also produced under the Disney umbrella.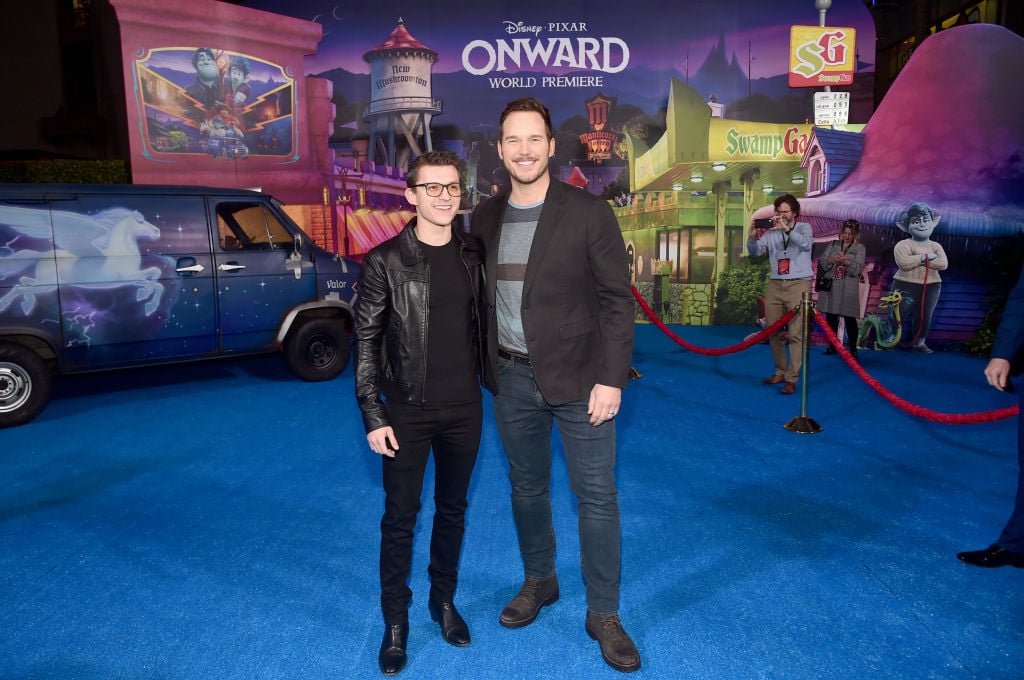 Chris Pratt and Tom Holland worked together for multiple Marvel movies
Some fans may know these actors from other Disney-owned content. While Chris Pratt stars in the Jurassic World franchise, he's also the main character in Marvel's Guardians of the Galaxy and Guardians of the Galaxy Vol. 2. There, he plays the music-loving Starlord, an earthling turned space outlaw turned Avenger.
Tom Holland, formerly of films Spies in Disguise and Dolittle, appears as Spider-Man in the MCU, starring in films like Spider-Man: Homecoming and Spider-Man: Far From Home. Both actors appeared in the movie blockbusters Avengers: Infinity War and Avengers: Endgame, alongside Marvel veterans Chris Evans and Robert Downey Jr. 
Chris Pratt supported Tom Holland during the Sony/Disney fallout over Spider-Man
One reporter caught up with Tom Holland and asked him about the last event where they promoted Onward, which was during the D23 Expo. At the same time, Spider-Man would potentially make the studio switch from Disney to Sony. During the interview with Variety, Tom Holland shared that Chris Pratt was super supportive behind the scenes.
"Chris [Pratt] and I were obviously standing backstage together before we were called out on stage and I was telling him the news and he hadn't heard it yet," Holland said. "And he was like, 'No that's not gonna happen, they're gonna figure it out and, if not, you'll be fine,' so it's just really nice to have him in my corner because he's someone that I really look up to and appreciate. I'm glad that we're good buddies."
Along their journey, Ian and Barley Lightfoot meet a few other friends, including Disney's first openly LGBTQ animated character, Officer Spector. Other actors in Disney and Pixar's Onward include Julia Louis-Dreyfus, Octavia Spencer, Lena Waithe, and Ali Wong.
Onward is now playing in theaters. Fans can watch other movies starring Chris Pratt and Tom Holland, including Avengers: Endgame, on Disney's streaming platform, Disney+.
Source: Read Full Article