Trump Defends 'Hang Mike Pence' Capitol Riot Chant
11/12/2021
"The people were very angry," former president says in new interview
Getty Images
Former president Donald Trump defended those who chanted "hang Mike Pence" during January's deadly Capitol riot, according to new interview audio from ABC News' Jonathan Karl.
"I thought he was well-protected and I had heard he was in good shape," Trump responded when asked by Karl if he had been worried about his vice president when some of his supporters breached the Capitol on Jan. 6 in an effort to stop the certification of President Joe Biden's 2020 election win. In the preceding days, Trump had called on Pence to refuse to certify the win himself and Pence had refused. Some rioters chanted "hang Mike Pence" and said they were specifically looking for the vice president, who was rushed to safety somewhere within the Capitol.
Karl brought up "those chants," calling them "terrible" and clearly restating what they'd said.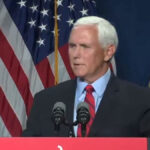 "He could have…" said Trump. "Well, the people were very angry because it's common sense, Jon. It's common sense that you'er supposed to protect… How can you…? If you know a vote is fraudulent, right, how can you pass on a fraudulent vote to Congress?" Trump said.
Trump has falsely claimed since last November that the 2020 election was somehow "fraudulent" or "rigged."
Karl's new book, "Betrayal: The Final Act of the Trump Show," focuses on the deadly riot. Earlier this week, while promoting the book, Karl said he learned that there was "an official White House photographer" with Pence on Jan. 6, and though he'd seen the resulting photos, he had not been allowed to publish them.
"I got ahold of the photographer. I actually saw all of the photographs. This is the vice president of the United States and he's, like, holed up in a basement," Karl said, adding that Pence's team "refused" to let him publish the shots. One picture, he noted, appeared to show Pence reading the tweet Trump sent about him that day: "Mike Pence didn't have the courage to do what should have been done to protect our Country and our Constitution, giving States a chance to certify a corrected set of facts, not the fraudulent or inaccurate ones which they were asked to previously certify. USA demands the truth!"
Source: Read Full Article