A window into Melbourne's Christmas past
12/22/2021
As a city, Melbourne loves Christmas. We line the streets with lights and shining ornaments and we fill our department store windows with glamour and fun.
A look through some images from The Age archives reveals the changes in the CBD's Christmas over the years, but there is also a lot that has remained the same.
Christmas shopping on Collins Street, 1905. Credit:Age Archives
Long dresses, big hats and suits seem to be the going Christmas shopping attire on Collins Street in 1905.
While very good at keeping shoppers protected from the hot Christmas sun, trying to chase down a sale in that attire might be a little bit more difficult today.
Many things have changed since 1927 but the sights of Melbourne at Christmas time still bear some similarity. People rushing into the city to complete their Christmas shopping and snatch up a bargain at the sales. Hats, rather than masks, seemed to be the Christmas shopping essential.
Myer Emporium Christmas sale in 1927.Credit:Age Archives
Street decorations have long been a feature of Melbourne's festive spirit. Shoppers in 1957 were getting in some early Christmas shopping under the hanging decorations down Bourke Street.
A giant Santa watches over the W-class trams full of shoppers and the people bustling through the street.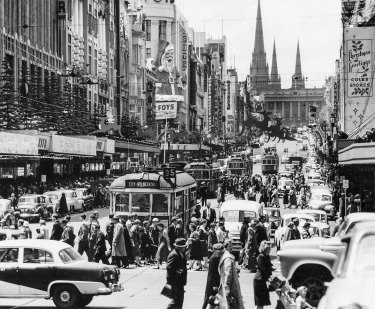 Bourke Street on December 4, 1957.Credit:Age Archives
Each and every year, children stare in wonder at the magical windows that Myer creates and visiting the windows is a tradition passed through generations of Melburnians.
Myer Christmas windows in 1983.Credit:Age Archives
In this 1983 picture, a little boy in a singlet marvels at an "American Christmas" full of snow, mittens and beanies. The figures in the window wear ice skates, while on the viewer's side of the glass, a young child's bare toes peak out in a sandal.
Myer first launched its Christmas windows in 1956 with this merged theme of Santa and the Olympics.
Myer window, Christmas 1956.Credit:Age Archives
Dolls look to be a popular gift of this season back in the 1950s.
Shoppers in the 1950s admire the Myer Christmas windows.Credit:Age Archives
By 2019, our last pre-COVID Christmas, the Bourke Street windows had become more and more of a spectacular event. Dancers from the Australian Ballet performed at the launch of the 64th annual display: Snugglepot and Cuddlepie.
Myer's 2019 display, based around the May Gibbs Snugglepot and Cuddlepie books. Australian Ballet School dancers performed, from right Pamerla Barnes, Hannah Sergi, Maidie Widmer and Lille Harvey.Credit:Penny Stephens
After two of the most unpredictable years in Melbourne's history the 2021 windows brought familiarity and comfort when they opened last month.
Viewers in masks stood 1.5 meters apart as they escaped into the fantasy land of Peter Rabbit. As they walked along the length of the window display, even the adults might have forgotten about the craziness of the world and enjoyed the simple magic of Christmas.
Hundreds of Melburnians lined up to see the first showing of the Myer Christmas windows in November.Credit:Chris Hopkins
Most Viewed in National
From our partners
Source: Read Full Article